Phool Makhana is popularly known as lotus seeds or fox nuts. These seeds are commonly used in India to prepare dishes on auspicious occasions. They are also grown across other Asian countries.
This Phool Makhana recipe is fat free, vegan, low calorie, high fiber, gluten free and a good source of protein and antioxidants
We can prepare many dishes with Phool Makhana. The roasted makhana snack is a versatile snack that can be had anytime of the day. It goes well as a tea-time snack. I love this snack as it is crispy, spicy, smokey and savory. The added spices and garlic make this dish very flavorful.
The Makhana seeds are like puffed balls with very little mass. Water lily seeds are naturally processed into light, puffy, airy Makhana, which is like popcorn, but corn free with a plethora of health benefits. Water Lily seeds are harvested, roasted, and popped, preparing them to be consumed.
The recipe for Roasted makhana uses basic ingredients that are available in most grocery stores. Phool Makhana seeds are available in Indian grocery stores / Online grocery retailers (including Amazon). Due to the immense popularity and growing health consciousness, the availability has improved over time across major countries.
I hope you will find this recipe helpful and tasty. Please rate this recipe and if you have liked it, please share it with your friends.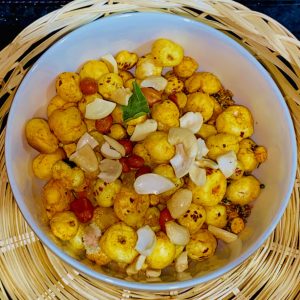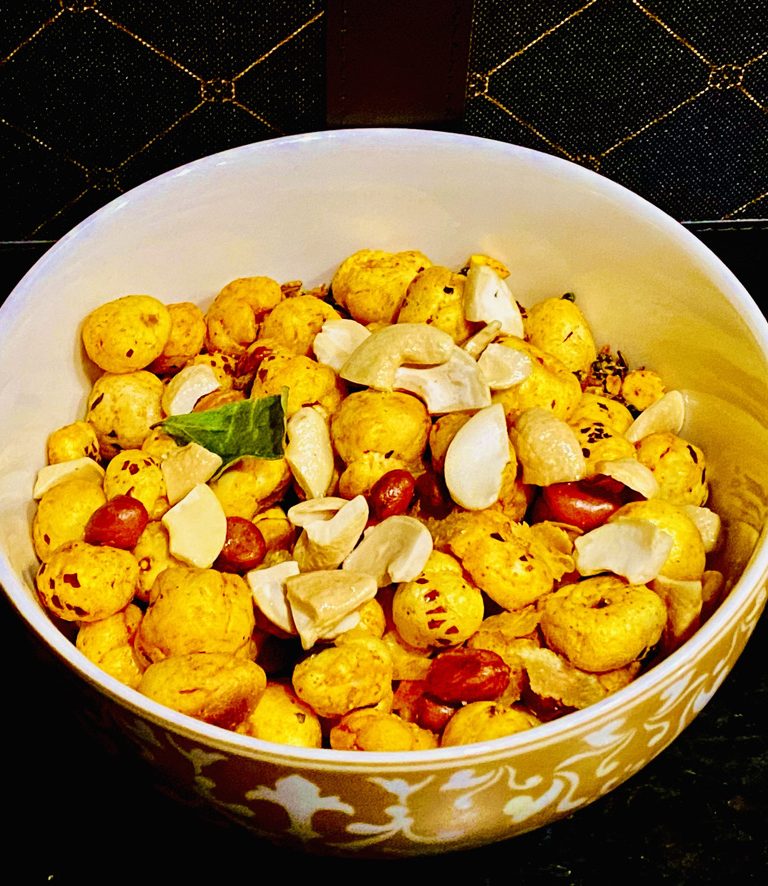 Roasted Spicy Phool Makhana Snack
Description
Roasted Spicy Phool Makhana is a healthy and tasty snack. Easy to prepare and store, you can consume it any time of the day plus enjoy its health benefits.
Instructions
Section 1 : Dry Roasting the Phool Makhana seeds

Preparing the Phool Makhana seeds : Start by dry roasting the Phool makhana to make them crispy. The Phool makhana seeds are usually soft due to long periods of storage in the packets. I have tried two ways to roast the seeds and both work well : (1) OTG – If you have a oven toaster grill, keep the setting to 300 degree F ( 150 C) for about 5-8 minutes. The time needed might vary based on the OTG model. (2) The other option is to roast the seeds on stove in a large pan. This is much easier to monitor and control the roasting.

Section 2 : Preparing the Roasted phool makhana snack

Heat Oil in a large nonstick frying pan on medium heat for 2-3 minutes
When the oil has heated, add the mustard seeds and let them crackle
When all the mustard seeds have crackled, add the cumin seeds and peanuts
Stir continuously to roast them for 1-2 minutes ( watch out – the peanuts can burn very quickly )
Add curry leaves and the smashed garlic and continue to stir for 1-2 minutes until the garlic starts to turn light brown and crispy
Lower the heat and add all spices, salt and sugar.
Keep stirring for another minute on low heat.
Now add the dry roasted Phool makhana seeds and mix thoroughly until the spices have coated the seeds evenly.
Adjust the salt and chili powder as per your taste.
Notes
Use fresh guacamole and sour cream as accompaniments as they will enhance the taste and make it a complete dish.
In case you don't find the Mexican seasonings, you can use a combination of spices like cumin powder, chili powder, red pepper flakes, cayenne pepper, oregano, paprika, garlic powder, onion powder, salt, and pepper.
I have also tried adding tomato ketchup to the black bean mixture and it brings out a nice, sweeter taste.
Phool Makhana, Snack, Fox Nuts, Water Lily Seeds, Spicy, Indian, Upvas, Fasting, Vegan, Gluten Free