Kanafeh is a highly popular middle eastern dessert. It is also called by different names such as kenafeh, knafeh, kunafah, kunafeh, konafa, or kunafa (Arabic).
Kanafeh is a delicate, fragrant and colorful dessert that is made with shredded pastry dough, sweet cheese ( Arabic cheese), rose water, coloring and topped with Pistachios. The preparation is easy and involves baking.
The first time I tried Kanafeh was at a Mediterranean restaurant in Raleigh, NC in USA. The eye-catching bright coloring, topping of pistachios, and a unique furry layer are what attracted me to try this dessert. The experience from every bite of Kanafeh is filled with a crunch from the crispy string pastry and pistachios, a soft & sweet gooey texture of baked cheese and the fragrance of rose water. It is an experience that cannot be compared with any other desserts.
The string pastry (shredded pastry dough) is a key ingredient of this dish. You will find this in most middle eastern grocery stores and the package is labeled as KATAIFI ( shredded pastry dough). We need to make sure that the cheese is also of the right kind – that is stretchy and non-salty. The best cheeses for Kanafeh are Arabic cheeses like Akkawi or Nabulsia which again can be found in middle eastern grocery stores. The other ingredients like rose water or colors are easy to find.
Substitutes : Although you won't get the same taste and texture, you may replace Arabic cheese with a mixture of mozzarella and ricotta cheeses in 70:30 ratio ( make sure that the cheeses are not salty).
I hope you will find this recipe helpful and tasty. Please rate this recipe. If you have liked it, please share it with your friends. For more updates on new recipes, please subscribe.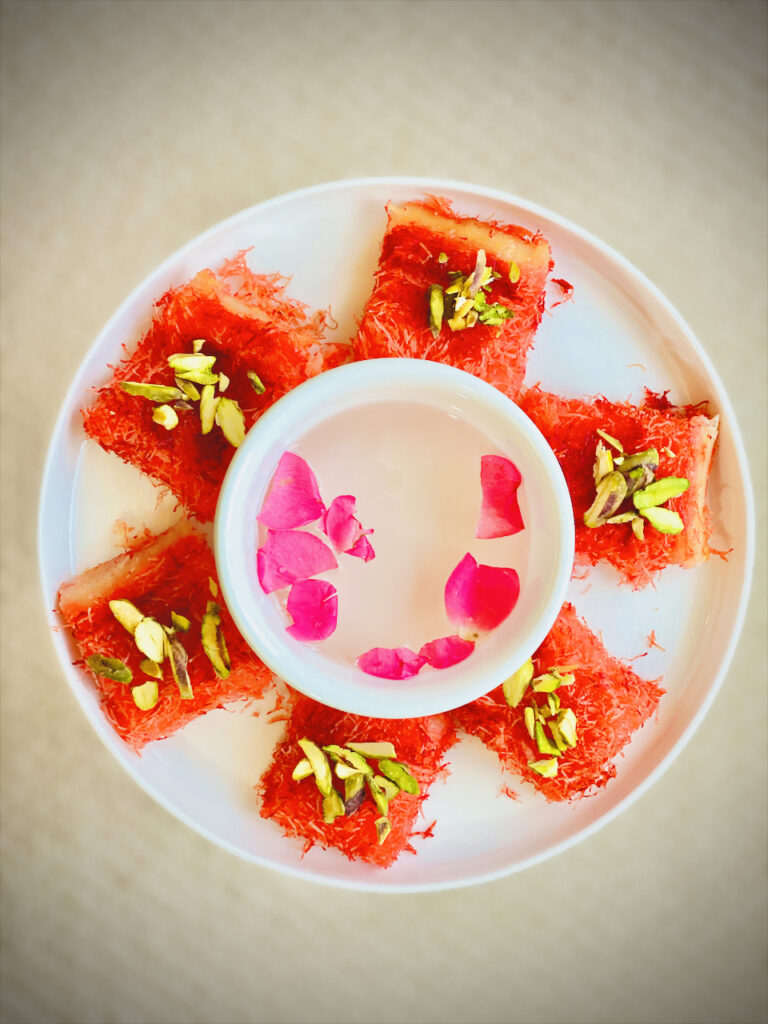 Kanafeh – A popular middle eastern dessert
Description
Kanafeh is a traditional dessert from Middle eastern region that is made with string pastry (shredded pastry dough), Arabic cheese and rose-flavored syrup.
Instructions
Collect all the key ingredients as shown

Prepare the sugar syrup

Mix the sugar ( quantity as mentioned in the ingredient for syrup) and water in a thick bottomed pan. Bring it to boil on a medium heat while continuously stirring. Turn off the heat when the syrup comes to boil. 

Add rose water essence and stir.

Let it cool. You can refrigerate this syrup until ready to use.

Prepare the Pastry dough

Bring the shredded pastry dough to room temperature. Using a food processor, chop the shredded pastry dough into fine strings of about ½ -¼ cm length. 

Remove the finely chopped pastry dough into a mixing bowl

Mix butter with the powdered pastry dough

Melt the butter

Spread 4/5th quantity of melted butter over the pastry dough. Mix with hands until the butter coats the pastry dough evenly.

Avoid lumps or uneven spreading of butter.

Prepare the cheese

Grate the cheese using a hand held grater. You can use the larger holes for grating. 

Mix the sugar ( quantity as mentioned in the ingredient for Cheese)

Refrigerate the grated cheese until you are ready to use it.

Assembling the Kanafeh

Take an oven-safe baking dish about 1.5 inches deep. I have used a pyrex glass dish but you can use metal baking dish also ( non-stick) 

Add 1 tablespoon of melted butter on the base of the dish.

Add half quantity of the orange color and mix with the butter

Spread the coloured butter evenly across the base and sides of the baking dish

Take half of the shredded pastry dough (finely chopped) and spread on top of the colored butter - The thickness of the shredded pastry dough should be about 1/8th inch

Use the palm of your hands to slowly tap on the pastry dough to spread it evenly until we get an uniform thickness across the base of the dish.

Next, we use the grated cheese and spread it uniformly on top of the pastry dough base to a height of about 1/3rd  inch.

Again, Use the palm of your hands to slowly tap on the cheese to spread it evenly until we get an uniform thickness on top of the pastry dough.

Mix the remaining orange color with the unused shredded pastry dough and mix well.

Use this colored shredded pastry dough and spread on top of the cheese layer - The thickness of the shredded pastry dough should be about 1/8th inch.

To recap, we started with a base of colored molten butter spread on the base of the baking dish. Then we added 1/8th inch layer of shredded pastry dough. We topped it with grated cheese of about 1/3rd inch. Then we layered again with a layer of 1/8th inch colored pastry dough.

 

 

 

 

 

 

 

 

Baking the Kanafeh

Pre-heat the oven to 350F

Place the baking dish in the middle rack and bake for about 10-12 minutes

Rotate the dish after 5 minutes to get uniform baking on all sides.

A good way to check for the correct level of baking is to watch for the cheese starting to raise as it melts. Also the shredded pastry dough starts to change color.

The baking time might vary based on oven capacity.

Keep a constant watch on the change in color of the shredded pastry dough as we dont want it to turn dark.

A perfect tasting Kanafeh will have melted cheese and nice crispy pastry topping with a bright color. As the butter melts, it enhances the color that we mixed with the pastry dough.

Transfer the Kanafeh to serving dish

Remove the Kanafeh from the oven and let it sit for about 5-10 minutes

Use a thin knife to pass along the edges of the dish to make sure that the Kanafeh is not sticking to the baking dish

Now we need to transfer the Kanafeh while it is still warm to a serving dish

The best way to transfer is as follows :

Take a serving dish that is larger than the dimensions of the baking dish.

Place the serving dish on top of the baking dish that has Kanafeh in it.

Wear oven mitts to protect your hands.

Hold both the dishes tightly ( baking and serving) and invert. 

The Kanafeh will slowly fall into the serving dish and it is now upside-down.

Once the Kanafeh is transferred into the serving dish, sprinkle powdered / chopped Pistachios evenly across the top of Kanafeh.

Note : If you are not comfortable with the process of transferring the baked Kanafeh into a serving dish, you can directly serve from the baking dish.

Serving

Kanafeh is best enjoyed when it is still warm and the cheese is gooey

Cut the Kanafeh into slices of desired size.

Place the Kanafeh into a serving plate and drizzle about one-two teaspoons of rose flavored sugar syrup

Add extra chopped pistachios as needed
kanafeh, kenafeh, knafeh, kunafah, kunafeh, konafa, kunafa, pastry, cheese, dessert, Arabic