Vegetarian Quesadilla is our favorite weekday dinner – easy to prepare, tasty and healthy. Quesadilla is a Mexican dish made of Tortilla, variety of cheeses, black beans, grilled vegetables with some seasonings. The fillings can vary widely based on the individual preferences. Traditional Quesadilla recipe calls for a tortilla filled with some proteins, seasonings and cheeses, folded and fried. I have used flour tortilla, but you may use corn or any other type of tortilla. I have used a cheese that is a mixture of Monterey jack and Cheddar.
The recipe uses very little oil and avoids over-cooking the ingredients. Hence it retains the nutritional value of all its ingredients. The quesadilla not only tastes fresh but also very fragrant due to the Mexican spices used. Leftovers can be stored in refrigerator and reheated in an oven or grill.
The Guacamole dip with fresh avocados is a perfect complement to this dish. Please click this link to access my recipe for Guacamole. We can also serve Quesadilla with salsa, guacamole and/or sour cream.
I hope you will find this recipe helpful and tasty.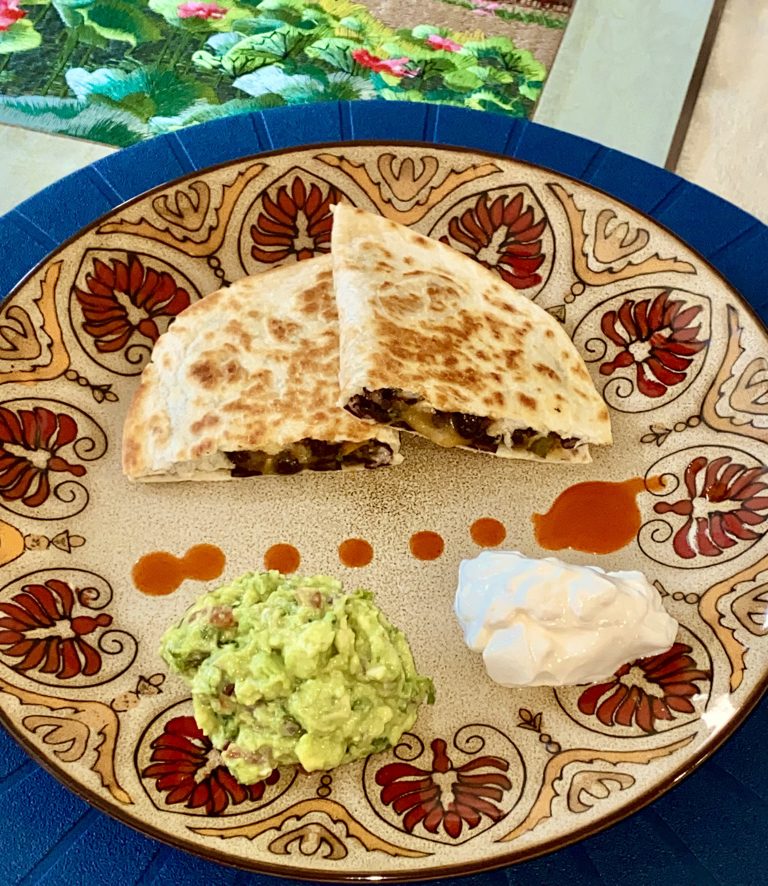 Vegetarian Quesadilla – With Black beans
Description
Quesadilla (Vegetarian) is a Mexican dish made with Tacos, beans, vegetables and seasonings. The recipe needs very little preparation and ideal for a weekday meal for entire family. This is a very healthy meal that is also very satisfying and filling.
Vegetables, Tortilla and Cheeses
Spices and seasonings
Instructions
Section 1 : Prepare filling for Quesadilla

Heat Oil in a nonstick frying pan on medium heat for 2-3 minutes
When the oil has heated, add the onion.
Sauté the onion until they become semi transparent and slightly brownish
Add corn and sauté for another 2-3 minutes.
Add the rest of vegetables
Increase the heat to high and continue to sauté for 3-4 minutes.
Turning up the heat allows vegetables to lock in their moisture and caramelize quicker and helps to retain their bright color and texture.
Add the black beans and mix with the veggies
Change the heat to lowest setting and Add the Mexican seasoning, paprika, salt and pepper
Mix thoroughly until the veggies and spices are blended well. Check for taste and add salt / spices if needed.
Remove from the heat and Add chopped cilantro.

Section 2 : Assembling the Quesadilla

Heat a non-stick griddle for couple of minutes on medium heat
Spread a thin layer of oil ( or spray) and heat a tortilla on both sides until it has softened.
Lower the heat
Spread a thin layer of the black bean mixture on half side of the tortilla
Add a thin layer of cheese on the black bean mixture
Fold the tortilla over the section which has filling
Use a plate or heavy covering to press the tortilla
Increase the heat to medium and roast the tortilla on each side for about 1-2 minutes
Spray or spread a thin layer of oil on each side. This will help in getting a crispy texture.
Once the tortilla has turned light golden brown and crispy, remove from the pan.

Section 3 : Serving the Quesadilla

Cut the quesadilla into half
Serve with Guacamole and sour cream
Notes
Use fresh guacamole and sour cream as accompaniments as they will enhance the taste and make it a complete dish.
In case you don't find the Mexican seasonings, you can use a combination of spices like cumin powder, chili powder, red pepper flakes, cayenne pepper, oregano, paprika, garlic powder, onion powder, salt, and pepper.
I have also tried adding tomato ketchup to the black bean mixture and it brings out a nice, sweeter taste.
Tortilla, Quesadillas, Mexican,Vegeterian, Spicy