Guacamole – fresh avocado dip, is made of fresh avocados mixed with chopped onion, tomatoes, chili peppers, cilantro, lemon juice and seasonings. I have tried guacamole in many Mexican restaurants. An avocado is a bright green fruit with a large pit and dark leathery skin. They're the go-to ingredient for guacamole dips.
Guacamole is a side dish that goes well with tortilla chips, wraps, sandwiches or quesadillas. The best part of this dip is that we can keep it very simple or make it more complex by adding many ingredients ( Refer to notes section on some customizations). The Guacamole avocado dip combines lot of nutrients and fibers that are very helpful in preventing many health issues.
I have tried Guacamole avocado dip with the following dishes as a side or topping :
Toasted Bread with a topping of fried eggs and guacamole
Tortilla wrap with fresh salad and guacamole with an extra topping of sour cream and finely chopped jalapeno peppers.
Use as a dip for fresh veggies like carrots, broccoli, cucumber, celery
 With Pita chips or tortilla chips as a dip
Quesadilla ( refer to my recipe for Vegetarian Quesadilla with black beans )
I am sharing a basic version of guacamole as it is very simple to prepare in under 30 minutes.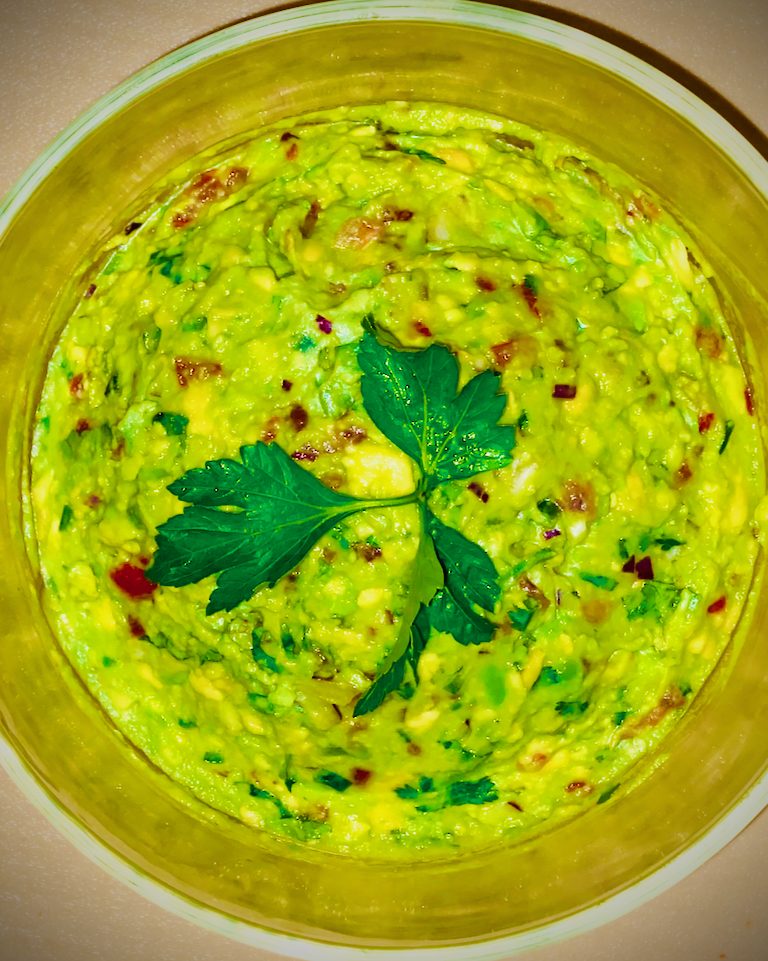 Guacamole – Fresh Avocado dip
Description
This recipe for guacamole is simple and quick to make with basic fresh ingredients. Guacamole dip is a perfect accompaniment for Tortilla Chips, Nachos, Quesadillas or other mexican dishes. Packed with essential nutrients, this dish is not only healthy but very tasty.
Peel the avocado skins and gently scrap the flesh from the seed
Mash the avocado chunks into a rough paste.
Make sure that some small chunks remain
Add all the other ingredients and mix well. ( use only half of the jalapeno. You can add the rest later based on how spicy you want the dip to be)
Adjust salt level
Notes
The avocados have to be fresh and of perfect ripeness – If the avocado yields to firm gentle pressure you know it's ripe and ready-to-eat. Ripe, ready to eat avocados may have a darker color but color can vary so it is best to go by feel as well as color. If the avocado is mushy, it is probably over ripe and not fit.
You can customize the basic version by adding boiled black beans, cheeses, Basil, hummus or chick peas, fresh corn,
You may add red pepper flakes to make the dip more spicy
Guacamole, avocado, dip, tortilla, quesadillas, Mexican,