I am sharing my recipe for fluffy pancakes with Buckwheat and Almond flour – delicious gluten-free pancakes for a heartwarming breakfast.
I wanted to create perfect, gluten-free pancakes which are also very spongy and delicious.  Pancakes are one of the most popular breakfast items in many countries. Warm pancakes with a topping of sweet syrup, whipped cream, and a side of fruits bring instant memories of comfort food. 
Most pancake recipes use all-purpose flours as the main ingredient. The problem with these recipes is that they have no fiber and hence not a great way to start your day with a food that slows down your metabolism. Buckwheat offers a great alternative to all-purpose flour. Buckwheat is whole grain and gluten-free with a  high content of minerals and antioxidants. It is rich in carbs but with a low Glycemic index, hence it is a great food for sugar control. 
Buckwheat seeds have an earthy and nutty taste. This recipe includes toasted buckwheat flour, toasted almond flour, milk, eggs, sugar, baking powder, salt, butter, and vanilla essence. The addition of almond flour, eggs, and milk make our pancakes soft and also create a light crispness on the top. They also help tone down the nutty and earthy tastes of buckwheat. Buckwheat is commonly available in most grocery stores ( look for Buckwheat groats).  I have explained all the steps in the recipe card on how to make Buckwheat pancakes from scratch.
I hope you will find this recipe helpful and tasty. Please rate this recipe. If you have liked it, please share it with your friends. For more updates on new recipes, please subscribe.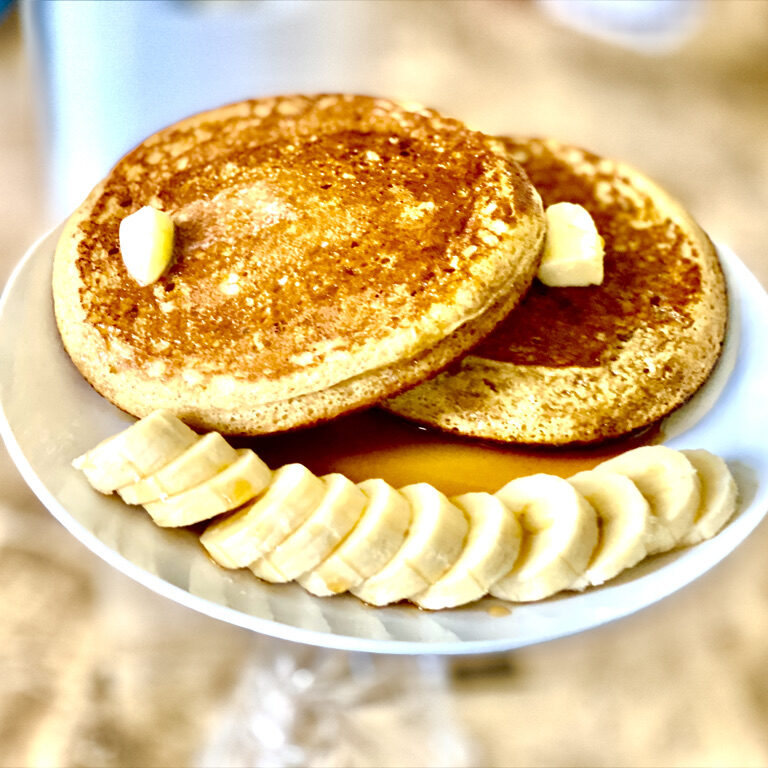 Fluffy Pancakes with Buckwheat & Almond flour
Description
A healthy, tasty, and spongy pancake recipe that is gluten-free
Instructions
Prepare the Buckwheat and Almond Flours

Dry roast the buckwheat and whole almonds separately in a frying pan or in an oven-toaster.

The buckwheat should turn light brown in color

If using an oven toaster, you can warm the almonds at 350F for about 15 minutes. Mix the almonds after every 5 minutes to ensure uniform roasting.

After the buckwheat and almonds have cooled, grind them into a fine flour using a kitchen mixer. You can grind them together.

Sift the flour through a fine sieve. We want our flour to be uniformly aerated and free of any uneven pieces.

Whisk egg whites to get soft peaks

Separate the egg whites from yolks.
Whisk the egg whites to get soft peaks using a hand-held  electric mixer or a whisk
Whisking infuses air into the egg whites and creates a soft foam that will make our pancakes spongy 

Mixing the Pancake batter

Add the buckwheat and almond flours

to a mixing bowl and mix well

Add all the other ingredients as listed ( Baking powder, Egg yolks, Milk, Sugar, Vanilla Essence, Salt, half of the Butter quantity (molten))

Lightly whisk the mixture to ensure all the ingredients have mixed well

The batter should be thick in consistency and not be runny. If the batter is too thick, you may add 2-3 teaspoons of milk.

Slowly fold in the egg whites and mix well using a spatula. Do not use a blender as we don't want the foamy egg whites to flatten.

Let the batter rest for about 10-15 minutes

Preparing the Pancakes

Heat a medium-size frying pan with a handle

When the pan is hot, coat a thin layer of butter

Pour 1/3 cup of batter. The batter should spread by itself.

You may slowly tilt the pan to give a perfectly round shape (do not touch the batter directly)

Keep the flame on medium. 

After about 3-4 minutes, you will see air bubbles pop on the pancake surface. 

After about 5 minutes, the pancake surface is almost dry 

Slowly lift the pancake, and flip the pancake

After about another 2 minutes, the pancake is ready. 

(The timings may vary based on the heat source)

When the pancake is lightly browned on both sides, you can remove it from the pan.

Serving

Serve the pancakes when they are still hot

Top the pancakes with your choice of syrups (Maple syrup / Honey / pancake syrup), Fruits (Berries, bananas), chopped nuts and /or  whipped cream
Notes
The batter can be stored in the refrigerator for a couple of days
The secret to a spongy and tasty pancake is in the ratio of flours: liquids: leavening agent (Baking powder). Hence note the quantities carefully
The flours should be very smooth and even
Pancakes, Buckwheat, almond flour, maple syrup