Mango salsa is an easy to prepare side dish that adds a distinct taste to Mexican Tacos or with Indian curries and Roti. This is a great dish to prepare during the summer season when fresh mangoes are available in plenty. Mango salsa can be prepared in under 20 minutes and can be stored in a refrigerator for up to a week in air-tight containers.
My recipe for mango salsa uses semi-ripe sweet mangoes ( it is ok to have a hint of sourness but the fruit should be firm), jalapenos or other types of green chilies, red onions, lime juice, chili powder, salt, sugar, and fresh cilantro.
You can eat mango salsa as a side or a topping for Mexican dishes OR as a side dish to Indian roti and curries. The mango salsa adds a nice sweet and sour balance to other spicy dishes. You can also use the mango salsa as a dip for tortilla chips or Tacos.
 I hope you will find this recipe helpful and tasty. Please rate this recipe. If you have liked it, please share it with your friends. For more updates on new recipes, please subscribe.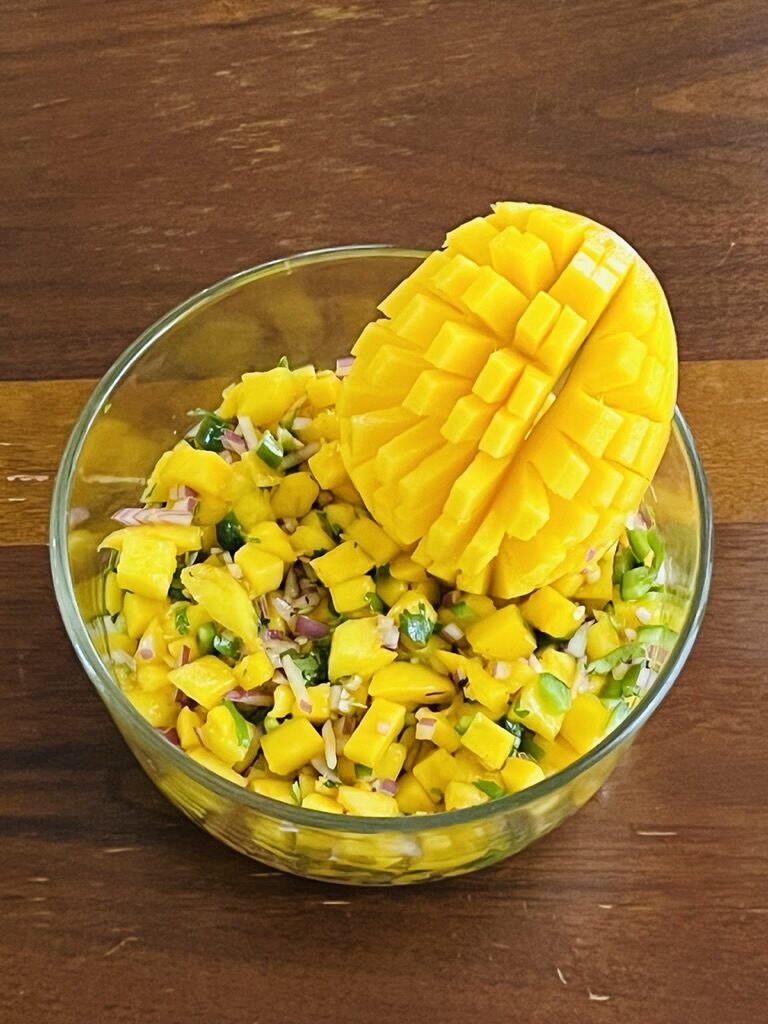 Mango Salsa
Description
Mango salsa is a sweet and spicy salsa made with fresh mangoes, red onions, jalapenos, cilantro and lemon juice.
Instructions
Equipment needed

Sharp knife and a mixing bowl

 

Preparing the mangoes

Choose mangoes that are semi-ripe, firm, and not fibrous.

I prefer mangoes that are slightly sweet but still have a hint of sourness and that are not fully ripe yet

Wash the mangoes

Remove the skin with a knife

Separate the mango pulp from the seed using a knife

Dice the mango flesh into small cubes of 1 cm. 

Try to keep the diced mango pieces intact and not turn them mushy. We want our salsa to look chunky.

Prepare other vegetables

Dice the onions

Slice the Jalapenos in half and remove all seeds. Dice the Jalapenos.

If you don't get Jalapenos, you may replace them with half the number of Thai or Indian green chilies or you may completely skip it. Just watch out for the spiciness of chilis.

Chop the Cilantro 

Preparing the mango salsa

Take a serving bowl

Add all ingredients as listed and mix well

Taste and adjust the salt and sugar

Serving

Serve on Tacos or as a side dish with Indian Rotis and curry. You can also eat mango salsa as a dip with Tortilla chips.

 
Notes
You can prepare mango salsa and store it in the refrigerator for up to a week in an air-tight container.
mango, salsa, mexican, spicy, sweet, sour, Taco, Tortilla