"Paneer Kathi roll" is an Indian-origin street food that is also a favorite dish at our home. Kathi roll is an easy-to-prepare dish that is tasty, filling, and convenient to carry during picnics and travel.  Kathi rolls (also called "Kati" rolls) come in different variations based on the filling used. We can use grilled paneer, grilled veggies, or meats. Even the spices used can be altered to your liking. 
A Kathi roll has 4 basic components – 
(1) Soft roti, tortilla or paratha, 
(2) A filling made with grilled paneer or mix of veggies,
(3) Layer of chutneys/sauces 
(4) Topping of thinly cut fresh (or marinated) veggies and cilantro 
Paneer is also known as Indian cottage cheese and is made from cow or buffalo milk. It is a non-aged, non-melting soft cheese that is perfect for grilling or frying.  To keep this recipe convenient and less time-consuming, I have used store-bought parathas, but if you prefer, you may prepare fresh rotis / parathas. I have also tried making Kathi rolls with Tortilla (white and wheat) and they come out very well. If you use store-bought Tortilla or rotis/parathas, just heat them in a pan with little oil until they are soft and easy to be rolled.
Start your recipe by marinating the paneer in a yogurt and spices mixture. While the paneer is marinating, chop onions, carrots, and cabbage into thin strips. I have used Indian coriander and mint chutney and tomato ketchup for a spicy-sweet-tangy taste. Once the paneer has marinated for about 15-20 minutes, you can fry it in a pan or on a grill until the paneer starts to turn brown and develops crispiness on the outer layer.
Next, heat the rotis or tortilla on a pan with some oil until they turn soft and get a light brown color. The final step is to assemble the Kathi rolls by applying the chutney and sauce on the roti, arranging the paneer and chopped vegetables, and rolling the rotis tightly.
You can prepare the paneer in advance and store in the refrigerator. Paneer Kathi rolls are easy to make in bulk quantities for parties if we have all the basic components prepared in advance. 
Added cooling effect with cucumber raita / dip: If you like a little cooling effect to balance the spiciness of the Kathi roll, prepare simple raita with creamy yogurt, minced cucumber, salt, sugar, cumin powder, and finely chopped mint, dill, or cilantro.
I hope you will find this recipe helpful and tasty. Please rate this recipe. If you have liked it, please share it with your friends. For more updates on new recipes, please subscribe.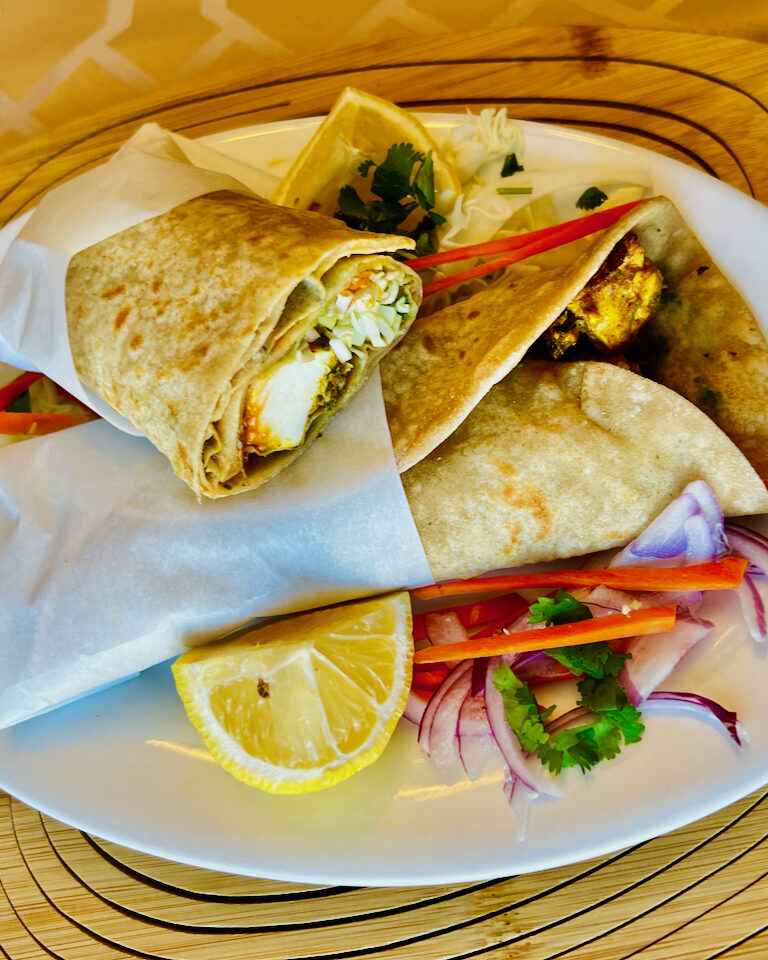 Paneer Kathi roll – (Masala cottage cheese wrap)
Description
Paneer Kathi roll is an Indian street food made with grilled Paneer cubes coated with Indian spices, wrapped in a roti or tortilla with a topping of marinated veggies and chutneys. 
Main Ingredients
To Marinate Paneer
Toppings - Chopped vegetables & Chutneys
Instructions
Equipment Needed

Oven-toaster-grill or non-stick Frying Pan for grilling Paneer
Griddle or Tava to heat the chapatis

 

Prepare paneer marinade

Mix all the ingredients described in the Marinade section

Whisk thoroughly until all the ingredients have blended well in the yogurt

Bring the Paneer to room temperature if it is frozen

Cut the paneer into ½ inch cubes

Add the Paneer cubes to the yogurt marinade and gently mix so that all the Paneer cubes are uniformly coated with the yogurt mixture

Let the Paneer marinate for about 30 minutes

Store the marinade in the refrigerator until you are ready to use it

Grilling the paneer

If using an Oven grill:

Spread the Paneer pieces on a flat baking sheet

Bake in the oven at 400F for about 10-15 minutes until you see a light char or browning of the paneer cubes

Take the tray out of the oven. Turn the paneer pieces gently to expose the sides that are still light in color. 

Bake for another 10 minutes.

The baking time may vary depending on the oven. A good test to ensure that the paneer is ready is to wait until the outer color turns light brown on all sides and the marinade has dried completly.

Remove the tray from the oven when the paneer cubes are uniformly roasted. Some charring is good to get the perfect taste 

If using a non-stick frying pan:

Spread a thin coating of cooking oil on the frying pan and keep it on medium heat

Once the oil has heated, drop the paneer cubes one by one so that they are spread evenly and do not overlap

Do not stir. Let the paneer cubes bake for 3-4 minutes. Gently turn over the cubes so that the other sides get cooked. Keep turning over the cubes every 3-4 minutes until all sides are equally cooked and the outer layer changes color to a darker shade. It is ok if some charring happens as it will give a nice smokey flavor to the paneer.

Preparing the Kathi roll

Warm the Roti/paratha on a frying pan. As we are using pre-made rotis, we are just warming them to make them a little crispy. Spread a thin layer of oil on both sides (this is optional).
Take one heated roti and lay it flat on a plate
Spread a thin layer of coriander and mint chutney and tomato ketchup, to cover the entire surface of the roti.
I normally keep it to 1/2 or 1 teaspoon each of the chutney and ketchup
Lay about 8-10 pieces of grilled paneer along the center in a straight line.
Top with a few strands of julienned cabbage, carrots, onions and fresh cilantro
Squeeze/sprinkle some fresh lemon juice (optional)
Sprinkle some chaat masala ( just a pinch)
Wrap the roti into a roll. You can use aluminum foil or parchment paper to hold the Kathi roll in shape. It will also help in serving or carrying.
Notes
 Grilled paneer can be prepared in advance and stored in a refrigerator for up to a couple of weeks. Just microwave or reheat the paneer on a frying pan before serving

Once the Kathi rolls are prepared, do not store them beyond a day, as they will turn soggy.
Paneer, Kathiroll, chapati, Indian cuisine, kathi, katiroll, wrap, Cottage cheese