I am sharing my recipe for "Roasted Beets Salad with Spinach, Feta cheese and Pomegranate Vinaigrette" which combines easily available ingredients to deliver a tasty, healthy and crunchy meal. Creating salads that are filling and nutritious at the same time is always a challenge. If you also want them to be tasty and interesting, it is all the more difficult to find the right options. 
I am not a big fan of beets as they taste minerally although the color looks bright and appealing. I was looking for different options to make it appealing for me to eat beets. After a few trial and errors with different recipes, I found this recipe which came closest to my liking and tastes. My recipe for "Roasted Beets & Spinach salad" is topped with  Feta cheese, pine nuts, and Pomegranate Vinaigrette. This salad has 5 layers that bring together different textures and tastes. My definition of a great Salad is that it should have multiple textures, tastes, colors and be visually appealing.  A great salad should help bring out the natural tastes of its ingredients while enhancing the flavor with some dressing. Salads need to be eaten fresh to enjoy the full range of textures and tastes.  
Recently I published a printable cheat sheet that provides a recipe for 7 salads, each with a unique combination of ingredients and dressings. The "Roasted Beets and spinach salad" recipe that I am sharing here is one of the 7 salad recipes in my cheat sheet. If you would like to refer to other salads, please click this link. You can print this cheat sheet and paste it in your kitchen for easy reference or planning your week ahead.
The recipe for this salad involves the following ingredients :
Roasted Beets :

You can use beets of different colors. To roast the beets, start with cleaning the beets with water and drying them. Peel the outer layer to remove any dirt and outer skin. I have described the roasting process below which is quick and easy – should take less than 20 minutes. 

Fresh Baby spinach

– Spinach adds crunch to our salad while providing rich fiber and nutrition. It also provides the base of our salad with a neutral taste that complements the sweet taste of roasted beets. You can substitute spinach with arugula or baby greens.

Feta cheese

: I prefer Feta cheese for this salad as we want a soft and crumbly Cheese that keeps the crispiness of our salad alive. we also want to balance the taste with some saltiness and creamy flavor. Feta adds a unique salty taste that enhances the sweet, sour and tangy tastes of other ingredients.

Pine Nuts

: Pine nuts add a buttery texture and nutty flavor to our salad. You can use other types of nuts also but the toasted pine nuts offer a unique taste that goes well with the beets and pomegranate dressing.

Pomegranate Vinaigrette dressing

: The dressing is the star of our salad as it brings together all other ingredients and adds a rich sweet and tart flavor. My recipe for Pomegranate Vinaigrette includes freshly made OR store-bought Pomegranate juice (look for 100% Pomegranate juice – I used

Pom brand

), Dijon mustard, Honey, Balsamic vinegar, toasted white sesame seeds, salt and olive oil. You may use fresh pomegranate seeds to sprinkle on the salad to bring extra color and taste.  
This salad recipe calls for some prep work but you will love the salad for its unique flavors and combination of tastes that may not be available in any restaurant. Treat your friends and family to this unique salad recipe that is sure to leave them asking for more.
I hope you will find this recipe helpful and tasty. Please rate this recipe. If you have liked it, please share it with your friends. For more updates on new recipes, please subscribe.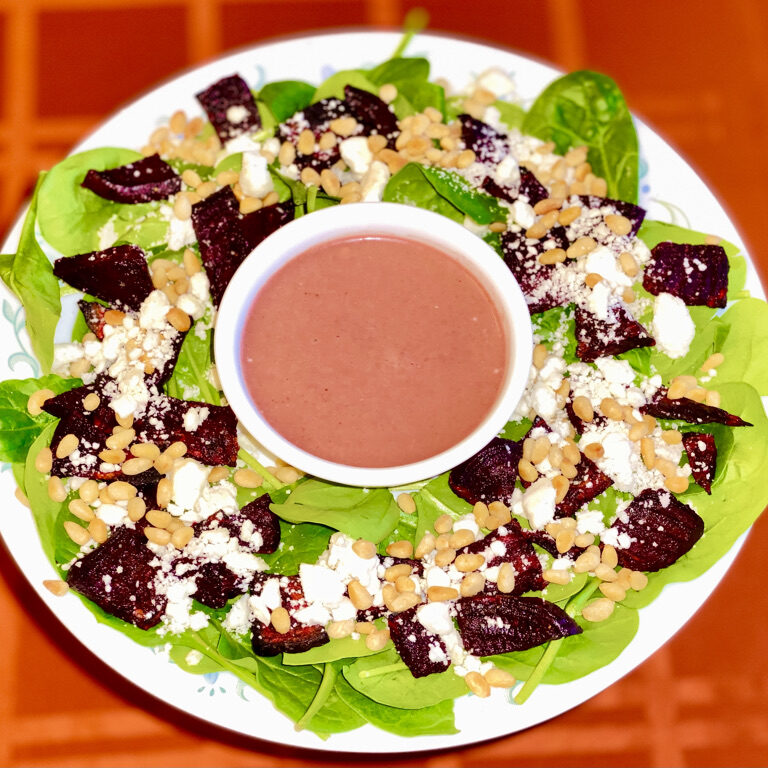 Roasted Beets Salad with Pomegranate Vinaigrette
Description
A crispy and colorful salad with earthy roasted beets, fresh spinach and mellow pomegranate vinaigrette dressing topped with Feta cheese and pine nuts
To make Pomegranate Vinaigrette
For the main salad
Instructions
Roasting the beets

Clean the beets with water and dry them.
Peel the outer layer. Remove stems and roots
Cut the Beet into half. Then make slices of 3-4 mm thickness (⅕ inch)
Cut these slices into the desired size. I cut each slice into about 1 square inch.
Take an open bowl and mix the beet pieces with Olive oil, salt and black pepper
Lay an aluminum foil on a baking tray and spread the beet pieces flat.
Make sure that the beet pieces are not overlapping
Bake the beets in an oven at about 400F for 10 minutes.
Remove the tray from the oven and turn over the beets. Keep the tray back in over for another 10 minutes.
If you want the beets to be just cooked enough but not get a caramelizing effect on the top, then instead of 10 minutes bake the beets for 7-8 minutes on each side.

Preparing the Pomegranate Vinaigrette dressing

Add all the ingredients listed for the dressing in the ingredients section, to a blender. Blend until the mixture is smooth. Adjust honey and salt to suit your taste.

Toast the pine nuts

Dry roast the pine nuts in an open pan for about 10-15 minutes on medium heat. Remove from heat when the pine nuts start to change into light brown color. Keep stirring the nuts as they can get burnt quickly.

Prepare the greens

If your store bought-greens are not pre-washed, make sure to wash the greens and dry them. We don't want our greens to be soggy or dripping with water as it would spoil the texture and taste of our salad. 

Arrange the salad

We can serve the salad two ways :

a. For a better appeal: Lay the greens on the serving plate. Add the roasted beets on top of the greens. Keep the dressing in a small bowl. Serve the feta and pine nuts on the side.

b. For larger groups and self-serve: Mix the greens, beets, and dressing. Serve Feta cheese and pine nuts on the side.
Notes
Eat the salad when it is freshly made. Please do not refrigerate the prepared salad as the crunchy textures will be lost and the tastes will be different.
The dressing can be refrigerated for 4-5 days. When you are ready to use it, make sure to mix the contents well.
Roasted Beets, Spinach, Pomegranate, Vinaigrette, Pine nuts