Turmeric Latte is a tasty and fragrant beverage that has many health benefits due to its main ingredient- Turmeric. Turmeric contains a yellow-colored chemical called curcumin, commonly used for conditions involving pain and inflammation.
This recipe further enhances the health value of Turmeric by combining it with Ginger, Cloves, Cardamoms, Nutmeg, Star anise, Saffron, Honey and Cinnamon. Each of these ingredients are known for immense health benefits. Together with Turmeric, these ingredients create a beverage that is golden yellow in color, sweet and flavorful.
I have used fresh turmeric and ginger roots – which bring out an earthy and rich aroma to this drink.I have used regular whole milk, but we can substitute with any milk alternative like coconut, almond, Oat or cashew milks. I drink Turmeric latte in the morning or at night, because it is soothing for the body and mind.
PLEASE NOTE : We don't need to use all the spices in case you prefer a more basic version of this latte. We can still get a aromatic and healthy turmeric latte with just Turmeric powder or grated root, milk, honey and choice of your spices.
I hope you will find this recipe helpful and tasty. Please rate this recipe and if you have liked it, please share it with your friends. For more updates on new recipes, please subscribe with your email ID.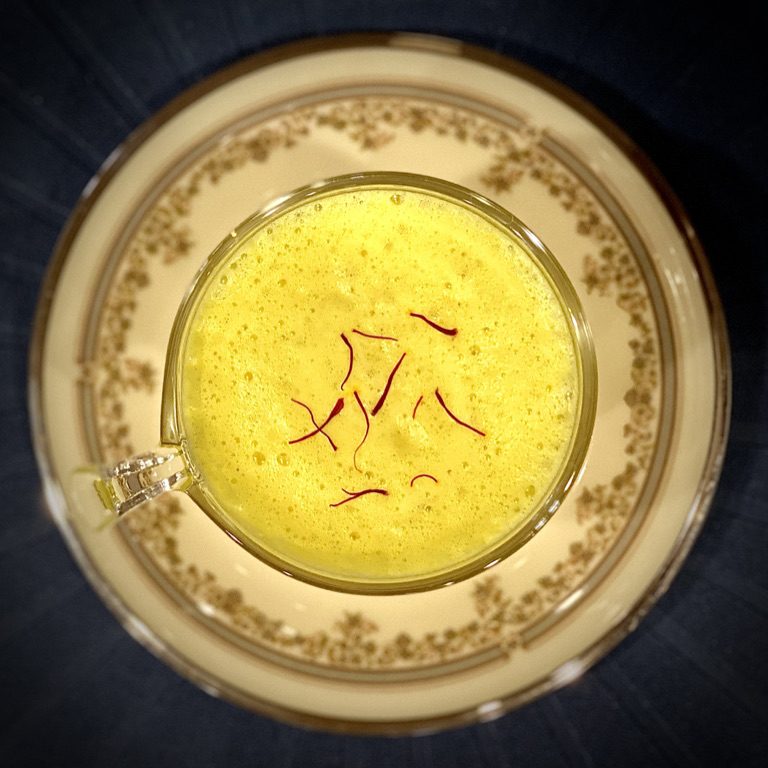 Turmeric Latte – with Saffron and Spices
Description
A golden yellow sweet and flavorful beverage that is filled with nutritional value of Turmeric, honey and spices. The aroma from Turmeric latte can easily awaken your body and mind. You can replace regular tea or coffee with this drink.
Section : Spices
Section : Other Ingredients
Instructions
Bring water to Boil in a thick bottomed saucepan
Add all the spices and roots.
Continue to stir and boil on low heat for another 10 minutes
Add hot milk and continue to stir for another 5 minutes
Remove from heat and Strain the solids
Pour the Turmeric latte into cups.

 
Turmeric, Latte, Spices, Saffron, Beverage, Hot drink, Indian,