My recipe for "Arugula, Roasted Pear and Asparagus salad" with walnut dressing and glazed Pecans topping, is a mix of earthy, tangy, and sweet flavors. This salad has 5 layers that bring together different textures and tastes. My definition of a great Salad is that it should have multiple textures, tastes, colors and be visually appealing.  A great salad should help bring out the natural tastes of its ingredients while enhancing the flavor with some dressing.
Salads need to be eaten fresh to enjoy the full range of textures and tastes. I also prefer my salads to be filling and rich in dietary fibers. I am not a big fan of store-bought dressings as they are either too salty, sugary, oily or are stuffed with preservatives, which defeats the whole purpose of eating a healthy salad.
Recently I published a printable cheat sheet that provides a recipe for 7 salads, each with a unique combination of ingredients and dressings. The Arugula salad recipe I am sharing here is one of the 7 salad recipes in my cheat sheet. If you would like to refer to other salads, please click this link. You can print this cheat sheet and paste it in your kitchen for easy reference or planning your week ahead.
Please find below a description of the 5 layers of the  "Arugula, Roasted pears, Asparagus salad with Walnut dressing and glazed Pecans" :
Arugula: Fresh arugula leaves have a distinctive spicy kick that will turn up the flavors in your salads. The flavor can be tart, peppery, or slightly bitter, depending on its maturity. I have used fresh Arugula that is prewashed and ready to eat. Prewashed salads reduce one extra hassle out of the prep work to dry the greens. If we don't dry the greens properly, the salad turns soggy and loses the intended texture.
Roasted Pears: The star of my salad recipe is the roasted pears. There are many varieties of Pears available depending on where you live. I have used semi-ripe Bartlett Pears which are sweet and juicy with a unique crunch, and slightly gritty. When we roast pears with honey and sugar, there is a caramelization that accentuates the original flavors of pear and makes them juicy.
Walnut dressing: Walnuts have a buttery texture and an earthy taste that make the dressing rich and flavorful. I have blended roasted walnuts and garlic, olive oil, fresh parsley, lemon juice, salt, and pepper to make a rich and creamy walnut dressing. The walnut dressing is a nice complement to the veggies in this salad.
Roasted Asparagus: Asparagus has a crunchy texture and adds an umami flavor to the salad. I have roasted the asparagus with a thin coat of oil, lemon juice, salt, crushed garlic, and pepper. Roasted Asparagus pairs well with the spicy, tangy, and sweet tastes of other ingredients.
Glazed Pecans: To top it all, I have added butter-roasted Pecans glazed with brown sugar. distinctly sweet and buttery flavor, and a mildly earthy aroma. The outside of the nut is slightly bitter and the flesh within is mellow and fatty. The topping of glazed Pecans helps in enhancing the bland tastes of arugula and asparagus.
This salad recipe calls for some advanced prep work but when prepared, you will love the texture and taste that is not available in any restaurant. Treat your friends and family to this unique salad recipe that is sure to leave them asking for more.
I hope you will find this recipe helpful and tasty. Please rate this recipe. If you have liked it, please share it with your friends. For more updates on new recipes, please subscribe.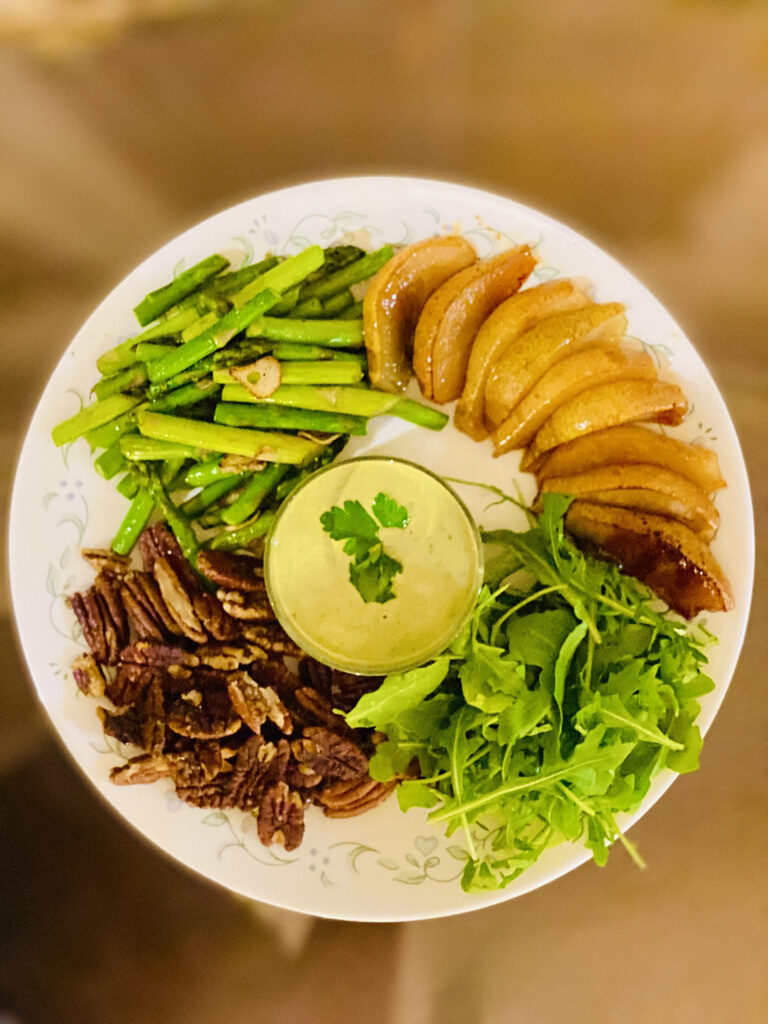 Arugula, roasted pears & asparagus salad with walnut dressing
Description
A salad recipe that combines the goodness of leafy greens, vegetables, nuts, and fruits with a balanced mix of different tastes
Arugula with Walnut dressing
Roasted pear
Roasted asparagus
Glazed pecans
Instructions
Step -1 : Making the Roasted Pears

Peel, core and cut pears into 1/2-inch-thick slices. Toss the pear slices with honey and brown sugar in a large bowl. Transfer to a baking pan large enough to hold the slices in a single layer. Bake at 400F for 15-20 minutes or until the pears turn golden brown. Avoid burning the pears. Turn the Pear slices over to expose the other surface. Bake for another 10 minutes or until the pears are tender and golden brown on both sides.

Step -2 : Walnut dressing

Roast the chopped walnuts and Garlic in a pan until the garlic turn light brown and the walnuts start to change the color to light brown. Don't burn the walnuts. We just need to roast until the raw flavor of walnuts goes away.

Blend all the ingredients in a mixer until the dressing is smooth and uniform in texture. 

To ensure we get a uniform texture, Use a strainer to filter the dressing.

Step-3 : Roasting the Asparagus

Trim the bottom part of asparagus spears to ensure the fibrous part is removed. We only need the tender portions. Cut the Asparagus into 1-2 inch length pieces.

Roast the asparagus in a frying pan on high heat for about 7-10 minutes with Olive oil, salt, chopped garlic, and pepper. The asparagus should be crunchy and develop a light char on the surface.

Alternatively, you can mix the asparagus with other ingredients and bake in an oven at 400F for 8-10 minutes, turning over the spears once after 5 minutes.

Step-4 :Glazed pecans

Heat the butter in a frying pan. Add the pecans when the butter has melted and mix well until the butter has coated uniformly. Sprinkle the brown sugar and keep stirring on medium heat. Sugar starts to melt and coat the pecans. Make sure that the Pecans are not burnt. Remove the pan from the heat as soon as the molten sugar has coated the pecans uniformly.

Step- 5 : Plating the Salad

For serving, arrange all the ingredients separately on a large salad plate.   To serve on individual plates, lay the bed of arugula and top it with the desired quantity of dressing. Mix well. Lay the asparagus, pears, and pecans on top of the arugula mixed with walnut dressing.
Notes
This salad is best eaten fresh. If you refrigerate, the crunchy textures will be lost and the tastes will be different.
Watch out while roasting the pears, asparagus, or while glazing the pecans. If they get burnt, they will taste bitter and cannot be used in the salad.
You can also eat the roasted asparagus as a side dish without any of the other ingredients in this salad.
The roasted pears can be eaten as a dessert with a topping of mascarpone cheese, OR vanilla ice cream with a topping of roasted almonds or coconut flakes.
Salad, Arugula, Asparagus, Pecans, Walnut, salad, dressing, pears,