Black eyed peas are a staple source of protein and a commonly used legume across the world. Growing up in India, Black eyed pea curry was a common dish at our home. As kids, we used to enjoy the freshly boiled Black eyed peas with a sprinkle of salt. My recipe for the "Black eyed pea & parsley" salad brings back fond memories of my childhood. The star of this salad is the boiled Black eyed peas.
Black eyed peas, also known as cowpeas, black-eyed beans, or goat peas, are grown throughout the world. Black eyed peas are creamy-white with black marks or "eyes" outlining where they were once attached to pods. Black eyed peas are boiled before using in any recipes. My recipe for "Black eyed pea & parsley salad" with a tangy cilantro dressing includes few other ingredients like – red onions, cucumbers, tomatoes, green chilis / serrano peppers with a topping of roasted cashews and Indian sev (popular Indian snack food – small pieces of crunchy noodles made from seasoned chickpea flour paste and commonly available in Indian groceries or major grocery chains).
You might wonder why we need so many ingredients for a humble salad. This salad has 5 layers that bring together different textures and tastes and elevates the Black eyed peas to a tasty salad or an appetizer that can accompany any kind of main course dishes. My definition of a great Salad is that it should have multiple textures, tastes, colors and be visually appealing.  A great salad should help bring out the natural tastes of its ingredients while enhancing the flavor with some dressing. Salads need to be eaten fresh to enjoy the full range of textures and tastes. I also prefer my salads to be filling and rich in dietary fibers.
Recently I published a printable cheat sheet that provides a recipe for 7 salads, each with a unique combination of ingredients and dressings. The "Black eyed pea and parsley salad" recipe I am sharing here is one of the 7 salad recipes in my cheat sheet. If you would like to refer to other salads, please click this link. You can print this cheat sheet and paste it in your kitchen for easy reference or planning your week ahead.
Please find below a description of the 5 layer "Black eyed pea and parsley" salad:
Black eyed pea: Like most beans, black eyed peas have a starchy taste with a hint of earthiness. You can boil the Black eyed peas in a pressure cooker or on a stove top. Either way, make sure that the texture is soft enough to eat but not mushy. The black eyed peas should be completely done and retain their shape. If they are overboiled, we can't use them in a salad. If you are boiling the black eyed peas on a stove top, we need to soak them overnight in enough water.
Parsley: Parsley is a fresh green herb that brings a rich color and peppery taste that offers a nice complement to the black eyed peas. Parsley adds a nice freshness and aroma to the salads.
Veggies ( Red onion, cucumber, tomato, serrano peppers/ Indian green chilis) : All these veggies add different textures and make the salad not only more nutritious but also bring a diverse mix of tastes. Be careful with the peppers as you need to add them in very little quantity to suit your taste.
Tangy-sweet cilantro dressing: I have mixed two store-bought Indian chutneys in the ratio of 3 parts of Cilantro chutney and 1 part of Tamarind-Date chutney. Both these chutneys bring a nice aroma of cilantro and ginger with the sweet and sour taste of the tamarind and dates. You can add 1 part of water to dilute the mixture.
Indian sev and roasted cashew topping:  A salad doesn't seem to be exciting and appetizing unless we add a topping of something crunchy, fried and savory (if you are too bothered about the extra calories, then skip these and add roasted almonds/ roasted peanuts / pumpkin or sunflower seed).  Roasted cashews and Indian sev are so yummy that we can eat these without anything else. When added to salad with the dressing of Indian chutneys, the toppings elevate the salad to an appetizer or a side dish that everyone in the family wants to savor.
This salad recipe calls for some advanced prep work but when prepared, you will love the texture and taste that is not available in any restaurant. Treat your friends and family to this unique salad recipe that is sure to leave them asking for more.
I hope you will find this recipe helpful and tasty. Please rate this recipe. If you have liked it, please share it with your friends. For more updates on new recipes, please subscribe.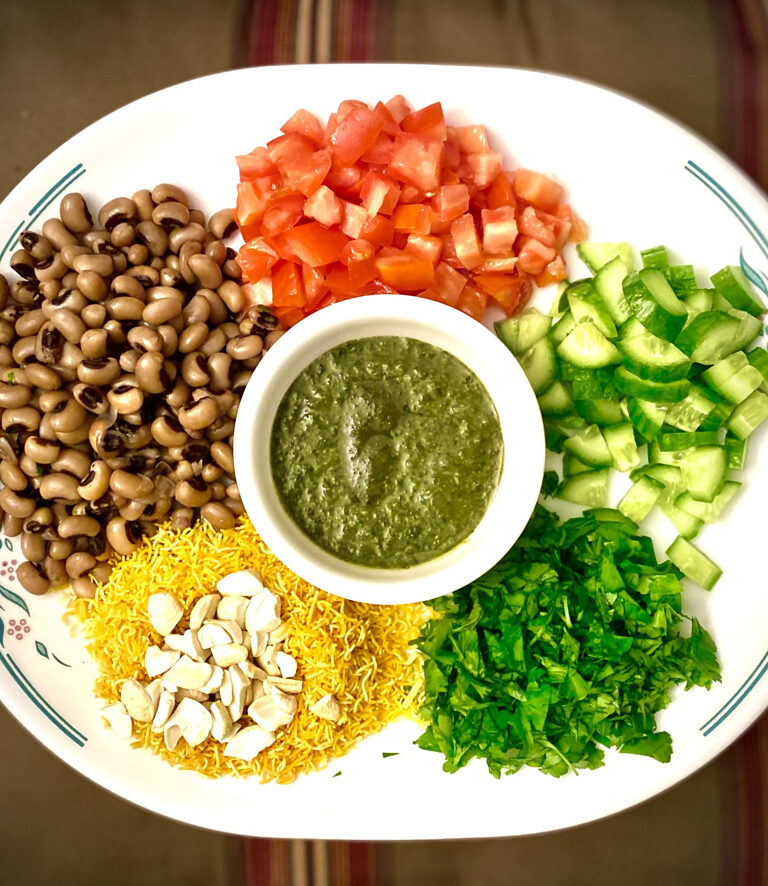 Black eyed pea & Parsley salad with a tangy Cilantro dressing
Description
 A refreshing, wholesome and nutritious salad that is tangy, crunchy, and flavorful. A protein-rich salad with the main ingredient as black eyed peas is elevated to a tasty and crunchy salad cum appetizer with tangy dressing, veggies and toppings
Instructions
Boil the black eyed peas in a pressure cooker (4 cups water) for about 3 whistles or on stove top.
Drain the water and dry the boiled black eyed peas by wrapping them in a paper towel or a cloth.
Keep all vegetables ready as described in the ingredients section
Mix the boiled black eyed peas, cayenne pepper, salt, salt, lemon juice and black pepper powder in a salad bowl. Taste and adjust the spice and salt levels
Add all the vegetables to the black eyed peas and mix well.
To prepare the dressing, Mix the cilantro and tamarind-date chutney with water
Spread the dressing on the black eyed pea and vegetables mixture
For serving, divide the salad into desired number of portions. After serving the salad mix on the plate, add the toppings of Indian sev and cashews just before eating.

Enjoy the salad.
Notes
Eat this salad when it is freshly made. If you refrigerate, the crunchy textures will be lost and the tastes will be different.
Watch out for the spice levels as the serrano peppers can be very hot for your palate. You can avoid the serrano peppers if you prefer.
Links for toppings and chutneys
Black eyed peas, Parsley, salad, cilantro, tamarind, Lobia, Black-eyed peas, Rongi, Kacang tunggak, alsande kalu karamani or thattapayaru alasandalu , Salad, spicy, dressing,