Sev tomato sabzi is an Indian curry from Rajasthani cuisine in India. Rajasthan is a state in the north-western part of India with a rich culture and heritage that has roots in the Indus valley civilization. Rajasthan's cuisine is deeply influenced by its diverse topography, many kingdoms that ruled the region over time, and the weather conditions.
A key characteristic of Rajasthani cuisine is the variety, richness, and exotic preparations that are representative of the many kingdoms that have influenced food preparation over many centuries. The princely cuisine was dominated by meats, ghee, dry fruits, and milk products. We will also find some popular food items that are representing the common people or nomadic and agricultural tribes who led a basic style of living. Some of the staple foods like "Papad ki Subzi" and "Bajra ki roti", use easily available and affordable ingredients. One such simple dish from Rajasthan is the "Sev Tomato Subzi" or also called traditionally as "Sev Tameta Nu Shaak –  સેવ ટમાટર નું શાક".
The sev tomato subzi is a spicy and tangy curry that is often eaten with local bread made of Bajra (millets). The first time I tried this subzi was at a Rajasthani Dhaba almost 20 years back. The memory of eating sev tomato subzi with hot rotis served by the tribal chef was an unforgettable experience. I am sharing with you the recipe for Sev tomato subji that was created by my wife. She served the "Sev Tomato subzi" with a side of rotis, raw onions and green chilis. This dish was the closest in taste to the "Sev Tomato subzi" I had eaten at the Dhaba almost 20 years back.
To prepare Sev tomato subji, you need Indian Sev as the main ingredient. Sev is a popular Indian snack food consisting of small pieces of crunchy noodles made from chickpea flour paste, often seasoned with spices before being deep frying in oil. Every Indian grocery shop will carry some varieties of sev as it is a typical Indian snack. The other ingredients are common items like Onion, tomatoes, ginger, garlic, some spices and cilantro. Please refer to the recipe card below for more detailed ingredients and instructions.
I hope you will find this recipe helpful and tasty. Please rate this recipe. If you have liked it, please share it with your friends. For more updates on new recipes, please subscribe.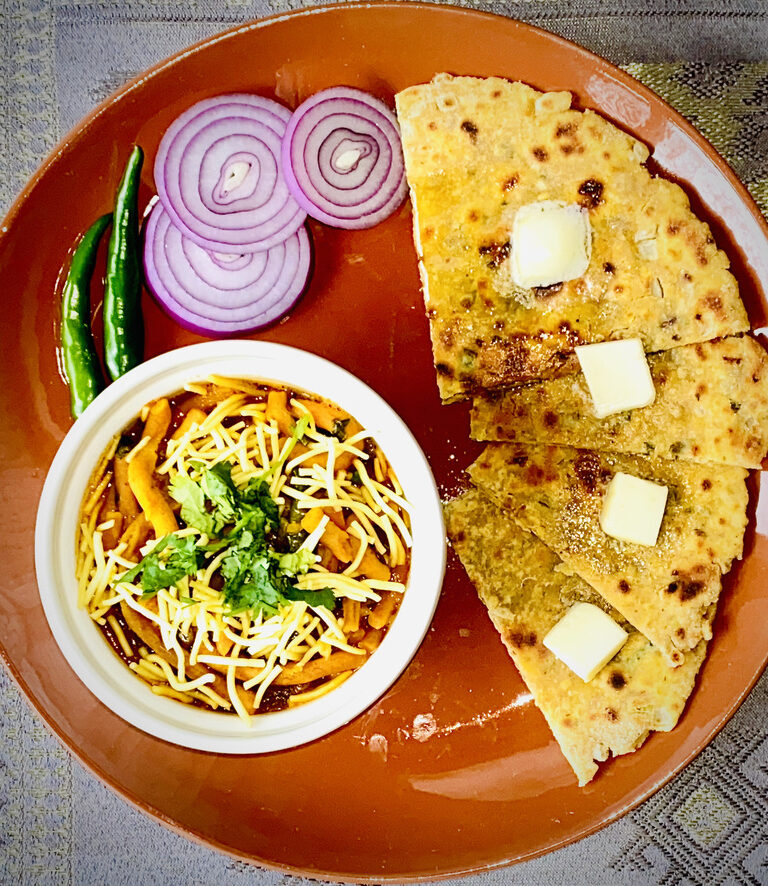 Sev Tomato Subzi | Sev Tameta Nu Shaak
Description
A traditional curry from the Rajasthan state of India that is made with Sev (fried Chickpea flour noodles) and Tomatoes with aromatic spices. Best served with Indian Rotis.
Keep a thick-bottomed saucepan on the stovetop and adjust the flame to medium heat.
Add ghee. Let the ghee heat and start to simmer (Good test is when you start to see some bubbles – Do not bring it to boil)
Add Mustard seeds and let them sputter
After the mustard seeds have sputtered, reduce the flame to a low level
Add the cumin seeds and stir well for about 10-15 seconds
Now add Ginger-garlic paste and green chilis.
keep stirring. Stirring will ensure that the paste will not stick to the bottom of the pan and avoid burning.
When the raw smell of ginger garlic paste has faded, add the onions (about 1 minute)
Increase the flame to medium and continue to stir until the onions have started to change color and turn semitransparent.
Add tomatoes and continue to stir. After a minute of stirring, add the Hing, red chili powder, turmeric powder, coriander powder, salt and sugar.
Mix well to ensure all the spices have mixed well with the tomatoes.
Reduce the heat and let the mixture continue to boil for a couple of minutes
Add garam masala powder and fresh Cilantro. Stir again.
Add water and mix well. Let the mixture boil for another 7-8 minutes on medium heat.
Check the taste and adjust the spice/salt levels. Stir well.
Add thick sev and give one final stir. Shut off the flame and close the lid on the saucepan.
The subzi is ready to serve after 10 minutes when the sev have soaked up the spicy liquid and softened.

The "Sev Tomato subzi" is best eaten with Indian breads – traditionally called as "Roti". The locals prefer to eat this subzi with Bajra (millet) roti coated with a thin layer of ghee. You can also have this subzi with Wheat rotis or Missi (Chickpea+wheat) rotis.

Garnish with fresh cilantro and thin sev. A side of fresh onions and green chilis will make this dish complete.
Notes
Serve the subzi when it is still hot.
If you would like to refrigerate it, do not add the thick sev in the final step as described in the instructions. The sev can get very soggy and may turn into a paste. You can prepare the subzi without sev and store it in the refrigerator for a couple of days. When you are ready to eat, bring the subzi to boil and mix the thick sev. Let them soak in the subzi for at least 5 minutes while the subzi is boiling.
If you are not careful, the subzi can turn very spicy as we have multiple ingredients that add to the spice levels. Green chilis can be very spicy, so add them in small quantities.
Indian, subzi, sev, tomato, spicy, tangy, roti, Rajasthan,