This recipe for Cabbage and Beans Thoran is an adaptation of the common Thoran recipe from Kerala.  Thoran is a generic type of dry vegetable dish combined with coconut and tempered with chilies, mustard seeds and cumin. This dish is usually eaten with rice or rotis.
The recipe includes finely chopped cabbage, onions and green beans mixed together with grated coconut, mustard seeds, curry leaves, green and red chilies, hing ( asafoetida) and turmeric powder and briefly stir-fried over medium heat.
The specialty of this dish is its simplicity and ease of preparation. Also, the vegetables are cooked to the minimum level which maintains the nutritional value and taste.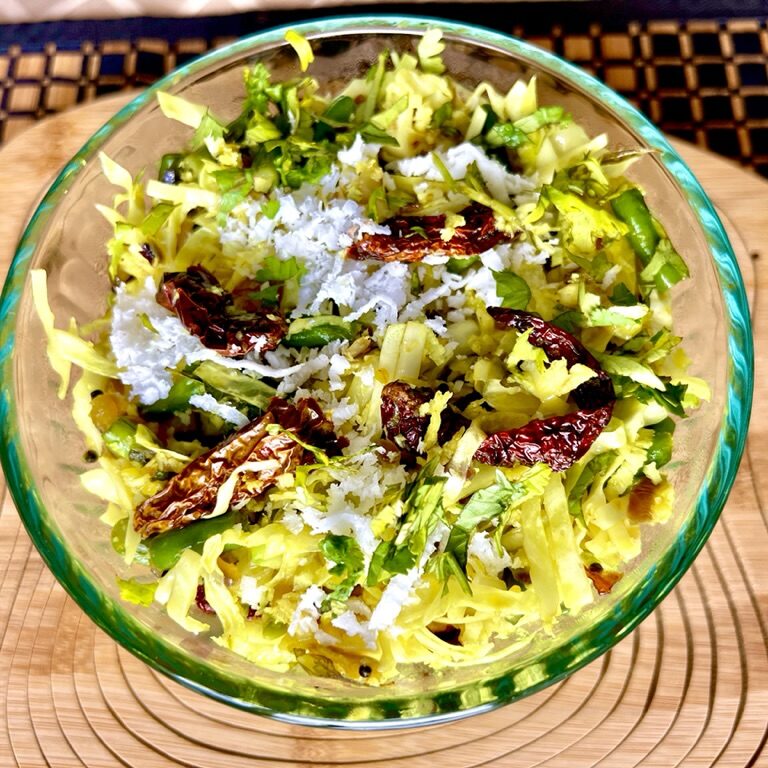 Cabbage and Beans Thoran (Sabzi)
Description
A flavorful and healthy yet mildly spiced south Indian sabzi with origins in Kerala. This curry is made with fresh cabbage, green beans, and grated coconut, with added condiments and spices. The style of preparation keeps the nutritional value of vegetables intact without overcooking. This dish can be prepared in under 30 minutes.
Vegetables
Spices and other ingredients
Instructions
Prepare the vegetables

Finely chop the cabbage (Julienne - 2 inch length)

Cut the green beans into 1 inch length pieces

Boil the green beans in water for about 10 minutes to soften them

Clean and chop the Cilantro

Split the green chili vertically

Dice the onions/shallots

Grate the fresh coconut ( if using frozen grated coconut, make sure to thaw it and warm it before adding)

Prepare the thoran sabzi

Keep a frying pan on medium heat

Add the oil ( coconut or any cooking oil)

When the oil is hot, add the mustard seeds and wait until they sputter

Now add the cumin seeds, green chilies, red chilies, diced onion, green beans, hing, and curry leaves.

Stir until the onions have softened and start to change color. If the green beans are not tender, they will need extra time to cook. Check to make sure that the beans have softened before proceeding.

Add the turmeric powder, salt, and lemon juice and stir for another 1-2 minutes

Now add the cabbage and coconut and stir well until the spices have uniformly coated the cabbage. Stir for 2-3 minutes on medium heat just until the cabbage starts to soften. 

WE DON'T WANT THE CABBAGE TO OVERCOOK. ALSO, THE CABBAGE STARTS TO RELEASE WATER IF WE OVERCOOK. 

Sprinkle chopped fresh cilantro before serving

Serving

 

Serve the cabbage and beans thoran with rice, curries and rotis
Cabbage, Green beans, Thoran, sabzi, subzi