Coconut Sevai is a popular south Indian breakfast which is also known as Thengai Sevai or Thengai Idiyappam. In certain parts of south India this dish is also called as Sevai Upma. Coconut Sevai is a very simple dish made with rice vermicelli roasted in ghee and other Indian spices.  It is often served with coconut or tomato or ginger chutney and/ or pickles. The key ingredient is the Rice Sevai or rice vermicilli ( also called as rice string hoppers) which is commonly available in Indian/Asian grocery shops. Most of the other ingredients are available in Indian grocery shops.
Please try this recipe and if you like it, please share with your friends. I would appreciate if you can leave your feedback with any suggestions and comments.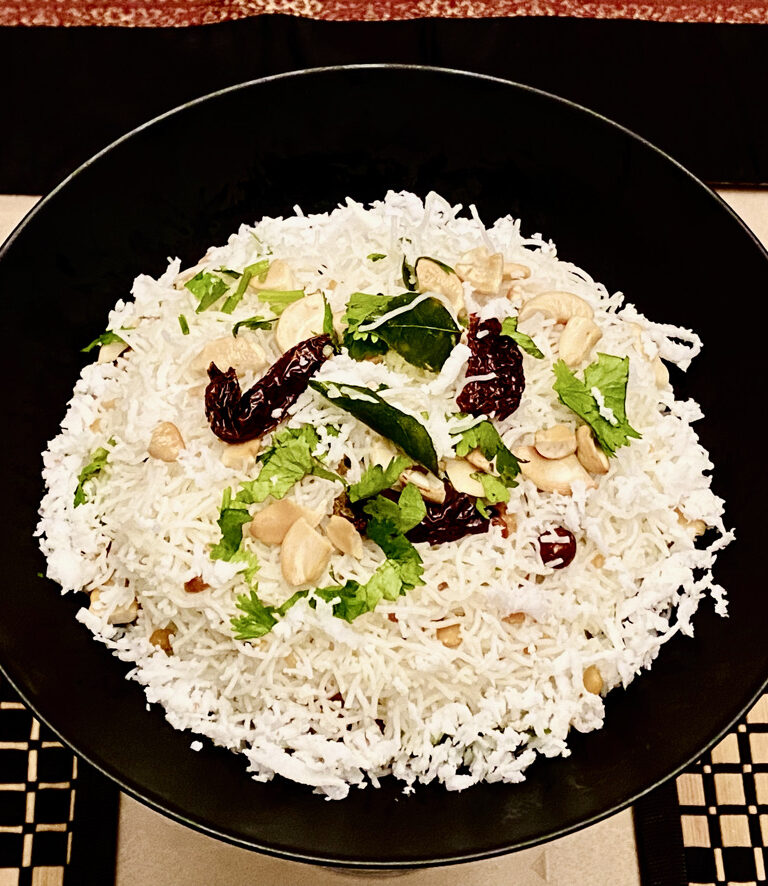 Coconut sevai – Rice vermicelli upma / Thengai sevai / Idiyappam
Description
Coconut Sevai is a delicious and healthy south Indian breakfast that is made with boiled Sevai roasted in ghee and spices. 
Instructions
Prepare the Rice Sevai

Bring water to boil in a pot. Remove from heat
Take a separate pan and spread the Sevai
Pour the hot water in the pan which has the Sevai. The water should completely immerse the Sevai
Let it stand for 5 minutes.
Keep a colander ( or a strainer) in the sink. Carefully pour the Sevai with hot water into the colander.
Drain the water and let the Sevai rest in the colander.

Adding the spices / tempering / tadka

Keep a large non stick pan on stove with the heat on medium level

Pour the cooking oil and ghee

When you start to see bubbles in the oil, add a few mustard seeds and check if they sputter (pop with a soft noise)

If the mustard seeds do not sputter, increase the heat

Once the oil and ghee mixture reaches the right temperature, add all the mustard seeds and let them sputter

Reduce the heat to lowest level

Add Peanuts and stir them for about 2 minutes

Add green chillies, dried red chillies, urad dal, chana dal and curry leaves. Keep stirring for 2 minutes 

Add Hing (asafoetida) and salt and stir well again

Add lemon juice and mix well again (Lemon juice is optional)

Mix the Sevai with the tadka / spices

Transfer the Sevai from the colander into the pan which has the tempering

Keep the stove on medium heat and mix the Sevai with the tadka /  tempering

Add the grated coconut and mix well. 

Check for the salt level and add more if needed

Reduce the heat to low setting.

Close the lid on the pan and let the Sevai cook in the steam for about 6-8 minutes

Prepare the toppings / garnish

Roast the cashews in a separate pan.
Add one teaspoon of ghee to get a nice aroma.
Chop the cilantro

Serving

Serve the Coconut Sevai when it is still hot

Top the Sevai with Cashews, Cilantro and grated coconut
Notes
Coconut Sevai can be served with coconut / tomato / Ginger Chutney or Indian Pickles
Coconut, sevai, Rice, vermicelli, upma, Thengai, Idiyappam