I am sharing a simple recipe for Arugula salad that can be prepared in 15 minutes. A perfect recipe for a weekday dinner when you don't want the hassle of planning something elaborate to eat.
Arugula ( also known as Rocket) is a leafy vegetable and has a unique tart, bitter, and peppery flavor. The freshness and crunch make it an ideal vegetable for salads or sandwiches. To make this salad tasty, we need to add some other ingredients that can balance the bitterness of the arugula. My recipe includes apple cider vinegar dressing ( sweet and sour taste), shaved parmesan, walnuts, and apples, which balance the bitter taste of arugula.
There is no elaborate cooking involved here and hence you can make this salad in under 15 minutes.
I hope you will enjoy this recipe. Please leave your comments and suggestions.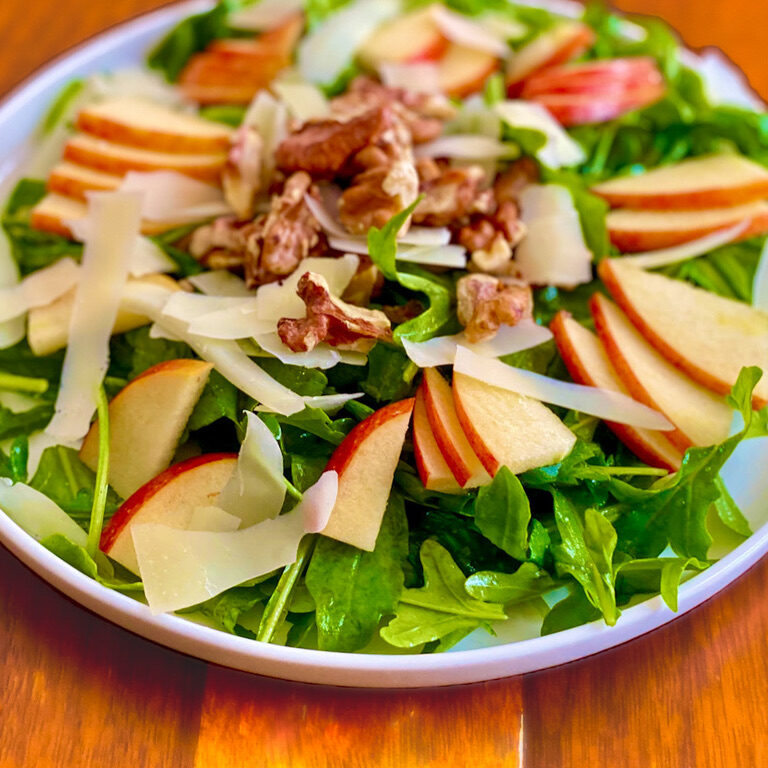 Easy Arugula salad with Apple cider vinegar dressing
Description
A basic recipe for Arugula Salad with Apples, Walnuts, and apple cider vinegar dressing
Salad and toppings
Apple cider vinegar dressing
Instructions
Dressing

Take a mixing bowl and blend all the ingredients as mentioned in the "apple cider vinegar dressing" section, using a whisk.
The dressing can be refrigerated for about a week

Prepare the toppings

Toast the walnuts in a pan on medium heat. Keep stirring. It May take about 7-8 minutes ( Dry Roast them until the walnuts start to change color). 

Chop the apple into thin slices of 1 mm thickness and 1-2 inch length

Make sure to get a uniform size and shape of the apple slices

 

Prepare the salad

Clean and dry the arugula leaves

Take a salad mixing bowl and add the arugula leaves.

Pour the dressing

Gently mix the salad so that the dressing coats all the arugula leaves

Serving the salad

When you are ready to serve, divide the arugula salad into desired portions in the serving plates/bowls

Top it with apple slices and walnuts

Other optional toppings: Cranberries, raisins, roasted almonds, chopped dried apricots

Add shaved parmesan on top
Notes
The salad needs to be served fresh once the dressing has been added to arugula leaves, else the salad will turn soggy.
Arugula, Salad, apple, cider, vinegar, walnuts, sweet, sour, dinner, lunch, healthy,