Boiled Matki dal (Moth dal or Turkish gram) salad with veggies and spices is a healthy, crunchy, and tasty salad made with boiled Matki dal, finely chopped veggies like onion, cabbage, carrots, tomatoes, cucumbers, and cilantro. A touch of salt, pepper, lemon juice, and spices like red chili powder, chat masala and roasted cumin powder add a nice savory taste to the salad. To make the salad more interesting and crunchy, add some roasted peanuts, thin Indian sev, chopped cilantro, and any other toppings you may like ( such as sunflower/ pumpkin seeds or pomegranate seeds).
Matki dal is a hardy bean grown in India that is rich in protein and fiber. Matki dal is commonly used for making curries and dals. This recipe doesn't involve any cooking (other than boiling the matki dal) and is hence easy to assemble for any weekday lunch or dinner. Also, the dish is perfectly suited for vegans. Matki dal is commonly available in Indian grocery shops.
Reference for online purchase:
Credits : I first tried this Boiled Matki dal & vegetable salad at a friend's place in Charlotte. I learnt this recipe from my friend.
Please try this recipe and if you like it, please share it with your friends. I would appreciate it if you can leave your feedback with any suggestions and comments.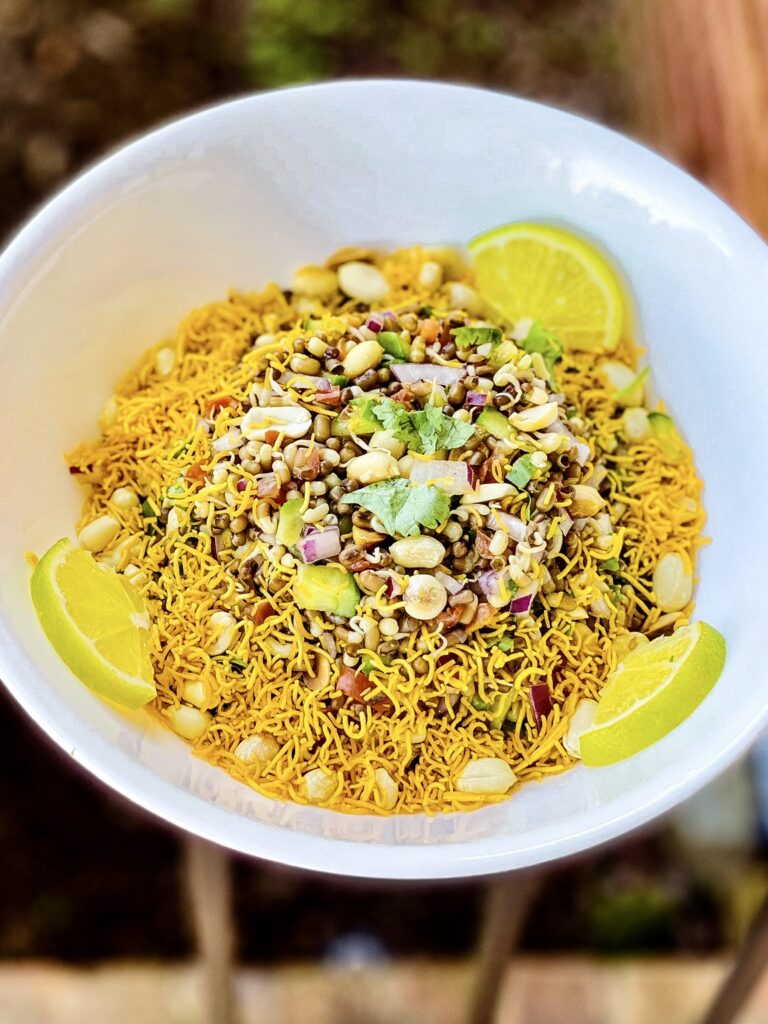 Boiled Matki dal (Moth beans / Turkish gram) & vegetable salad
Description
A tasty, crunchy, and healthy matki dal salad that is made with finely chopped veggies and mild spices with a topping of roasted peanuts and Indian sev
Main salad
Toppings
Optional Ingredients
Instructions
Prepare the Matki dal

Clean the matki dal

Soak the matki dal in the water for at least 12 hours

Drain the water and Separate the beans that are still hard

Boil the soaked matki dal on a stove or in a pressure cooker.

The ratio of water to matki needs to be 3:1 for boiling, 

If you are boiling on the stove, it takes about 20-30 minutes for the matki to soften and start to split. When the matki beans are split, it means they are ready for consumption

Prepare the Vegetables

Finely chop the onion and cucumber

Grate or shred the carrots and cabbage

Deseed the tomatoes and cut them into small pieces

Chop the Cilantro

Mix all the veggies and boiled matki dal

Take a large mixing bowl

Mix the boiled matki dal, onions, carrots, cucumber, cabbage, and tomatoes

( You may store this mixture in the refrigerator until you are ready to serve the salad)

Add the spices

Add chat masala, red chili powder, salt, roasted cumin powder, black pepper powder into the matki and veggies mixture

Add Salt and lemon juice. Taste and adjust as needed.

Serving

Take one cup of the Matki salad in a serving bowl

Top it with 2 teaspoons of sev, some cilantro and 2 teaspoons of roasted peanuts

Add other toppings like pomegranate seeds or pumpkin/sunflower seeds as desired
Notes
Add finely chopped green chilies if you would like to make the salad spicier.
Add a teaspoon of Indian green mint and tamarind-date chutneys to add some sweet-sour taste
You can also add some crushed golgappa puris on top, to add a little more crunch to the salad.
Matki, Madki, Moth, dal, salad, vegetables,