Fried arbi masala is an Indian subji made with arbi, flour coating and different spices. This dish elevates a bland root vegetable like Arbi to a fragrant, crispy and spicy dish that is loved by everyone in our family.
Arbi is a starchy root vegetable that is grown across many tropical countries across the world. It is used widely in south Indian cuisine and I am sharing a recipe that we have been using at our home for many years. The "fried arbi masala" is an easy to prepare dish that can be eaten as an appetizer or a side dish with Indian bread or rice. 
To prepare the crispy "fried arbi masala", we boil the arbi and peel the skin. The boiled arbi is cut into slices and then coated with a blend of bengal gram flour, rice flour, spices and salt. We then shallow fry the arbi slices until the color changes to light brown on both sides and the surface becomes crunchy. We then prepare a blend of dried red chilies and spices in a separate frying pan. The fried arbi slices are then mixed in this spice mixture until they are evenly coated.
The crispy fried arbi masala is a fragrant dish with a crunchy texture on the top but soft layer inside the arbi slices. The mixture of spices, red chilis, salt, cilantro and curry leaves make the arbi tasty, which otherwise is tasteless and also the starchiness makes it unappetizing. 
I hope you will find this recipe helpful and tasty. Please rate this recipe. If you have liked it, please share it with your friends. For more updates on new recipes, please subscribe.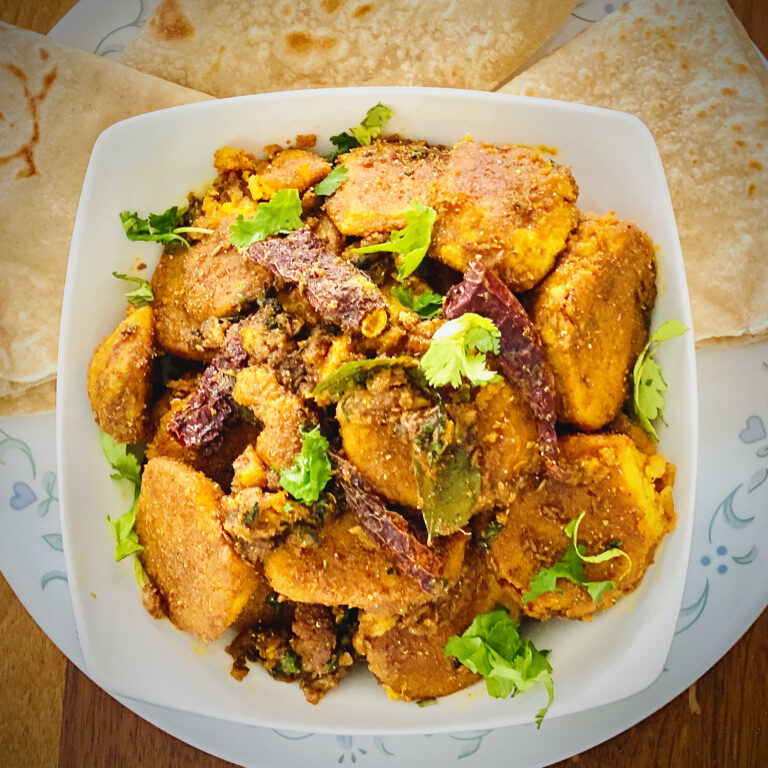 Fried Arbi (Taro root) Masala
Description
A crunchy and spicy Indian subzi/vegetable dish made with Arbi (Taro root) that can be eaten as an appetizer or with Indian roti/rice
Main Ingredients
Flour coating for arbi
Tadka ( tempering) Ingredients
Instructions
Boiling the Arbi

Wash arbi roots thoroughly to remove any dirt
You can boil arbi in 3 ways :

Microwave : Place the arbi in a microwave-safe bowl and fill it with water until all arbi roots are covered with water. The bowl should be large enough so that there is enough space above the water level. Microwave for 10-15 minutes OR until the arbi roots soft and you can pierce them with a knife easily.
Pressure cooker - Pressure cook the arbi ( without the whistle) for about 20 minutes. This is a little tricky as you cannot check in the middle of cooking
Stovetop : Place the arbi in a thick bottom pan and cover them with water. Bring the water to boil and let the arbi boil for about 20-25 minutes. Keep checking with a knife.

NOTE : The arbi should not turn mushy as we want them to retain the shape when cut into slices.
After the boiling is done, remove the arbi from water and let them cool. Once the arbi have cooled, remove the skin and cut each arbi into 1/4th inch thick circular slices.

Preparing the flour blend for coating arbi

Mix Bengal gram flour (Chickpea flour), Rice Flour, Red chili powder, Cumin powder, Coriander powder, Salt, Turmeric powder in a flat plate or bowl

Dip each arbi slice into the flour so that the flour mixture coats the arbi evenly on both sides

Keep the flour-coated arbi in a separate plate

Shallow frying the arbi

Heat oil in a flat bottom frying pan. Keep the heat on medium level

When the oil is hot, place the arbi slices one at a time. Let there be enough space between arbi slices so that they can fry uniformly.

Turn over the arbi slices after about 5 minutes so that each side is fried for about 5 minutes. 

Remove the fried arbi in a separate plate

Preparing the Tadka (tempering)

Take a frying pan and add cooking oil. Keep the heat on medium level.

When the oil has warmed, add cumin seeds, curry leaves, and red chilis. Keep stirring for about one minute. 

Now add the turmeric, red chilli and Hing powders. Keep stirring

Add the Cumin powder, garam masala, Coriander powder, Salt and Amchur powder ( dried mango powder) ( you can also substitute amchur with Lime juice or tamarind paste)

Keep stirring for another 30 seconds and make sure that all spices have mixed well. Add chopped cilantro.

NOTE : The heat should be kept at medium level all through the cooking as you dont want the spices to get burnt

Mixing the arbi with tadka

Add the fried arbi slices to the mixture of oil and spices, and mix gently to ensure that the spices have coated all slices uniformly. 

We dont want our arbi slices to be broken during the mixing process as they dont look nice while serving.

Serving

Garnish the arbi masala with fresh chopped Cilantro

Fried arbi can be eaten as a snack or as a side dish with roti or rice.
Notes
Take care while boiling the arbi.  The arbi should not turn mushy as we want them to retain the shape when cut into slices. 
Fried arbi masala is best enjoyed when it is still hot and crispy. 
Arbi, Fried, Spicy, Indian , Vegetarian