Fried Raw banana spicy curry or sabzi is an Indian dish that is popular across South India. The main ingredient of this dish is the raw banana or plantain, a starchy and bland fruit that is used as a vegetable in this recipe. Raw bananas are hard and need to be softened either by boiling or frying them. When raw bananas are cooked to perfection and mixed with a variety of spices, they are very tasty to eat as a side dish or with rice and Rotis. This dish is also called as Vazhakkai curry (Malayalam) or Balekai pallya (Kannada) in south India.
My recipe for Fried Raw banana spicy curry uses very simple ingredients and can be prepepared in less than 30 minutes. The most difficult step in this recipe is the removal of raw banana skin. I have explained how to remove the skin of raw banana in the instructions below.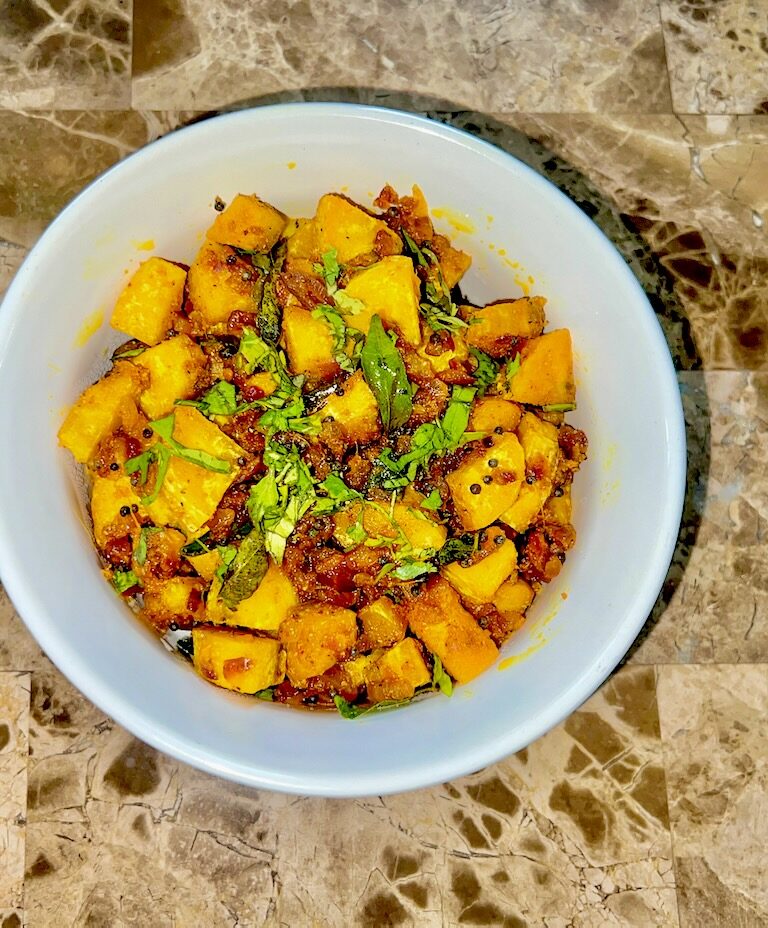 Fried Raw banana spicy curry (Sabzi)
Description
A flavorful and spicy curry that is popular across South India prepared with raw bananas, a mix of Indian spices, and grated coconut. Raw banana fry is commonly eaten as a side dish with rice or rotis.
Instructions
Preparing the raw banana

Clean the raw bananas with hot water

Apply cooking oil over your hands ( helps avoid the sap from bananas stick to your hands)

Using a knife, make a slit along each of the ridges (raised edges that run along the length of the banana) just deep enough to cut the outer skin

Using your hands, peel the skin along the cuts 

If any skin remains, use a knife to clean it

Cut the bananas lengthwise in 4 parts and dice the banana into ¼-inch thick pieces.

( refer to this video for easy reference:

https://www.youtube.com/watch?v=Euyi1tJSMcY

)

Pour hot water in a bowl or pan and add half the salt quantity mentioned in the ingredients section. Transfer the diced banana pieces to the bowl and let them rest for 10 minutes.

After 10 minutes, use a strainer to filter out the water

Shallow frying the bananas

Keep a frying pan on medium heat

Add half the prescribed quantity of oil to the pan and heat it.  

Transfer the diced raw banana

Cook on medium heat for about 10 minutes stirring every couple of minutes. 

Since the banana pieces have already softened in the hot water, they won't need much time to cook.

We need to fry until we get nice crispiness on the outer layer. Take a piece of banana and taste it. If the raw taste and starchiness exist, you need to fry for some more time. else, remove the pan from heat and transfer the fried banana to a plate

Prepare the masala or curry base

Dice the onion/shallots into small pieces 

Split the green chili vertically

Keep the frying pan on medium heat and add the remaining oil

When the oil is hot, add the mustard seeds and wait until they sputter

Now add Urad dal, and curry leaves. Stir for a minute or until the Urad dal lentils change color

Add Hing, diced onions, green chili, ginger garlic paste and salt

Keep stirring until the onion pieces change color ( we don't want them to get burnt but just well cooked) 

Lower the heat

Add all the spice powders (

Turmeric, black pepper, red chili, cumin, and coriander powders)

Add two teaspoons of water and mix well

Add tamarind paste, jaggery or sugar and salt. Mix well

Now add the fried banana pieces and mix well 

Check for salt and spice levels. If needed add more salt and chili powders to taste

Lastly, add the grated fresh coconut and cilantro and mix again

Serving

Serve raw banana curry with rotis or rice
Notes
Serve Fried Raw banana spicy curry (Sabzi) while it is hot and fresh.
plantain, raw banana, curry, sabzi,