Mango Panna cotta with a topping of strawberry sauce is a creamy dessert that is filled with the fragrance of fresh fruits. The sweet taste of mangoes and the sour taste of strawberries are balanced with the richness of cream, making this dessert appeal to every type of taste buds
Panna cotta is an Italian dessert that has gained popularity all over the world. Panna cotta is a classic dessert that is highly versatile in composition and very easy to prepare. "Pàn·na" means cream and "Cotta" means cooked in Italian. As the name indicates, Panna cotta is primarily made by cooking cream with sugar and gelatin. We can create different flavors of this primary version of panna cotta by adding vanilla, matcha green tea, coffee, caramel, fruits, liqueurs, food essences, and colors. We can go a little more elaborate by accompanying the classic panna cotta with dessert sauces and toppings.
I have substituted gelatin with "Agar-agar" in my recipe as I wanted this to be vegetarian-friendly. Gelatin is derived from animal collagen whereas agar-agar is obtained from edible seaweed.  My recipe uses the following ingredients:
For Mango Panna cotta :
Fresh mangoes

Cream

Whole milk

Agar-agar

Granulated sugar
For Strawberry compote/sauce :
Fresh strawberries

Granulated sugar

Lemon juice

Cinnamon stick & Cloves ( optional)
The preparation and cooking take about 45 minutes and the dessert needs to be refrigerated for at least 8-12 hours. We need ramekins or molds to shape the panna cotta. The process involves boiling the main ingredients and transferring the contents into molds before refrigerating. We can prepare panna cotta in advance and store it for a few days in the refrigerator. Panna cotta is best served chilled.
How to use Agar-agar:  The ratio of agar-agar to the other liquids is very important to get the right consistency and texture of panna cotta. Use 3/4 TSP of agar agar powder to every cup of liquid in a recipe. I dissolve Agar-agar in a few teaspoons of cold milk/water before adding to the boiling liquids in order to avoid the formation of lumps. The agar solution is then added to milk and boiled over medium heat until thickened, which takes approximately 5-7 minutes.
I hope you will find this recipe helpful and tasty. Please rate this recipe. If you have liked it, please share it with your friends. For more updates on new recipes, please subscribe.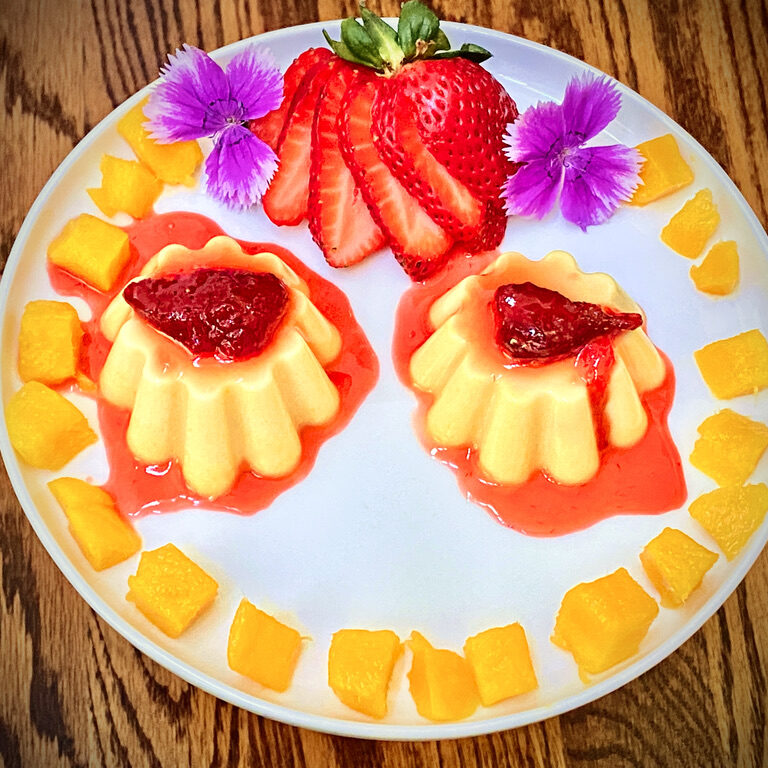 Mango panna cotta with strawberry sauce
Description
Mango Panna cotta with strawberry sauce topping is a creamy and heart-warming dessert. A decadent dessert that is balanced with the sweetness of mangoes, the richness of the cream, and the sour taste of strawberries. A perfect and delicate ending to any type of main course.
For the mango panna cotta
For Strawberry sauce (compôte)
Instructions
To prepare mango panna cotta
Prepare mango puree

Clean the mangoes and extract the pulp 
Blend the pulp into a puree
Filter the puree using a fine mesh to remove any fibers or fruit lumps

Prepare the panna cotta base

Add a few teaspoons of milk or water (at room temperature) in a small bowl and mix the agar agar powder so that no lumps remain
Bring the whole milk and cream to boil in a thick-bottomed saucepan with flame on medium heat.
Add sugar and stir continuously until the sugar dissolves
Once the liquid starts to boil, add agar-agar solution. Reduce the heat and keep stirring for about 5 minutes. 
Remove from heat.
Add the mango puree and mix well.
Filter the mixture through a fine-mesh strainer to remove any remaining lumps of agar-agar. This step will ensure that the panna cotta will have an even and smooth texture.

Cooling the Panna cotta

Divide the panna cotta base into 8-10 molds or ramekins (numbers may vary depending on the mold size)
Let the mixture cool to room temperature.
Refrigerate for at least 8-12 hours to ensure that the panna cotta has set well.
To prepare Strawberry Compote / sauce
Clean the strawberries and cut each strawberry into 4 parts
Add all the ingredients listed to a thick-bottomed saucepan and heat on medium flame.
The sugar melts and brings together the strawberry pieces into a smooth sauce.
Let the mixture come to a boil.
Reduce the heat and let the mixture simmer for about 15 minutes.
Remove from heat and let the sauce cool.
Transfer the sauce to a storage container and refrigerate.
The sauce can be stored for a few weeks.

Italian, dessert, mango, strawberry, cream