Bruschetta is one of our family favorites when we visit any Italian restaurant. The ingredients for Bruschetta may vary by restaurant. I have created a recipe that combines the perfect taste, texture and aroma using the freshest ingredients. I want every bite of bruschetta to burst with flavors and bring together different textures. You will find the sweet, sour, tangy, and creamy tastes come together in this recipe that will raise the taste of a humble bread to a delicacy. I have tried this recipe on many occasions and every time my bruschetta has been a big hit with my friends.
My recipe for a "Classic Bruschetta" uses the following ingredients : 
Italian bread or

French baguettes

as the base

For the topping (Fresh Basil leaves, Roma tomatoes, Garlic, Balsamic vinegar, Sea salt, Granulated Brown sugar, Black pepper)

Fresh Mozzarella cheese

Topping of Balsamic glaze
Balsamic vinegar is a dark, concentrated, and intensely flavored vinegar made with grapes.  The aging process can alter the taste and prices of Balsamic vinegar. You will find different notes of tastes in balsamic vinegar such as that of fig, molasses, cherry, chocolate, or prune.  
Balsamic glaze is simply a reduction of Balsamic vinegar often combined with dark brown sugar during the reduction process. I have used a store-bought balsamic glaze. To prepare a half cup of balsamic glaze at home, slow-boil 1 cup of good quality balsamic vinegar over low heat with 3 teaspoons of dark brown sugar. Keep stirring during the boiling process until you see a thick syrup-like consistency. 
The secret of a great Bruschetta lies in the quality of fresh tomatoes, bread, and the right balance of garlic, balsamic, and salt. Bruschetta tastes the best when freshly made. 
I hope you will find this recipe helpful and tasty. Please rate this recipe. If you have liked it, please share it with your friends. For more updates on new recipes, please subscribe.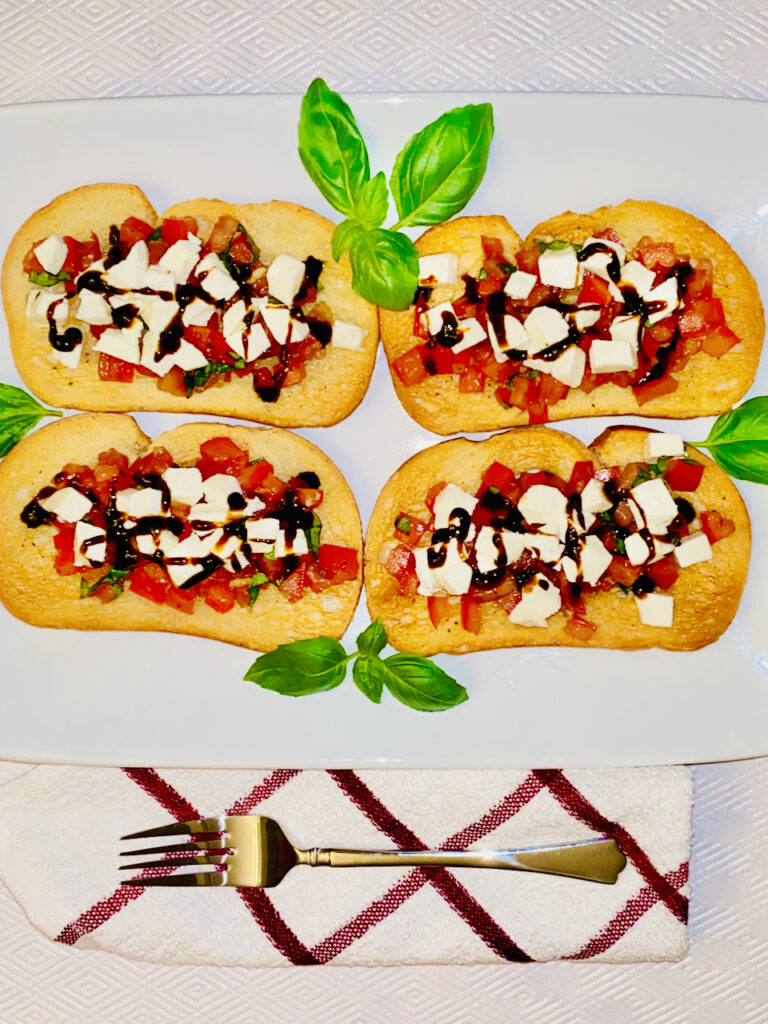 Classic Bruschetta – a traditional Italian antipasto
Description
A simple recipe for Italian Bruschetta made with grilled bread, fresh tomatoes, and Balsamic. A perfect starter dish for parties that is colorful and aromatic.
Grilled bread
Topping of tomatoes
Topping of Cheese and Balsamic glaze
Instructions
Preparing the Tomato topping

Cut the Roma tomatoes in half and scoop all the seeds

Dice the tomatoes into 1/4th inch cubes

Chiffonade the Basil leaves (Roll the basil leaves and cut them into thin strips) 

Mince the garlic cloves

Take a mixing bowl and add all the above ingredients

(Suggestion: If you want to prepare ahead, do not add any other ingredients - The tomato and basil mix can be stored in the refrigerator)

When you are ready to serve, add the balsamic vinegar, brown sugar, sea salt, black pepper, and olive oil

Mix well. Taste and adjust the ingredients. 

Grilling the bread

Grill the bread only when you are ready to serve the bruschetta
Lay the bread slices flat on a baking tray
Apply a thin layer of olive oil using a brush
Sprinkle black pepper powder sparingly on each slice.
Keep the tray in an oven-toaster and toast on medium heat for about 4-5 minutes, or until the bread slices start to turn light brown and crispy. We don't want our bread slices to turn dark but just a hint of light brown would suffice.
Remove the tray from the oven

Assembling the bruschetta and serving

Keep the toasted bread slices on the serving plate

Take a tablespoon of the tomato mixture and spread it on the bread slices

Take a few cubes of diced mozzarella cubes and place them on the tomato mixture

Drizzle about ½  Teaspoon of balsamic glaze on each slice. You may add more based on your taste.

Dress with some strands of basil leaves
Notes
 Do not add salt and sugar to the tomato mixture until you are ready to serve as it will release a lot of juices which may make your bread slices very soggy
Use Virgin olive oil as it is the highest quality and the tastiest variety of Olive oil. 
Use a good quality Balsamic Vinegar as the taste varies widely based on the aging and quality of grapes used.   
The tomatoes need to be firm as it will help in getting perfect cubes while dicing
Italian, Bruschetta, Basil, Balsamic, Antipasto, Appetizer, Roma tomatoes, Mozzarella