"Vegan chorizo salad bowl" recipe is inspired by the Chipotle restaurant menu item. My recipe for vegan chorizo includes tofu, pea protein, crushed garlic, Chipotle chiles, smoked paprika, ripe tomato paste, allspice powder, and Mexican seasoning mix. To make the salad bowl, I have used lettuce, spiced black beans and pico de Gallo. 
Chorizo is a popular meat dish that originated in Spain and Portugal many centuries ago. Later the dish was popularized across Mexico and other countries. Traditionally, Chorizo is prepared primarily with chopped pork meat, seasoned with paprika and garlic. Here I am sharing a recipe that is made with a plant-based meat substitute, that is made from scratch. 
I recently visited Chipotle restaurant ( a popular Mexican fast-food chain) and was pleasantly surprised to find a Vegan Chorizo on the menu. I am always curious to try plant-based substitutes for popular meat dishes. I was really impressed with the vegan chorizo dish's texture, taste, and flavor.  I wanted to create a recipe that resembles the Chipotle restaurant chain's menu item.
The chipotle restaurant uses Chipotle peppers, ripe tomato paste, crushed garlic, Spanish smoked paprika, and oil combined with natural pea protein. The chipotle restaurant doesn't state all other ingredients as it is their trade secret. After trying the Vegan Chorizo bowl a few times at the Chipotle restaurant, I was eager to prepare this dish at home. I experimented with Tofu, pea protein, crushed garlic, Chipotle chiles, smoked paprika, ripe tomato paste, allspice powder, and Mexican seasoning mix. The combination of Pea protein and crumbled Tofu gives a meat-like texture that also resembles the Chipotle Vegan Chorizo. The Pea protein helps extract the moisture from Tofu and brings a fibrous texture similar to meat. If you don't have pea protein powder, you can substitute with wheat gluten.
The final product came out close to the dish I had eaten at Chipotle restaurant in taste and texture but more importantly, the dish was uniquely tasty in its own way.  I added the Chorizo on a bed of lettuce and spiced black beans, with a topping of Pico de gallo. 
The Vegan Chorizo in this recipe can be used in other South American dishes like empanadas, burritos, or Fajitas.
 I hope you will find this recipe helpful and tasty. Please rate this recipe. If you have liked it, please share it with your friends. For more updates on new recipes, please subscribe.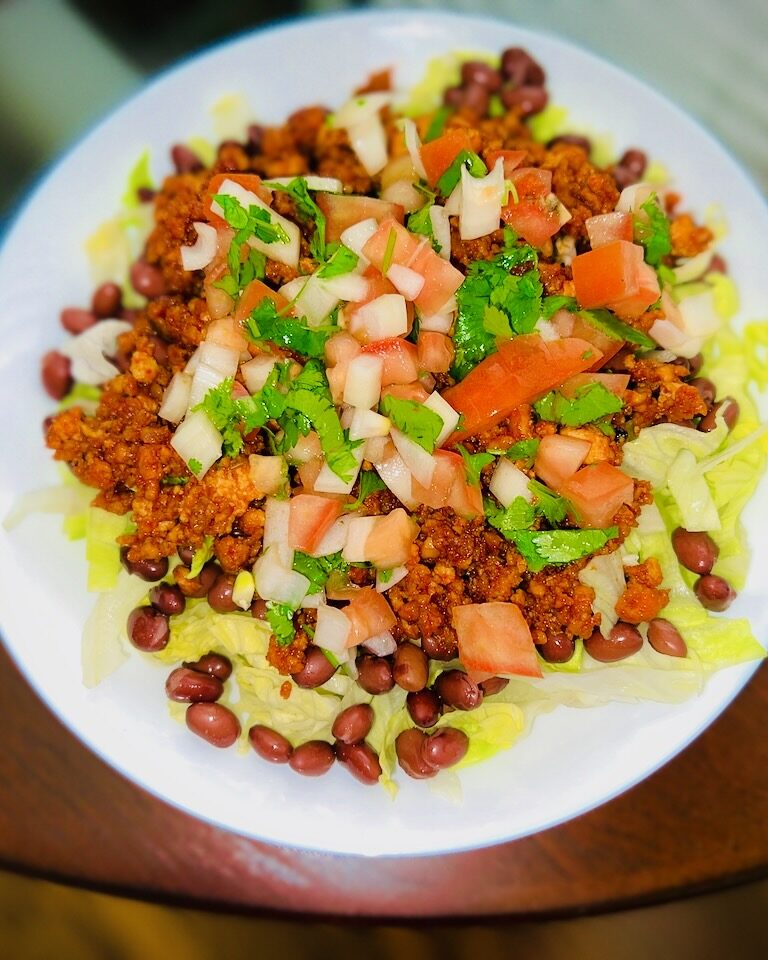 Vegan Chorizo Salad Bowl
Description
A chipotle restaurant-style Vegan Chorizo salad bowl prepared with a plant-based meat substitute, Lettuce, Black beans, and Pico de Gallo. 
Vegan Chorizo
Pico De Gallo
Salad
Instructions
Preparing the Vegan Chorizo

Dry the Tofu completely and crumble it - we need ½ to 1 cm wide crumbles

Heat ⅔ rd the prescribed Oil quantity in a nonstick frying pan. Add the crumbled tofu. Fry it until Tofu starts to turn brown.

Add the Pea protein (or wheat gluten ) and mix well so that the pea protein coats the tofu uniformly.

Keep frying for another 10 minutes on medium heat and 5 minutes on low heat, to let the pea protein roast a bit and provide the desired texture.

Transfer the fried tofu to a plate and keep it aside.

In the same frying pan, add the remaining oil

Once the oil is hot, add the crushed garlic pods. Stir for one minute.

Add the tomato paste and mix it well with the garlic and oil.

Add all the remaining ingredients (specified in the vegan chorizo ingredients section) and mix well for 5 minutes. 

Add the fried crumbled tofu and mix well. The tomato and spice mixture should coat the crumbled tofu uniformly. 

Stir fry until all moisture is evaporated.

Our vegan Chorizo is ready.

    

Preparing the spiced black beans

Remove the beans from the can and drain all the liquid. I don't wash the beans, as the coating adds to the taste.

Heat the beans in a microwave for 4-5 minutes until they become soft.

Mix the beans with Chipotle chili powder, cumin powder, dried oregano, and salt.

The spiced black beans is ready

Prepare the Pico de gallo

Cut the tomatoes and onions into 1/2 cm pieces

De-seed and Chop finely the jalapeno or Serrano peppers ( you can keep the seeds if you desire higher spice levels)

Chop the Cilantro

Transfer all ingredients for the Pico De Gallo into a mixing bowl and mix well. ( including Lime juice and salt)

Our Pico De Gallo is ready

How to serve the Vegan Chorizo salad bowl

Take a serving bowl

Divide the shredded lettuce, chorizo, and beans into the desired number of portions

For each serving, first spread the shredded lettuce as the base layer in the serving bowl.

Then spread the spiced black beans

Next spread a layer of Vegan Chorizo

Top it with the Pico de gallo

Enjoy the Chipotle-style Vegan Chorizo Salad Bowl
Chorizo, chipotle, meat substitute, vegan, salad, bowl, tofu, pea protein, pico de gallo, black beans