Chili Paneer is a common street food in India that has also found its way into the high-end restaurants. Made with Paneer ( Cottage cheese) cubes, this dish has a nice spicy, sweet and sour taste that appeals to all kinds of palates. Chili Paneer is commonly eaten along with Fried Rice or Hakka noodles or as an appetizer.
Chili Paneer is very easy to make as it requires very few ingredients that are available in most Indian/asian grocery stores and also doesn't involve a lot of prep work.
The sweet and spicy sauce complements the smooth, milky and creamy taste of Paneer. Paneer is a low fat cheese and unlike other cheeses, it is not appealing to eat it raw. So Chili paneer dish gives a great flavor to this cheese while retaining the original texture and taste of paneer. This recipe offers a good mix of proteins and fibers with a nice aroma of sauces.
I cooked this dish along with my teen age son who also loves to cook. The easy steps made the cooking very enjoyable as we had nice conversations along the way.
I hope you will find this recipe helpful and tasty. Please rate this recipe and if you have liked it, please share it with your friends. For more updates on new recipes, please subscribe with your email ID.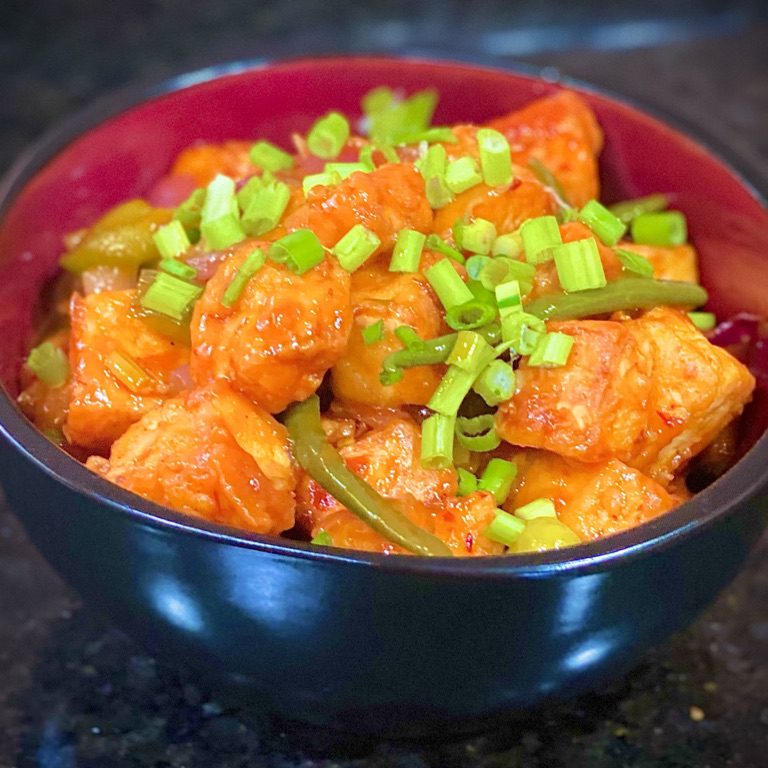 Chili Paneer – An Indo-Asian Recipe
Description
Chili Paneer is a spicy-sweet-sour Indo-Asian dish made with Paneer (cottage cheese) and vegetables. This dish is commonly enjoyed as an appetizer or as a complement to fried rice or Hakka noodles.
Vegetables :
For the Chili Sauce
Batter to Coat Paneer
Other Ingredients
Instructions
Section 1 : Prepare Paneer and Batter for coating
Mix all the ingredients as indicated in the Batter section – Corn flour, all-purpose flour, chili powder and salt.
Do not add all the water at once. Add water slowly while you stir until you get a thick batter consistency – that sticks to paneer as a thin layer but doesn't flow away
Remove all lumps in the batter
Cut the Paneer into 3/4 inch Cubes – make sure that Paneer is at room temperature
Add paneer to the batter and coat uniformly.

Let it rest while you prepare other ingredients
Section 2 : Prepare the Chili Sauce
Mix all the ingredients for the chili sauce – Chili paste, ketchup, soy sauce and vinegar
Taste and adjust the spicy or ketchup sauces as needed
Section 3 : Fry the Paneer cubes
Heat 3 TB Oil in a non stick frying pan on medium heat
When the oil gets hot, add Paneer cubes gently one by one
Let the Paneer cubes fry for 2 minutes ( Do not move them). If you move the Paneer cubes too frequently while the batter is still wet, you may get lumps of batter separated from paneer or the Paneer will be coated unevenly.
Gently turn the cubes every couple of minutes until all sides are fried well and get a Light brown crispy crust.
Remove the paneer cubes from oil in a separate plate.
Section 4: Stir Fry the vegetables
Heat Oil in a non-stick frying pan on medium heat
Add Ginger Garlic paste and stir until the raw smell disappears
Add Red onion and stir for couple of minutes until the onions turn semi-transparent
Add Bell peppers and white part of spring onions
Stir fry for another 2 minutes on high heat to get a nice coat on the veggies. Lower the heat.
The veggies should retain a firm texture and must not turn soggy. The crunchiness of vegetables adds a good texture to the dish.
Section 5: Mix all ingredients
Keep the heat on low and Add the sauce to the pan with vegetables. Stir well.
Then add Paneer cubes and continue stirring until the red sauce has covered all the paneer cubes uniformly.
Transfer the prepared Chili Paneer to the serving bowl and garnish with the chopped spring onions.

 
Notes
This dish is best enjoyed while it is hot and fresh. The Paneer cubes should have the crispy crust that adds a nice texture to the dish.
Paneer, Chili, Asian, Vegetarian, Appetizer, Starter, Spicy, Sweet, Chili Paneer, Indo-Chinese, Fusion