Vegetable Fried Rice is a common Indo-Chinese street food found across India. The "Vegetable Fried Rice – An Indo-Chinese recipe"  combines the mellow fragrance of basmati or jasmine rice, ginger garlic paste, and fresh vegetables stir-fried in a wok on high heat. The dish is made with long grain rice that is cooked with less water so as to retain the shape of rice grains.
Veg fried rice is eaten with a variety of Indo-Chinese fusion side dishes like Chili Paneer, Gobi Manchurian, Sweet and sour baby corn, Chili Tofu or Tofu Teriyaki.
(Please click here for "Chili Paneer" Recipe that is a good complement for Veg fried rice)
Veg fried rice is very easy to make as it requires very few ingredients that are available in most Indian/Asian grocery stores and also doesn't involve a lot of prep work. This is a great option for weekday dinners when you need a dish that everyone in the family likes and that is not time-consuming.
The key to getting the earthy rich aroma with a light burnt flavor is to use a wok and fry the ingredients on a very high heat that brings the charring effect. The vegetables need to maintain a crispy texture on the outside while softening inside. The high heat caramelizes the soy sauce and vegetables, which transforms the dish into a highly fragrant and appealing dish.
Veg Fried Rice can be prepared with different variations such as :
Garlic Chili fried rice (Add Sambal Olek brand chili Paste, Soy sauce and Vinegar)
Egg fried rice (Add fried eggs chopped into small pieces)
Baby corn and Mushroom fried rice (Add these while frying the vegetables along with Soy sauce and Vinegar)
Basil fried rice (Add chopped basil leaves to a combination of Garlic Chili and eggs fried rice)
I hope you will find this recipe helpful and tasty. Please rate this recipe and if you have liked it, please share it with your friends. For more updates on new recipes, please subscribe with your email ID.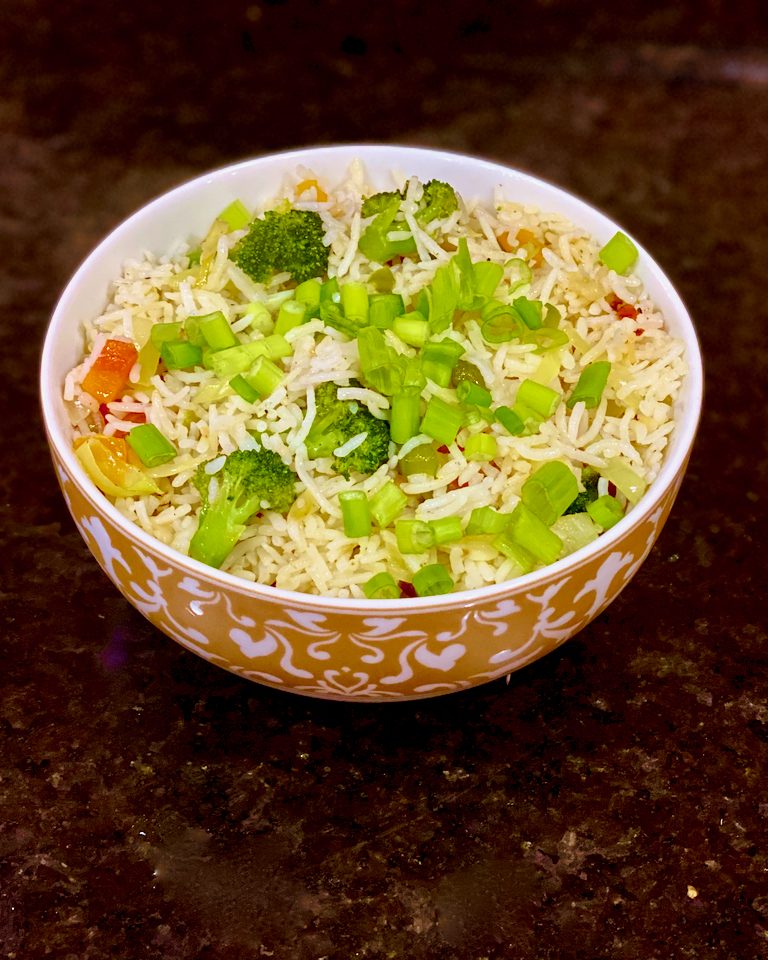 Vegetable Fried Rice – An Indo-Chinese recipe
Description
Vegetable Fried Rice is a common Indo-Chinese street food that is popular across India. The dish combines the mellow aroma of basmati or other types of long grain rice with a hint of ginger-garlic paste, black pepper and wok fried vegetables. Veg fried rice can be had just with a chili sauce or tomato ketchup. We can also eat this dish with other Indo-Chinese dishes like Gobi / Veg Manchurian or Chili Paneer.
For preparing the Rice
Vegetables
Other Items
Instructions
Section 1 : Prepare the Rice
Add Rice, water, salt and ghee/butter to rice cooker
Use stove top cooking or electric cooker to cook the rice. The pressure cooker will make the rice soggy, which may not be fit for this recipe.
Section 2 : Preparing the Veg fried rice
Heat Oil in a Wok or large non stick frying pan – Keep the heat on medium level
Once the oil is hot after couple of minutes, Add Ginger Garlic paste and stir until the raw smell disappears
Add Carrots and stir fry for another 2-3 minutes.
Keep the flame on high. Then add Spring onion whites and Bell peppers.
Continue to fry for another 1-2 minutes.
Then add Broccoli and Cabbage and continue to stir for couple of minutes.
Keeping the heat to highest level will give a nice smoked aroma to the fresh ingredients such as bell peppers, carrots and cabbage ―and because foods cook in a flash, vegetables retain their color and texture.
You can also add Fresh corn and zucchini to make the veg fried rice healthier and also add some more texture.
NOW bring the heat to lowest level
Add Soy sauce, vinegar, salt and pepper – Mix well
Add rice and increase the heat to high level again.
Stir continuously for another 2-3 minutes.
Transfer the rice to a serving bowl and garnish with the chopped spring onion greens.

 

To Serve : Use Ketchup, Sriracha or hot sauce to enhance the taste.
Vegetarian, Fried Rice, Main Course, Indo-Chinese, Street Food, Recipe