Loaded Vegetarian Nachos is a variation of the basic Nachos dish that has been enhanced with various vegetarian toppings and cheeses.  The basic ingredient of Nachos is "Tortilla Chips" – A tortilla chip is a snack food made from corn tortillas, which are cut into triangles and then fried—or baked.
Loaded Nachos have an abundance of melted or shredded cheeses, with other toppings such as  salsa, beans, guacamole, sour cream, diced onions, and jalapeños.
Loaded Nachos are usually served as an appetizer at Parties or restaurants. Nachos originated in Mexico that have gradually gained popularity across the Text-Mex and Mexican restaurants in Americas and now spreading to other parts of the world.
I have used the store-bought Tortilla Chips and loaded them with black beans, vegetables ( Roma tomatoes, corn, jalapeños, Cilantro, spring onions and Bell peppers) and Shredded Cheddar Cheese. You may choose a combination of cheeses for both flavor and meltability such as Monterey Jack cheese, American, Mozzarella, queso quesadilla, or provolone.
I have grilled the Jalapeños and Corn to get a nice smokey aroma that enhances the Nachos taste. I have used canned black beans as they save time, but you may choose to cook fresh black beans on stove top or a pressure cooker. The black beans have a bland taste and hence I added Mexican seasoning, salt and Paprika before spreading them on the Nachos.
Loaded vegetarian Nachos are a favorite snack in our family during weekend movie times. One tray is never enough and we need at least two full trays for a family of 4.  We enjoy the loaded Nachos with a side of Hot Salsa, Sour Cream and Guacamole.
(Please click here for "Guacamole" Recipe that is a good complement for Nachos)
I hope you will find this recipe helpful and tasty. Please rate this recipe and if you have liked it, please share it with your friends. For more updates on new recipes, please subscribe with your email ID.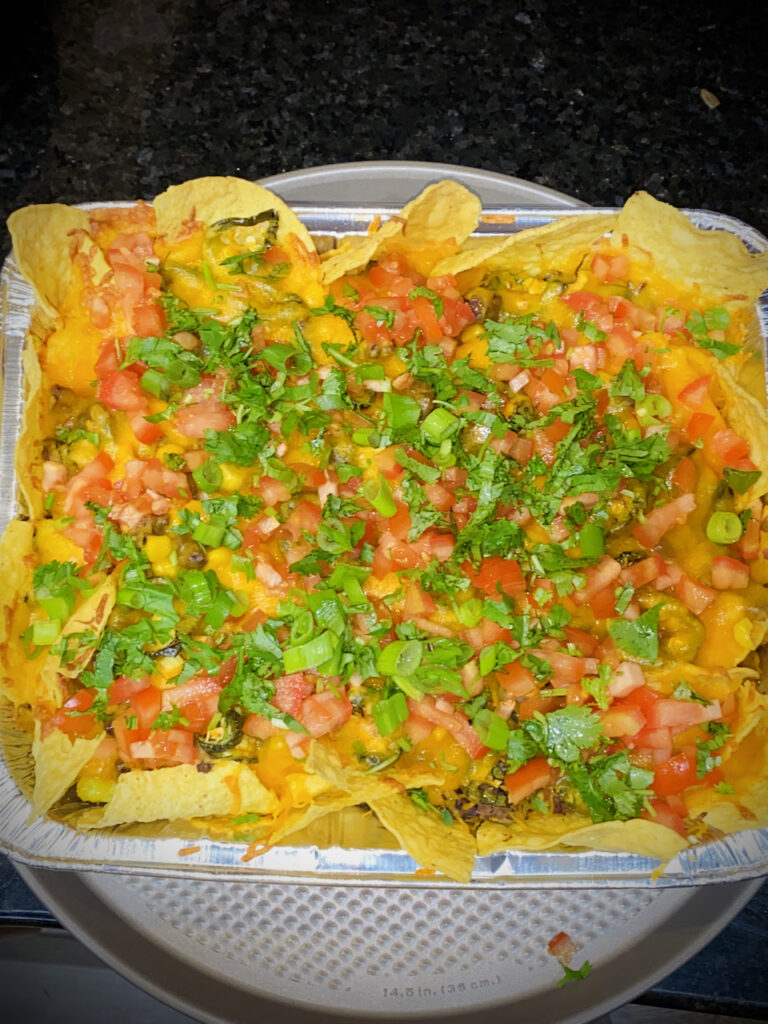 Loaded Vegetarian Nachos
Description
Loaded Vegetarian Nachos is a favorite Tex-Mex and American appetizer or snack that is made with Tortilla chips, seasonings, Black beans, vegetables, and cheeses. The "Loaded" version forms a complete meal as it consists of various toppings in abundance that complement the basic corn chips. This is a favorite dish for kids and adults alike and easy to prepare for large groups during parties.
(Makes 2 medium size trays of Loaded Vegetarian Nachos)
Instructions
Preparing the Black Beans & Jalapenos

Make sure that the Black beans are boiled and soft – You can prepare using dried black beans or canned ones. If using dried beans, the quantity doubles after soaking and boiling. You may soak the dried beans overnight and boil them on stove top or pressure cook them.
If using canned beans, wash them thoroughly to remove any preservatives and salt content. Then heat them over a pan or in a microwave (3 minutes) to get some softness.
Mix the Black beans with Mexican seasoning, salt, pepper and Paprika.
Mash the black beans lightly using the back of a spoon - we want an uneven texture
Cut the Jalapenos into thin slices. spread the slices onto a baking tray and bake them on maximum temperature in the oven for about 10 minutes. This step will remove the moisture from Jalapenos and develop a light caramelization that makes the Jalapenos less spicy and also very tasty.

Layering and Baking the Nachos

Take an oven-safe tray  and spread one layers of Tortilla chips evenly.
Make sure that all chips are exposed so as to get the vegetables and cheese layering
Spread the Black beans mixture, bell peppers, white part of spring onions, Corn, Jalapenos and cheeses evenly across the tortilla chips.
Transfer the tray to a conventional oven and bake at 350 degree F for about 15 mts ( until the cheese melts). The heating capacity may vary by oven size and type. The best way to get perfect Nachos is to keep an eye on the oven and remove the tray once you see the cheese has melted.
Remove the tray from oven and add Green part of the spring onions, tomato and cilantro.
Sprinkle an extra dose of chopped Jalapenos, paprika or seasonings to get the flavors to pop out while eating.
Enjoy the Loaded Nachos with a side of Salsa, Sour Cream and Guacamole.

 

 

 

 
Notes
This dish is best enjoyed while it is hot and fresh out of oven.
For parties or large groups, you can keep all the ingredients ready before hand, such as beans and veggies  can be prepared and stored in refrigerator. Only the layering can be done before baking in the oven.
Home made Mexican seasoning : Ingredients. 4 tablespoons of  Red Chili Powder. 1 teaspoon red pepper flakes. 1 teaspoon oregano. 2 tablespoons ground cumin. 1 teaspoon garlic powder. 1 teaspoon onion powder.
Vegetarian, Nachos, Appetizer, Mexican, Tex-Mex, American, Snack