Okonomiyaki – Japanese Pancake (Vegetarian) is a traditional Japanese dish that is crispy, savory and filled with the goodness of vegetables and eggs. This dish has both vegetarian and non-vegetarian versions. Okonomiyaki (お好み焼き) can be prepared in many different ways as it is reflected in the dish's name; "okonomi" literally means "to one's liking". "Okonomiyaki" is loved across Japan and is often described as a "Japanese-style pizza". It  is particularly popular in the cities of Hiroshima and Osaka.
Okonomiyaki is made using large amounts of cabbage that comes with high amounts of dietary fiber. Traditional Japanese Okonomiyaki calls for non-vegetarian toppings but I have used only Vegetarian ingredients. The fiber from cabbage is proven to have the ability to "remove" excessive fat, salt and cholesterol from the food we take. My recipe uses just 5 main ingredients – Freshly grated cabbage, grated carrots, eggs, breadcrumbs, and spring onions.
I have used two special sauces to garnish the Okonomiyaki – One with mayonnaise and Sriracha red chili sauce and the other made with a reduction of Soy sauce, brown sugar, Ketchup, salt, grated ginger, and vinegar. You can further enhance the taste by topping with dried seaweed. The sauces make a big difference to how the Okonomiyaki tastes. The Mayo-Sriracha sauce gives a distinct creamy taste with a hint of spiciness. The Brown sauce reduction complements the Mayo-Sriracha sauce by adding an Umami, sweet, nutty and smokey taste with a nice aroma of sesame oil.
Okonomiyaki is very representative of the Japanese culture as this dish has evolved over many decades. I have used a low-carb version of the Okonomiyaki recipe by skipping the all-purpose flour batter. ( Note : You may choose to add 2-3 tablespoons of all-purpose flour while preparing the mixture if you prefer a more fuller and carb rich version of this dish ).
When I made Okonomiyaki for the first time, my wife and kids wondered what dish this is, as they had never heard of such a dish. I had to literally request them to take a bite. Well, I knew I had a winning recipe and a dish when a few days later my family asked me to make Okonomiyaki for dinner! Since then, Okonomiyaki has been a regular dinner time dish at our home.
I hope you will find this recipe helpful and tasty. Please rate this recipe and if you have liked it, please share it with your friends. For more updates on new recipes, please subscribe with your email ID.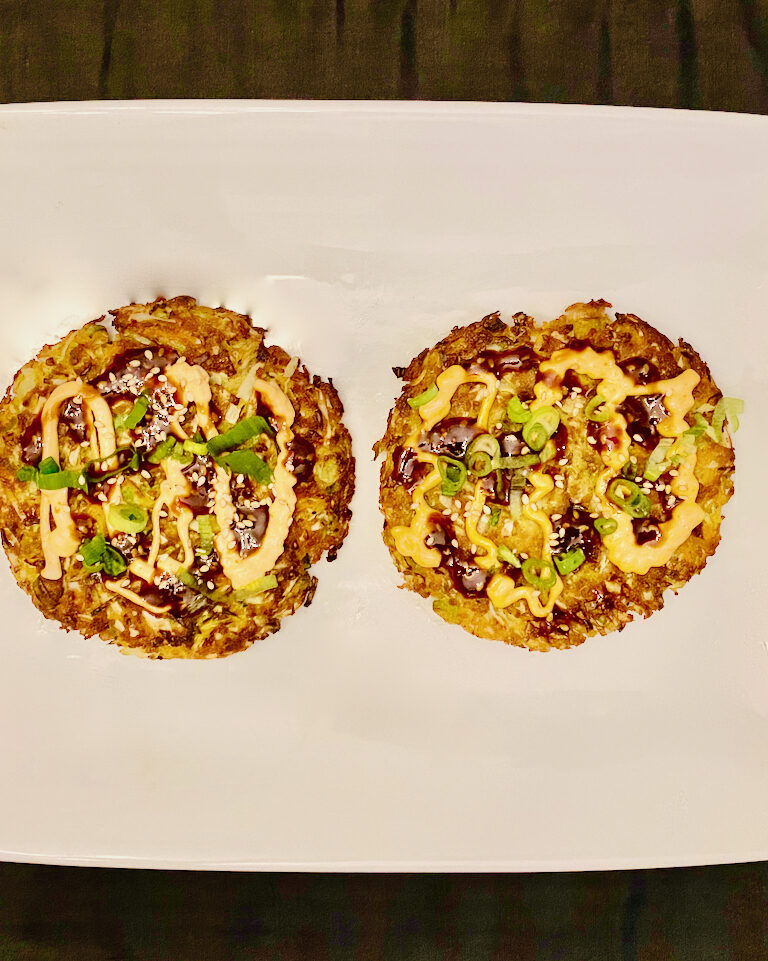 Okonomiyaki – Japanese Pancake (Vegetarian)
Description
Okonomiyaki is a traditional Japanese main course dish that is very popular across Japan for its minimalistic and flexible ingredients. This dish is mainly prepared with finely chopped fresh cabbage, carrots, eggs, breadcrumbs, scallions and topped with two types of sauce and sesame seeds.
(Makes 4 Okonomiyaki pancakes of 5 inch in diameter and 1/2 inch thickness)
Okonomiyaki Batter :
Mayo Sauce
Brown Sauce reduction
Instructions
Section 1 : Preparing the Ingredients and Batter
Chop all Vegetables
Mix all the ingredients in the list.
Make sure that the eggs and breadcrumbs coat the vegetables uniformly.
Divide the batter into 4 equal parts.
Section 2 : Preparing the Sauces
For the Mayo sauce, just mix the two ingredients in a bowl.
For the brown sauce reduction, mix all the ingredients and heat in a thick bottomed pan on low heat.
Keep stirring continuously as the sauce thickens. Remove from heat as soon as the sauce starts to coat the spoon. It takes about 10 mts of stirring.
Section 3 : Cooking the Okonomiyaki
Heat a non stick frying pan on low heat with 2 tsp oil in it.
I used a 6 inch diameter pan as it helps in giving the correct shape to the pancake and doesn't let the batter scatter.
Take 1/4th part of the batter and spread it uniformly in the pan. The thickness should not exceed ½ inch.
The batter needs to be handled delicately as there is not much binding agent used other than Breadcrumbs.
Press the batter using a spatula so that the batter has no air pockets or holes and is evenly flattened. This will ensure uniform baking of the pancake.
Increase the heat to medium and let the pancake fry for 3-4 minutes. Watch for the edges turning brown, which should indicate that the pancake is ready to be flipped.
Before flipping, coat the top layer with one tsp of oil. Slowly flip the pancake.
Let the pancake fry for another 3-4 minutes.
If the top layer has turned golden brown uniformly, then we can remove the pancake from the pan and it is ready to be garnished.
If not, fry the pancake for another 2 minutes on each side until you get the desired level of coloring on both sides.

 Once you remove the pancake from the pan, garnish it with the white and brown sauces and sprinkle some green onions and sesame seeds.
Vegetarian, Main Course, Japanese, Asian, Cabbage, Pancake,