Chimichurri is a flavorful condiment / sauce / dip , that originated in the Argentina and Uruguay regions but is now popular across different continents for its unique taste and aroma that is brought out by fresh herbs, garlic, spices, and red wine vinegar.
Chimichurri sauce represents freshness and there are very few foods that bring together multiple flavors without cooking. The recipe takes only 15-20 minutes to prepare and can be refrigerated for many days.
Chimichurri has a wide number of uses. You can use it as a marinade for grilling vegetables and meats, as a spread for sandwiches, as a topping for omelettes, as a pasta or pizza sauce, or as a dip for fresh-baked bread.
My recipe is adapted from the traditional version of Chimichurri and includes fresh parsley, cilantro, garlic, red wine vinegar, paprika, crushed red pepper, salt, black pepper, olive oil, and cumin powder. Red wine vinegar is a unique ingredient that gives a fruity, sour, and sharp taste to this condiment. The parsley adds an earthy flavor, garlic adds pungent flavor and the spices add different aromas. All these flavors create a balanced taste that can make any roasted vegetables ( or meats ) taste great.
I used the chimichurri for grilled asparagus and the dish was very tasty. Just clean and chop the asparagus to remove the fibrous parts. Apply Chimichurri sauce generously on the asparagus. Grill the asparagus until you see light charring. You will be pleasantly surprised with the taste of grilled asparagus when coated with Chimichurri sauce. You may add extra chimichurri sauce on top of grilled asparagus.
Please try this recipe and share your comments. Also, share it with your friends. I would appreciate it if you can leave your feedback with any suggestions and comments.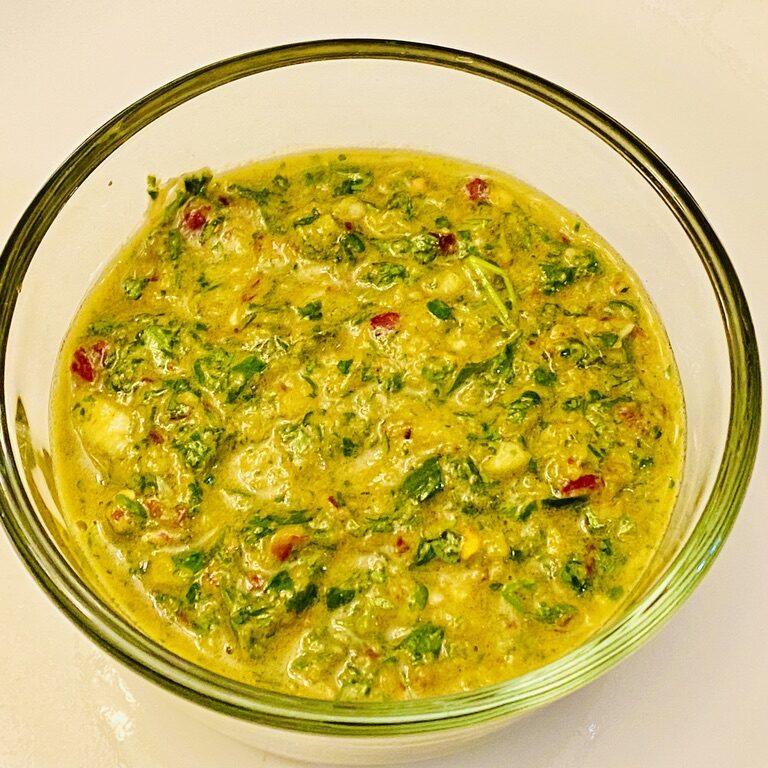 Chimichurri recipe – with Fresh herbs
Description
An aromatic sauce from the Latin American region that is made with fresh herbs, spices, and red wine vinegar
Instructions
Equipment needed

Food processor or kitchen blender

 

Steps to make Chimichurri

Wash Parsley and Cilantro thoroughly to remove sand and dirt

Remove the stems from Parsley stalks

The cilantro stalks are fine to keep

Add all ingredients to a food processor or blender.

Gently pulse the ingredients in intervals of  4-5 seconds until they form a coarse mixture - it is ok if still see some small chunks of parsley and cilantro leaves

You will get the desired consistency within 10-15 seconds of blending





Serving

You can use Chimichurri as a marinade for grilling vegetables and meats, as a spread for sandwiches, as a topping for omelettes,  as a pasta or pizza sauce, or as a dip for fresh-baked breads or as a topping for Tacos and quesadillas 
Notes
Chimichurri can be refrigerated upto a week
Chimichurri, Parsley, Red wine vinegar, Cilantro, Argentina, South American cuisine