Asparagus is one of my favorite vegetables for grilling or roasting. I have prepared roasted/grilled asparagus multiple ways. The simplest recipe would be to coat asparagus spears with olive oil, salt, and pepper and roast/grill. You may also add crushed red pepper, crushed garlic, grated parmesan cheese, red chili sauce, soy sauce etc. The combinations can vary based on your desired taste. I have also tried roasted asparagus with a topping of balsamic reduction – one of my favorites.
Asparagus has a neutral taste and fibrous texture. The taste varies based on what coating we use. Roasting or grilling at high temperatures can give a nice char and smokey flavor to the asparagus. Asparagus has many health benefits including aiding in digestion.
Asparagus spears need to be fresh and firm for grilling or roasting. Also, when prepared, the asparagus needs to be eaten while it is still hot. Asparagus is best cooked on high heat – so that we get a nice flavor while retaining the firmness inside.
This is a simple recipe for grilled asparagus with chimichurri sauce. This recipe involves just 5 ingredients – Asparagus spears ( trimmed and cleaned), Chimichurri sauce, Salt, Pepper and  Olive oil.  The recipe to prepare chimichurri sauce is very easy. You can find my recipe for chimichurri sauce in the link provided below :
https://www.mellowmasala.com/recipe/chimichurri-recipe-with-fresh-herbs/
Please try this recipe and share your comments. Also, share it with your friends. I would appreciate it if you can leave your feedback with any suggestions and comments.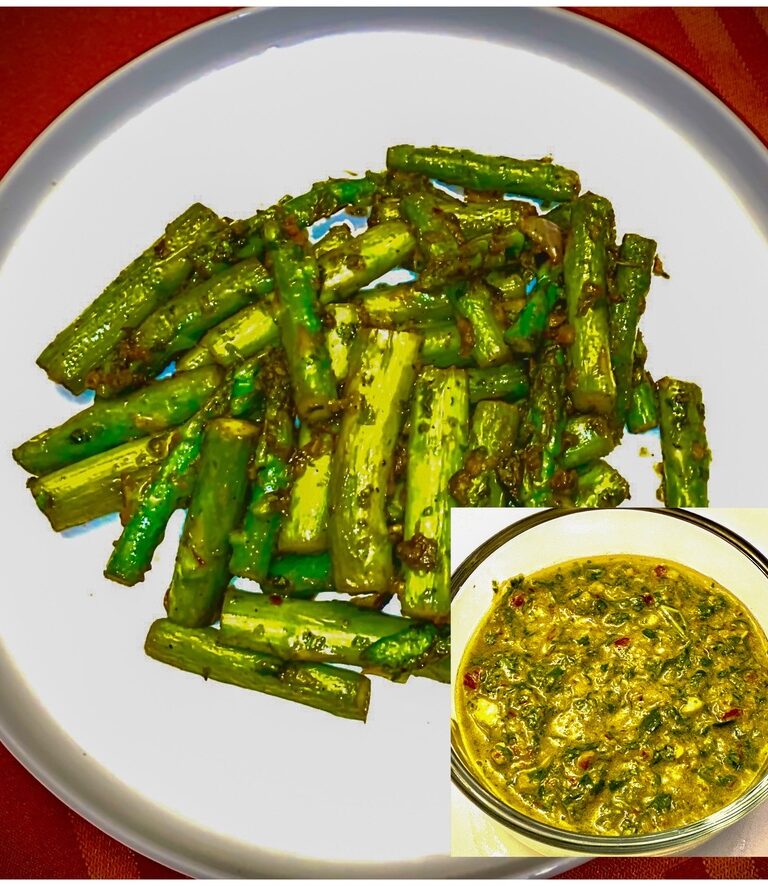 Roasted Asparagus with Chimichurri sauce – Easy recipe
Description
Roasted Asparagus with Chimichurri sauce is a perfect recipe for a side dish on weekday dinners. Easy to prepare in under 15 minutes. The recipe combines the health benefits of asparagus and the herbs in chimichurri sauce. The umami taste of asparagus is complemented with the spicy-sour taste of chimichurri sauce, making this dish flavor-rich.  
Instructions
Initial grilling

Clean the asparagus spears
Chop off the bottom part of asparagus spears - until you get the tender part that can be eaten raw.
if you have washed the spears, dry them
Coat the asparagus spears with Olive oil , salt and pepper powder
Grill or roast them on high heat for 3 minutes or until you see light charring (depending on the level of heat)
Remove the asparagus in a plate

Coat with Chimichurri sauce and grill / roast again

This second step ensures that the chimichurri coating is not burnt and retains its fresh herbal flavors, while the asparagus is cooked to the right level.
Coat the half-roasted asparagus with chimichurri sauce.
Put the chimichurri sauce-coated asparagus spears back on the grill or roasting pan.
Roast for another 1 minute on high heat - stirring just 1-2 times.
Remove from heat and serve while hot
Asparagus, chimichurri, roasted, grilled, mellowmasala,