My recipe for "Crispy veg cutlets with Soy nuggets" is made with soy nuggets as the primary ingredient and accompanies a variety of vegetables and Indian spices. I have added a crispy touch to the cutlets by coating them with shredded phyllo dough ( you can also use roasted thin seviyan (vermicilli) or bread crumbs in the place of shredded phyllo dough).
I have eaten vegetable cutlets that are loaded with potatoes, making them carb-heavy. This recipe balances the potatoes with shredded soaked soy nuggets and a variety of veggies. A mix of Indian spices adds flavor and spiciness to the cutlets.
You can eat the cutlets as a snack with a side of tomato ketchup or tamarind chutney or green chutney( made with cilantro and mint) that are commonly available in Indian grocery stores. We can also use the cutlets as a patty for the sandwiches.
Crispy veg cutlets with Soy nuggets will be an ideal snack for picnics or parties.
Please try this recipe and share your comments. Also, share it with your friends. I would appreciate it if you can leave your feedback with any suggestions and comments.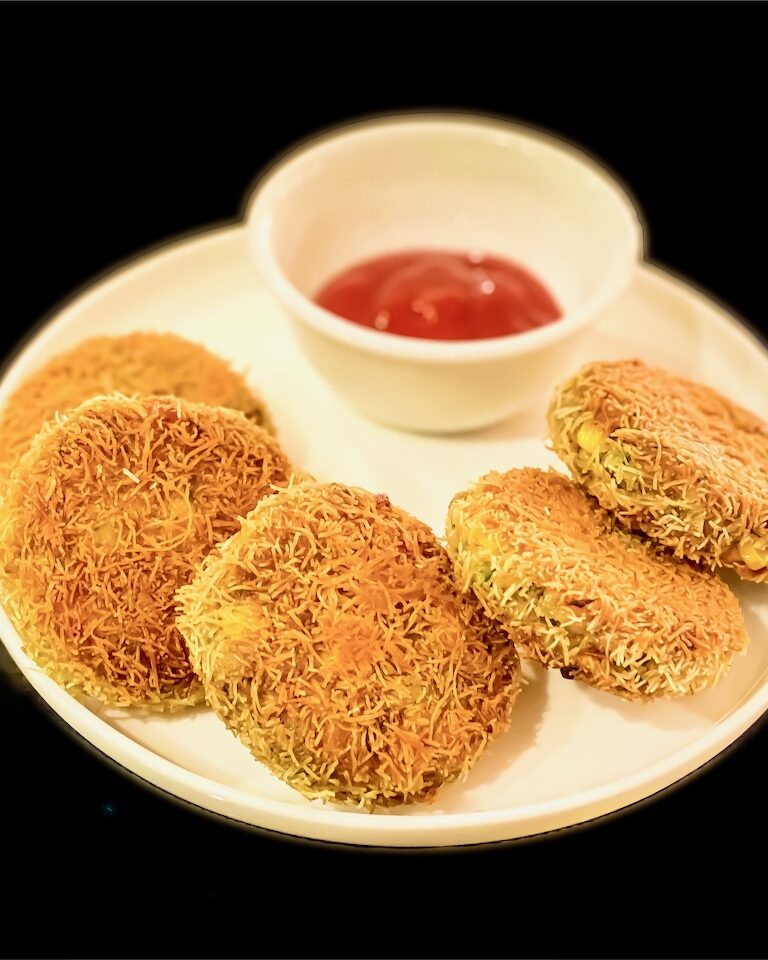 Crispy Veg cutlets with Soy nuggets
Description
Crispy veg cutlets are made with soy nuggets, a mix of vegetables, and flavorful Indian spices. These cutlets are suited for vegans and can be eaten as snacks or as a meal for lunch or dinner.  
Indian spices and herbs
Vegetables
Other key ingredients
Instructions
Prepare the potatoes

Boil the potatoes in a microwave or a pressure cooker until they are soft

Peel the skin  

Grate the potatoes

Prepare the Soy nuggets

Soak the soy nuggets in boiling water for 15 minutes

Strain the water and squeeze the soy nuggets so that they become dry

Using a kitchen blender or food processor, shred the soy nuggets. We need a smooth shred or a minced texture.

Prepare the vegetables

Mince the green chilies

Shred/mince the carrots

Cut the green beans into thin rings

Chop the Cilantro 

If using frozen veggies, thaw them and keep them in boiling hot water for about 5 minutes

Mix the Ingredients

Take a wide mixing bowl and add the grated potatoes and minced soy nuggets

Add all the vegetables, herbs, spices, cornflour, salt, pepper, and lemon juice

Mix well with your hands until you get a smooth mixture 

Check for the taste and adjust salt level

Make the cutlets

Take about 4-5 tablespoons of the mixture and roll it in the palm of your hands to form a nice smooth ball ( approximate diameter of 1.5 inches)

Flatten the ball to form a flat cutlet of about 1/2 inch thickness. Roll the cutlet on its sides to smooth out the edges.

Depending on the size, we should be able to get 12-14 cutlets ( may vary based on the exact size and thickness of the cutlets)

Prepare the coating for the cutlet crust

Mix the all-purpose flour with water in the ratio of 1:4 to prepare a smooth slurry. 
Mix 1/4th quantity of red chili powder, salt and cumin powder in the all-purpose flour slurry
Thaw the shredded phyllo dough. Once it is thawed, mince it using a kitchen blender.
We want 3-4 mm length shredded phyllo dough 
Arrange the items in the following sequence before getting ready to shallow fry : cutlets, All-purpose flour slurry, Blended shredded phyllo dough

 

Shallow fry the cutlets

Take a thick and flat bottomed frying pan about 12 inches in diameter

Pour the cooking oil and heat it for 2 minutes

Take one cutlet at a time, dip it in the all-purpose flour slurry so that the liquid coats the entire surface

Next, dip the slurry coated cutlets in the shredded phyllo dough powder so that the entire cutlet is covered in shredded phyllo dough powder on all sides

Slowly drop the cutlet into the oil. The cutlet should be dipped in oil at least until half the thickness

Keep the heat at a medium level

You can add 4 cutlets in one round of frying. 

Turn over the cutlets after two minutes. Let the cutlets fry on each side for at least 2 minutes

When you get golden brown color on both sides, the cutlets are ready to be removed from the oil

Transfer the cutlets onto a plate covered with a paper towel. This will help absorb the extra oil from the cutlets.

Serving

Serve the Crispy veg cutlets while they are still hot

The cutlets are best eaten with a side of tomato ketchup, or a combination of green and tamarind chutneys
Notes
You can prepare the patties and freeze them for a few days
OR you can store them in the refrigerator up to one week before frying them
The fried patties also can be stored for 3-4 days but need to be reheated before serving
You can use the cutlets as patties for sandwiches or burgers
Cutlets, sandwich, patty, soy, nuggets, spicy, vegan, vegetables, mellowmasala,