I am sharing my recipe for "Ice cream Tiramisu – A Multilayered cake" – a novel dessert that is inspired by Italian Tiramisu. This is a No-Bake dessert that is easy to prepare with store-bought ice creams, ladyfingers, and pound cake.
I have made this dessert many times and every time I have received great feedback from kids and adults alike. This is a great dessert for parties as you can easily make it in batches and larger quantities. My recipe is good for 15 servings but you can easily apply the ratios for a larger number of servings.
The exact quantities for ingredients may vary by the size of dish you choose and the thickness of layers you decide. It is OK if you experiment with variations in the size and thickness of each layer.
You may also vary the ice creams and choose strawberry, pistachio, or any other flavors to your liking.
Please try this recipe and share your suggestions/feedback. If you like the recipe, please share it with your friends.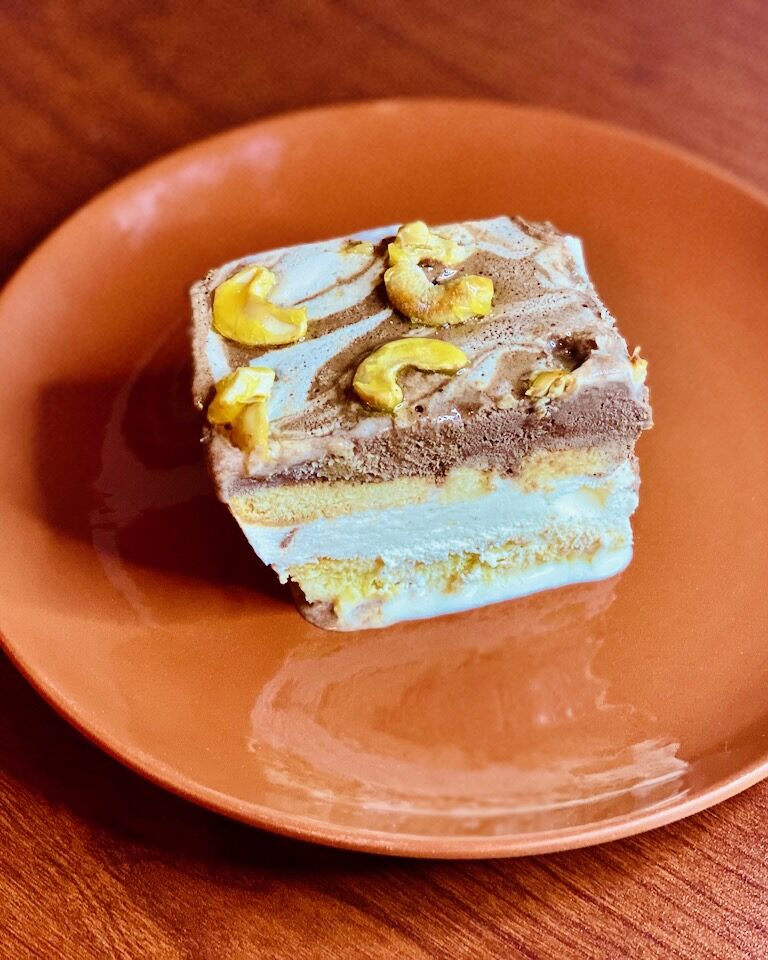 Ice cream Tiramisu cake – A Multi Layered, No-bake Dessert
Description
Frozen multi-layered cake with Vanilla and chocolate ice creams, lady fingers, pound cake, and caramelized cashews
Equipment needed

Rectangular Glass Baking dish - at least 15 inch X 10 inch and about 3-4 inch depth

Prepare the Ladyfingers layer

Take a mixing bowl and add the cream, milk, vanilla essence and powdered sugar

Stir well until the sugar is completely mixed

Cream and Milk need to be at room temperature 

Assemble the first layer - Ladyfingers

The first layer at the bottom of our cake is the ladyfingers dipped in cream and milk

Take each ladyfinger, dip it in the cream-milk mixture for about 5-7 seconds and place it in the glass baking dish

If you dip the ladyfingers longer, they will crumble and fall apart

Gently assemble all the soaked ladyfingers one by one so that the base of the glass baking dish is completely covered 

Check the video to get a better idea 

Add the second layer - Vanilla icecream

Bring the vanilla ice cream to room temperature so that it just starts to melt ( we want it to be semi-solid and soft so that we can spread it easily )

Take a large spoonful of ice cream and spread it on top of the ladyfingers

You may defrost the ice cream in a microwave for about 20-25 seconds or keep the container in hot water.

Cover the entire ladyfingers with Vanilla ice cream. The ice cream layer should be about ⅔ inch thick above the ladyfingers.

Also, the ice cream should seep into all the gaps between the ladyfingers - this helps bind the bottom layer when your freeze.

Add the third layer - Poundcake

Slice the pound cake into ½ inch thick pieces and approximately 3-inch by 2-inch rectangle shapes. It is more important to watch for the thickness. The shape can vary.

Gently place all the cake pieces so that they cover the entire surface on top of vanilla ice cream ( Do not press)

If you see small gaps in between the larger pieces, break the cake into smaller pieces and insert them in the gaps. 

Add the fourth layer - Chocolate icecream

Follow the same steps as the Vanilla ice cream layer

Freeze

Keep the baking dish in the freezer until the next step is completed

Prepare the fifth layer - Caramelized cashews

Keep an 8-10 inch non-stick frying pan on the stove with heat at medium level

Add the brown sugar and let it melt

Lower the heat as soon as the sugar melts completely ( keep stirring as sugar can burn easily)

Add the cashews (split in halves)

Stir well to coat all cashews with molten sugar uniformly

Remove from heat and let the cashews cool completely

Once the cashews have cooled, separate the individual pieces as they would be stuck together with sugar

Add the fifth layer

Remove the glass dish from the freezer

Spread the cashew pieces uniformly on top of the chocolate ice cream layer

Cover the glass dish with a lid (if the dish comes with one) else use a cling wrap to cover the dish - we don't want the ice to form on our dessert

Keep the glass dish back in the freezer

Freeze for at least 12 hours

Serving

Remove the glass dish from the freezer when you are ready to serve




Thaw the dessert for about 15-20 minutes. Cut the dessert into desired size pieces and serve 




Store any leftover dessert back in the freezer after you have covered it well with cling wrap or lid
Notes
The dessert can be stored for 2-3 weeks as long as it is frozen 
Ice cream, tiramisu, layered cake, frozen, cashews, dessert