Chiroti or Padir Pheni is an easy to prepare Indian sweet dish that is crispy, crunchy, and fragrant. Chirotis are made with minimal ingredients and require very little preparation. Chiroti is very popular across South India and is commonly prepared during festivals. Chirotis can be stored for a few days in an airtight container.
Chiroti is prepared with all-purpose (maida) flour, sugar, and clarified butter. Unlike many desserts, the sugar content in Chiroti is very small as the Powdered sugar( confectioners' sugar/ icing sugar) is just sprinkled over the fried Chirotis.
The dough is prepared by mixing all-purpose flour and water. The kneaded dough is then rolled into thin Rotis/flatbreads which are further rolled and cut into rings.  A layer of Ghee or clarified butter is applied to the thin flatbreads before rolling them tightly. Once rolled, the dough looks like a long roll. The roll is then cut into rings. The rings are next pressed with a rolling pin into layered circular shapes of about 3 inches. The layered circular dough is then deep-fried in ghee or refined oil. The final dish resembles a semi golden brown fluffy poori, which is then sprinkled liberally with powdered sugar and optionally with Saffron, cardamom powder and grated almonds.
Chiroti reminds me of Fried dough, a popular sweet dish in the Americas and Europe which can be commonly found in fairs and large gatherings. The main difference between Chiroti and the Fried dough is that Chiroti is very crispy and doesn't contain yeast, unlike fried dough.
Chiroti is a very simple Indian sweet dish that can be prepared in about 45-60 minutes. Anyone can learn to prepare Chiroti just by watching the video and reading this recipe.
I hope you will find this recipe helpful and tasty. Please rate this recipe. If you have liked it, please share it with your friends. For more updates on new recipes, please subscribe with your email ID.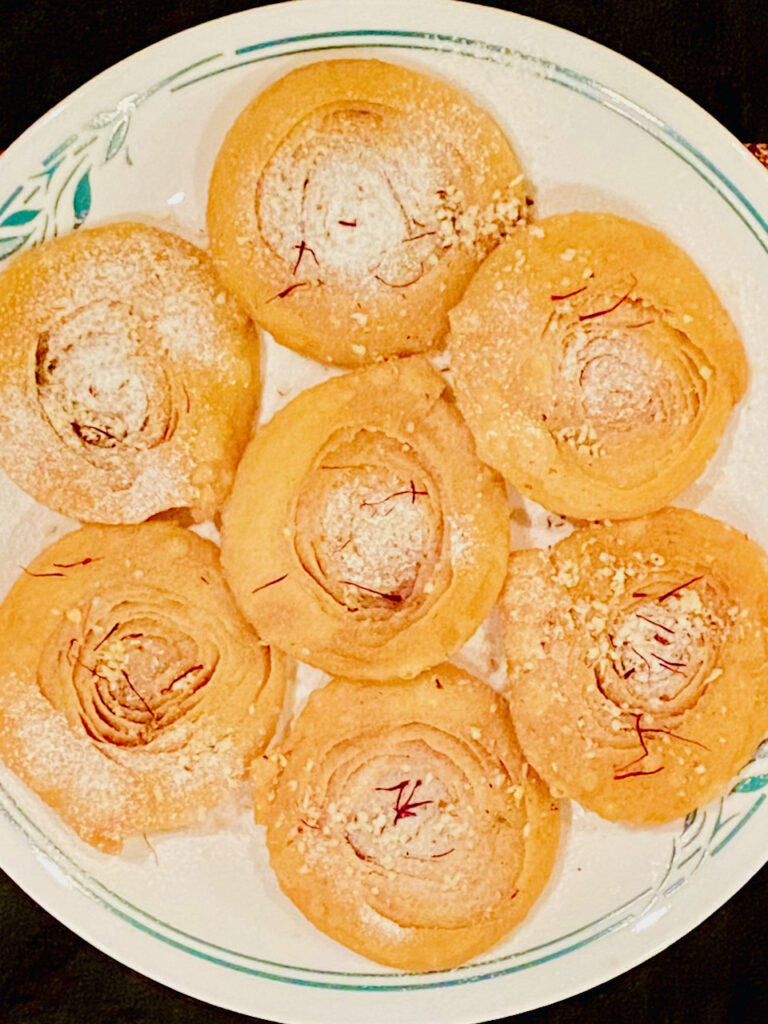 Chiroti or Padir Pheni – Crispy layered fried dough
Description
Chiroti or Padir Pheni is a crispy sweet dish from India that is very easy to make and suitable for any occasion. It is made with all-purpose flour, powdered sugar, oil, and ghee. Chiroti have a mild fragrance of cardamom and saffron. Every bite comes with crispiness, mild sweetness, and a mellow aroma of added toppings. An ideal dessert for festivals.
Prepare the dough by mixing the all-purpose flour, water and salt
Add water slowly and keep kneading the flour until you get the desired softness.
Divide the dough into two parts
Take one part of the dough and dip it in rice flour. Then roll it into a very thin roti or flatbread using a rolling pin. The roti should be about 10 inches in diameter.
Keep this aside on a plate. Take the other half of the dough and make another roti of equal size. 
Take one of the rotis and apply ghee liberally all over the surface.
Sprinkle some rice flour over the ghee coated surface. The rice flour will create separation for layers.
Take the other roti and overlay on top of the first roti which has been coated with ghee and rice flour. 
Now apply ghee and rice flour once again on top of the second roti.
Starting from the top of the two-layered rotis, start folding tightly into a cylindrical shape.  
Now cut the cylindrical shaped dough into 10-12 equal sized pieces.
Take one piece and dip it in the rice flour.
Now lay it flat so that we can see the rings facing upwards.
Roll each piece into 3 inches wide small circular rotis. Do not press very hard as the dough may become lumpy and the layers will merge.
Deep fry these small circular layered rotis until they turn golden brown.
Keep turning them upside down every 30 seconds to get uniform cooking on both sides.
Remove the Chirotis from oil and keep them on a paper napkin to absorb excess oil.
After the Chirotis have cooled down, sprinkle a thin layer of powdered sugar.
Garnish with grated almonds, powdered cardamom, and Saffron.
Vegetarian, Dessert, Sweet, Indian