Chickpea Falafel is a crunchy, spicy and protein-rich food that is considered a staple Middle Eastern dish and popular street food around the world. Falafel brings together a combination of flavors from the herbs and spices added. Crispy on the outside and soft inside, falafels are commonly stuffed into pita bread along with hot sauce, tahini sauce, and a combination of tomato, lettuce, cucumber, onion, parsley, and yogurt.
Falafel is a deep-fried ball or patty made from ground chickpeas, fava beans, or both along with fresh herbs and spices. Falafel is commonly served in a pita, which acts as a pocket or wrapped in a flatbread known as taboon. Falafel balls may also be eaten alone as a snack or served as part of a meze tray (assortment of appetizers).
Falafel is a protein-rich food and is considered a national food in Egypt, Syria, Lebanon, Jordan, Israel, and Palestine. The dish is now popular in many countries including North America. The increasing trend of vegetarianism has made falafel very popular among vegetarians and vegans, as an alternative to meat-based street foods. Falafel can now be found around the world as a replacement for meat and as a form of street food.
The main ingredient for Falafel is Chickpeas. Chickpeas are soaked overnight, then ground together with various ingredients such as parsley, cilantro, onion, chilies, and garlic. Spices such as cumin and coriander are added for flavor. The mixture is shaped into balls or patties and deep-fried.
I have tried multiple recipes and customized the ingredients and proportions to create perfect falafels that are loved by my friends and family. I am also sharing two other recipes on my website for "Tahini Sauce" and a simple "Mediterranean Salad", which are the perfect complement to Falafel as a side or to make "Falafel Pita sandwiches". Please click on these links for recipes.
I hope you will find this recipe helpful and tasty. Please rate this recipe. If you have liked it, please share it with your friends. For more updates on new recipes, please subscribe with your email ID.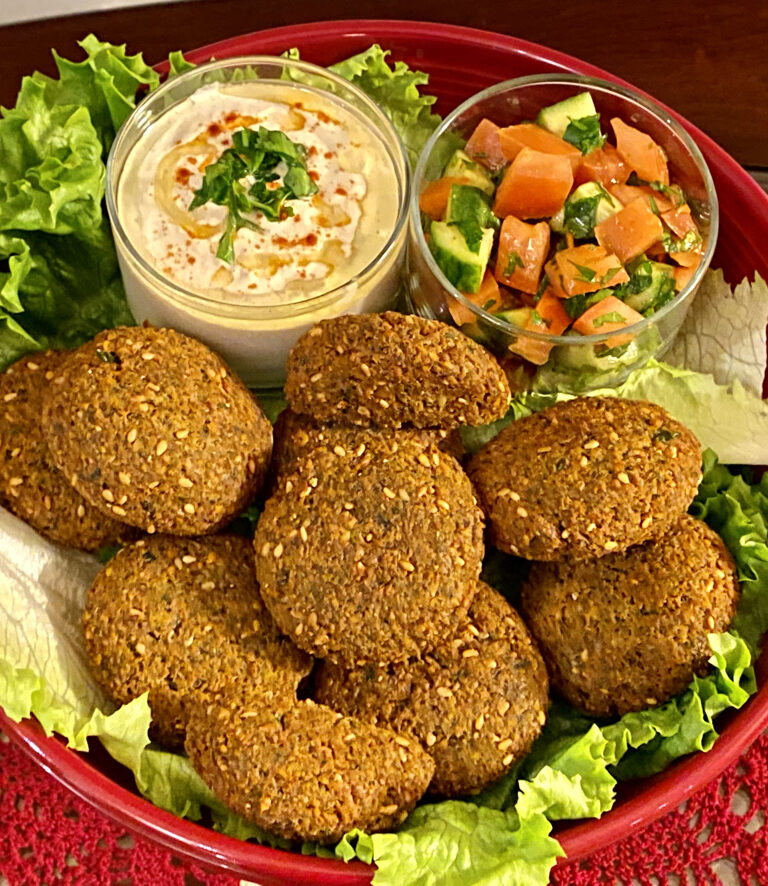 Chickpea Falafel – Authentic Mediterranean recipe
Description
Falafel is a deep-fried aromatic patty made of Chickpeas, herbs, and spices. A staple food in many middle eastern countries, Falafel is now popular across Asia, Europe, and the Americas.
Instructions
Section -1 : Prepare Chickpea mixture
Soak dried chickpeas overnight in about 5 cups of water. When soaked overnight, the chickpeas almost double in size.
Using a food processer, Grind together soaked chickpeas along with all herbs (Parsley, cilantro), vegetables (Onions, chilies, garlic) and spices (cumin, coriander, pepper, paprika).
Run the food processor in intervals of 10-15 seconds. Make sure the mixture is spread evenly.
Blend the mixture until it is grainy texture. Be careful not to grind your ingredients too finely. We are looking for a coarser mixture as it would give the right level of softness inside the falafels. If you grind the mixture too finely, you may end up with hummus that is not fit to make falafels or the texture might turn out to be hard when fried.
Store the mixture for about 12 hours in the refrigerator. This will help the mixture hold together while frying.
Do not add salt until just before frying
Section – 2 : Deep frying the Falafels
Take the mixture stored in the refrigerator and mix the gram flour / Besan, sesame seeds, Baking powder and salt.
Mix thoroughly. Taste the mixture and adjust for salt, spices and chili levels.
Heat Oil in a flat bottomed frying pan.
While the oil is heating, make falafel balls. I used a 2 Tablespoon measure to keep the balls of uniform size.
Take the mixture in the palm of your hands and roll them into a ball. Then slowly flatten the balls by pressing. Round the edges carefully so that the falafels don't break while frying.
Add the falafels to the hot oil and let them fry for 2 minutes on each side. Fry the falafels until the outer color is light brown or chocolate.
Serve the falafels with a side of Tahini sauce and Mediterranean salad.
Notes
Serve falafels while they are hot and fresh.
Falafels are best served with salads, hummus, tahini sauce, hot sauce and as a filling in pita bread sandwiches.
Vegetarian, Main Course, Mediterranean, High Protein, Egg Free