This recipe for "Vegetarian Falafel Gyros recipe" involves three key ingredients that require prior preparation – Chickpea Falafel, Tahini sauce, and Tzatziki sauce. Please click on the below links to prepare these recipes from scratch at home:
Recipe for Tahini sauce: Sesame seed dip for pita bread, or a topping for salads and sandwiches. A traditional dish from the Eastern Mediterranean, Israel, and parts of North Africa.
Recipe for Tzatziki sauce/dip  – A creamy, fresh, and aromatic dip from Mediterranean cuisine, that is made with fresh herbs, olive oil, spices, and yogurt.
Recipe for Chickpea Falafels : Authentic Mediterranean protein-rich food that is crunchy, spicy and filled with aromatic herbs and spices.
I was inspired to prepare the falafel gyros at home after trying them at multiple Mediterranean and Greek restaurants. Every time When I visit New York City, I crave these freshly made gyros in the food trucks that are commonly seen on NY streets.
Gyros are a traditional Greek dish, usually made with grilled meats wrapped in pita bread with a topping of veggies and Tzatziki sauce. The recipe I am sharing here is for vegetarians and doesn't include any meat or eggs. This is a complete meal that is filling, protein-rich, and brings together the goodness of veggies and chickpea falafels.
I have used store-bought greek pita bread but  You can also make this dish with pita pockets.  You can also use store-bought falafels and prepare the gyros just before mealtime.
I hope you will find this recipe helpful and tasty. Please rate this recipe. If you have liked it, please share it with your friends. For more updates on new recipes, please subscribe with your email ID.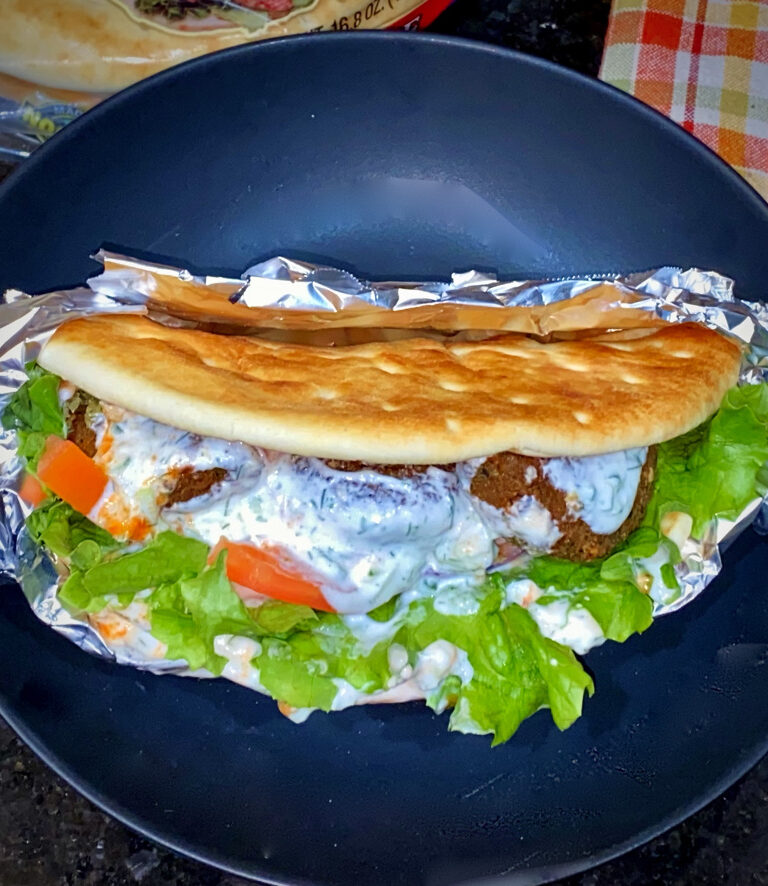 Vegetarian falafel gyros recipe
Description
Falafel gyros combine the softness of pita bread, spicy sauce, crunchiness of falafels, fresh veggies, and creaminess of the Tzatziki and Tahini sauces. A complete meal that is tasty and filling. 
Instructions
Warm a pita bread on medium heat for about 1 minute on each side.
Lay the warm pita bread flat (the inner side facing up) and coat it with a thin layer of Tzatziki sauce (3/4th  TBSP) and Tahini sauce  (1 TSP)
Add a few drops of hot sauce and spread it evenly
Spread 1/4th amount of the romaine lettuce leaves on just half  side of the pita bread
Spread ¼ amount of the chopped onions and tomatoes
Add about 1/4th TBsp of Tzatziki sauce on the top
Fold the other half of pita over the side with falafels and veggies.

You can wrap this in aluminum foil or sandwich paper so that it is convenient to eat without spilling the fillings
Notes
Serve fresh with a side of crispy french fries or potato or veggie chips.
Vegetarian, Mediterranean, Egg Free, Greek, spicy, Falafel