Mediterranean salad comes from the countries surrounding the Mediterranean Sea such as Greece, Italy, Israel, Turkey, and Syria. The key ingredients for Mediterranean salad come from the local produce such as Olive oil, tomatoes, Parsley, cucumbers. The salad can also contain cheeses and Olives. I am sharing a simple Vegan recipe that has minimal ingredients, fit for vegans, low calories, and is rich in nutrients. The Mediterranean diet is considered one of the healthiest diets in the world as it is rich in plant-based fibers and proteins.
I love this dish for its simplicity and use of ingredients that are commonly available in most homes or grocery stores. Mediterranean salad can be had by itself or it can also be a perfect complement to any dish such as Pita sandwiches, Falafels, Indian food, or biryanis.
This recipe for "Mediterranean salad" is very easy to prepare and involves just 4 basic ingredients – Tomatoes, Cucumbers, Chopped Parsley, and Olive oil. We can enhance the taste with Lemon juice, salt, cumin powder, black pepper, and a touch of paprika. The total time taken to prepare the salad is about 20 minutes.
The recipe combines various health benefits of Olive oil, Tomatoes, cucumbers, and Parsley. The antioxidants and anti-inflammatory properties of these ingredients have proven to help prevent heart diseases, alleviate pains and improve digestion.
I have also shared a few other Mediterranean recipes on my blog. For easy reference, please find the links below :
I hope you will find this recipe helpful and tasty. Please rate this recipe. If you have liked it, please share it with your friends. For more updates on new recipes, please subscribe with your email ID.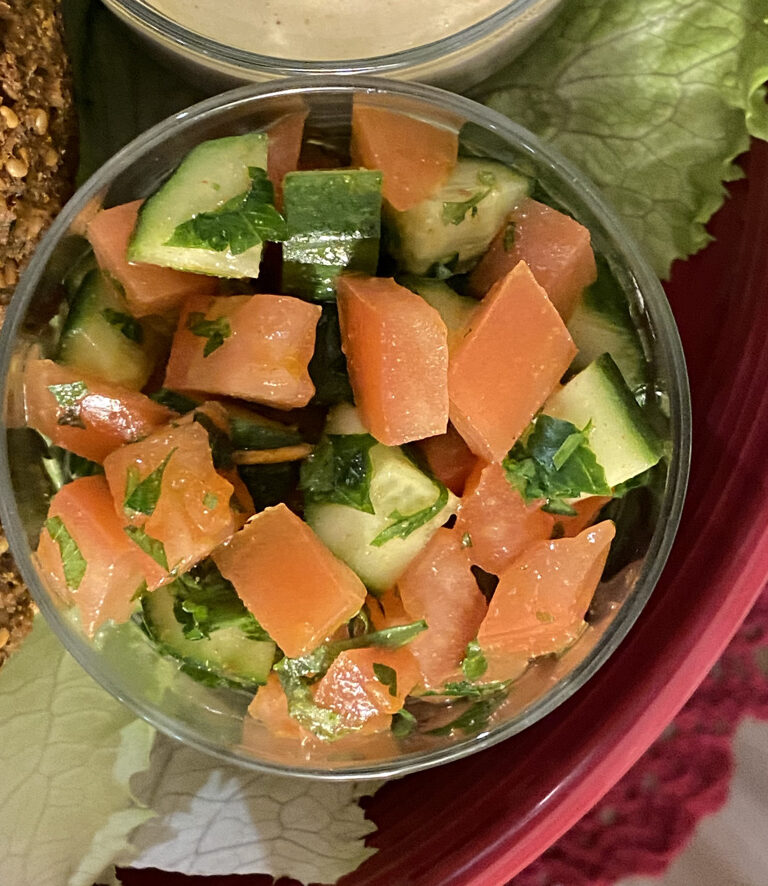 Simple Mediterranean Salad for vegans
Description
"Simple Mediterranean salad" is a nutrition and anti-oxidant rich dish that is very easy to prepare with commonly available fresh vegetables and ingredients, within 20 minutes. It is suited for vegans.
Instructions
De-seed and dice Roma tomatoes
Dice Cucumber
Chop Parsley leaves – remove stems
Mix Tomatoes, Cumbers and Parsley in a salad bowl
Add Lemon juice, cumin powder, salt, paprika, pepper powder, and extra virgin olive oil
Mix well

Serve with Pita bread, falafels, pilaf, saffron rice, or biryanis
Notes
Use Extra Virgin olive oil only – This is the highest quality of olive oil that preserves the natural content from being altered by exposure to high temperature. This oil even has lower acidity content. It is considered the best simply because it retains most of the natural flavor and aroma. Also, this is the most commonly used type of olive oil for health purposes.  It's best to use extra-virgin olive oil in salads as a light and tasty dressing.
Vegetarian, Vegan, Salad, Main Course, Mediterranean, Egg Free