Tahini is a Middle Eastern condiment or dip, made from toasted ground sesame seeds. It is served by itself (as a dip) or as a major ingredient in hummus or as a topping for salads and sandwiches. Tahini is used in the cuisines of the Eastern Mediterranean, Israel, and parts of North Africa.
My recipe is an adaptation from traditional recipes. I made Tahini with white sesame seeds that are toasted and then soaked in water for few hours. The toasting enhances the flavor and brings out an earthy aroma while the soaking makes the dip very smooth. The soaked sesame is then ground to a fine paste along with fresh garlic, salt, lemon juice and olive oil. I garnished the Tahini with extra virgin olive oil with a hint of paprika that gives a nice flavor and taste to Tahini sauce. I added a little water to ease the blending process and also make the consistency a little smoother.
I have eaten Tahini sauce at many Middle Eastern restaurants as a side dish or as a garnish. Tahini has a light and toasty sesame seed flavor, and a bit of richness to it. The rich taste comes from its high-fat content – but it is a healthy kind of unsaturated fats. It contains a lot of Vitamin B and E, magnesium, iron, and calcium.  You can store the tahini sauce for 4-5 days in a refrigerator.
Many other countries use tahini in various forms. Tahini in Turkey is mixed with other ingredients to make a rich breakfast dish called Tahin-pekmez. In Iraq, tahini is combined with date syrup to make a wonderful, sweet dessert. Halva is made with tahini in Iran. Tahini sauce is also used instead of tzatziki sauce in some countries. In Greece, tahini is spread on bread sometimes with honey or jam. You can buy jars of tahini with cocoa or honey in the grocery stores of Greece.
I have also shared a few other Mediterranean recipes on my blog. For easy reference, please find the links below :
I hope you will find this recipe helpful and tasty. Please rate this recipe. If you have liked it, please share it with your friends. For more updates on new recipes, please subscribe with your email ID.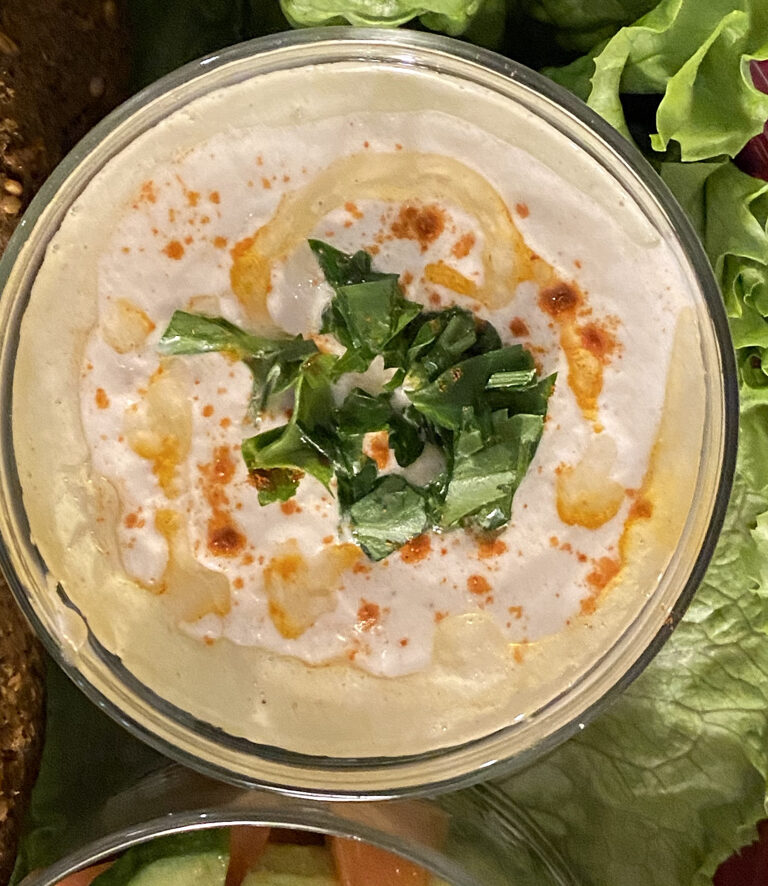 Tahini sauce from Scratch – Sesame seed dip
Description
Tahini is a smooth and rich sauce made with sesame seeds, fresh garlic and Olive oil. Tahini is eaten by itself as a dip or mixed with hummus or as a topping on toasts and sandwiches.
Instructions
Soak the sesame seeds for about 4 hours in 2 cups of water
Drain the water
Grind the sesame seeds with garlic, salt, lemon juice, salt in a blender. Add 4-5 tsp water to make the mixture smooth.
Once the mixture has reached a smooth and creamy consistency, Remove the paste from the blender
Transfer the sesame mixture into a serving bowl. Drizzle extra virgin Olive oil, chopped parsley and paprika for garnish and enhanced taste.
Enjoy the Tahini with Falafels, vegetables or gyros.
Notes
You can store the Tahini sauce in the refrigerator for 2-3 weeks
Adjust the water quantity while blending as needed
Vegetarian, Side, Mediterranean, High Protein, Egg Free,