The tzatziki sauce is very popular in Mediterranean cuisine. I like Tzatziki sauce for its creaminess, freshness, and aroma brought together by the fresh herbs, olive oil, spices, and the richness of Greek yogurt. The first time I tried Tzatziki sauce was in a Mediterranean restaurant in New York with a Falafel gyro sandwich. The tzatziki sauce is commonly used with Greek/Turkish gyros or pita sandwiches,  or as a veggie dip for cucumbers, carrots, tomato slices, or as a dip for crackers or any fried veggies like zucchini or eggplant.
While it's very creamy, it's pretty low in calories, with about 35 calories in two tablespoons of tzatziki sauce. Greek yogurt is creamier and thicker than regular yogurt. This is because the yogurt has been strained to remove the liquid whey. The Greeks strained the yogurt to reduce its water content and prevent spoilage. By straining, the yogurt also reduces its lactose content and makes it higher in protein. Protein is also one of the most important nutrients for weight loss.
The word Tzatziki originated in the Greek language, but the word also has origins in the Turkish word "cacik,". In case you are interested in pronouncing it correctly, Tzatziki is pronounced as "tuh·zee·kee".
Tzatziki recipe consists of Greek yogurt, garlic, cucumbers, extra virgin olive oil, salt, cumin powder, and fresh dill. In case you don't have Greek yogurt, you may substitute it with a mixture of sour cream and whole milk yogurt in equal parts. I love Tzatziki sauce for its simplicity and use of ingredients that are commonly available in most homes or grocery stores.
You may try Tzatziki on Mediterranean salad (the word the Mediterranean comes from the countries surrounding the Mediterranean Sea such as Greece, Italy, Israel, Syria, and others). The key ingredients for Mediterranean salad come from the local produce such as tomatoes, parsley, and cucumbers. The Mediterranean diet is considered one of the healthiest diets in the world as it is rich in plant-based fibers and proteins.
I have also shared a few other Mediterranean recipes on my blog. For easy reference, please find the links below :
I hope you will find this recipe helpful and tasty. Please rate this recipe. If you have liked it, please share it with your friends. For more updates on new recipes, please subscribe with your email ID.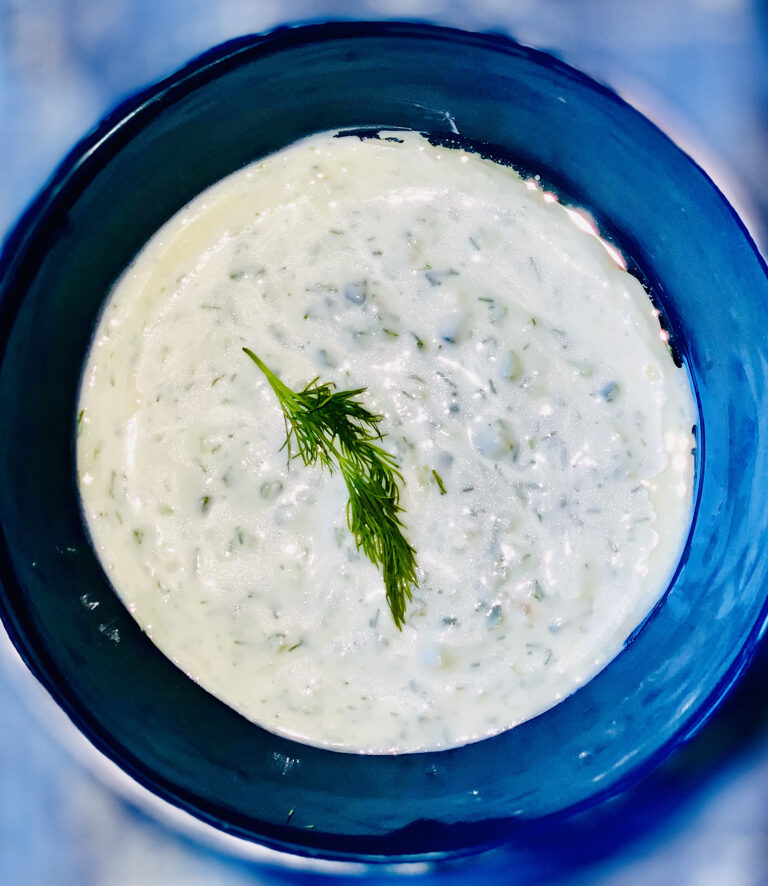 Tzatziki Recipe – A creamy sauce with greek yogurt & cucumbers
Description
Tzatziki is a creamy Greek yogurt sauce with cucumbers and fresh garlic that is a perfect accompaniment to many Mediterranean dishes, sandwiches, pita bread, or your favorite vegetables!
Instructions
Remove stems from dill and chop finely
Grate or mince cucumber – If you grate it, make sure to squeeze and strain the juice
Mince Garlic
Add the Greek yogurt to a mixing bowl
Add dill, cucumber, and garlic
Add Lemon juice,(Optional - cumin powder), salt, and extra virgin olive oil
Adjust salt as needed
Mix well

Serve with Pita bread, falafels, or gyros
Notes
Use Extra Virgin olive oil only – This is the highest quality of olive oil that has lower acidity content. It is considered the best simply because it retains most of the natural flavor and aroma. Also, this is the most commonly used type of olive oil for health purposes.   
Vegetarian, Sauce, Mediterranean, Egg Free, Yogurt, Dill