Why does your morning health drink have to be boring or bitter-tasting? I have tried many morning health drinks and juices that might be very healthy but unpleasant for the palate. Many store-bought health juices are loaded with salt, sugar, and preservatives. I have tried different combinations of veggies and fruits that can bring a perfect harmony of taste, energy, fiber, and nutritional richness. I am sharing with you my recipe for a "Tasty and healthy Vegetable and Fruit juice – filled with energy and fiber" that has become a regular drink in our house. A perfect blend of fiber, sweetness, and aroma of ginger and turmeric makes this drink a unique cocktail that can be had anytime of the day.
My recipe is made with the following key ingredients that bring unique health benefits and set you up for a morning start filled with energy.
Celery: Celery is often called a 'superfood,' and celery juice is known to help fight a range of ailments, including inflammation, allergies, high blood pressure, and high cholesterol. It is rich in dietary fiber that keeps the stomach full and helps fight hunger. Celery contains high levels of vitamin K and good amounts of vitamin A, vitamins B-2 and B-6, and vitamin C.
Apples: Apples are rich in fiber, vitamins, and minerals, all of which benefit health. They also provide an array of antioxidants. Apples help us improve neurological health and fight bad cholesterol, diabetes and obesity.
Carrots: Carrots have been recommended by doctors and nutritionists for many years for their amazing benefits for overall health, beauty, and vision. Carrots are a great source of vitamins  ( A , K, C,) and minerals like potassium, calcium, and iron. Carrots are immensely helpful for our eyes and also, they lower the risk of cancer, constipation, heart problems, and diabetes.
Ginger root: Ginger is a member of a plant family that includes cardamom and turmeric. Its spicy aroma is mainly due to the presence of ketones, especially gingerols, which appear to be the primary component of ginger's health benefits. The use of Ginger dates back many thousands of years across Asia and Europe. Ginger offers powerful therapeutic and preventive effects and is known to have very powerful antioxidant, anticarcinogenic, anti-inflammatory, and anti-nausea properties. All these properties accompanied by its ability to aid in digestion and treating constipation, make Ginger a perfect intake to start our morning.
Turmeric root/powder: Turmeric is commonly used as a spice in different cuisines but it also widely popular for its health benefits related to inflammation, such as osteoarthritis. It is also used as a remedy for hay fever, depression, high cholesterol, and itching. Turmeric contains the chemical curcumin, which has very strong anti-inflammatory properties.
Passion fruit or apple juice: I added passion fruit juice as it complements perfectly with the other ingredients and enhances the taste. The addition of some fruit juice helps with the grinding process and also helps reduce the spicy taste of ginger and turmeric roots. You may substitute with apple or orange juice also.
(Optional) Other fruits/vegetables: You may add other citrus fruits like oranges or tangerines to add more vitamin C to the juice and also bring the citrus flavor. Fresh tomatoes can also be added to the juice.
The process involves chopping all the Veggies and grinding them to a fine paste. By adding fresh juice while blending, we get a smooth juice that is easy to filter in a Food Grade Nylon Mesh Bag/ Strainer/ Filter (I bought one on Amazon) or you can use cheesecloth to filter the juice.
We don't need to add any salt or sugar as the juice already has enough sweetness from the apple, juice, and carrots. The perfect orange color filled with a nice fragrance of ginger and turmeric makes this juice something to crave everyday morning.
I hope you will find this recipe helpful and tasty. Please rate this recipe. If you have liked it, please share it with your friends. For more updates on new recipes, please subscribe with your email ID.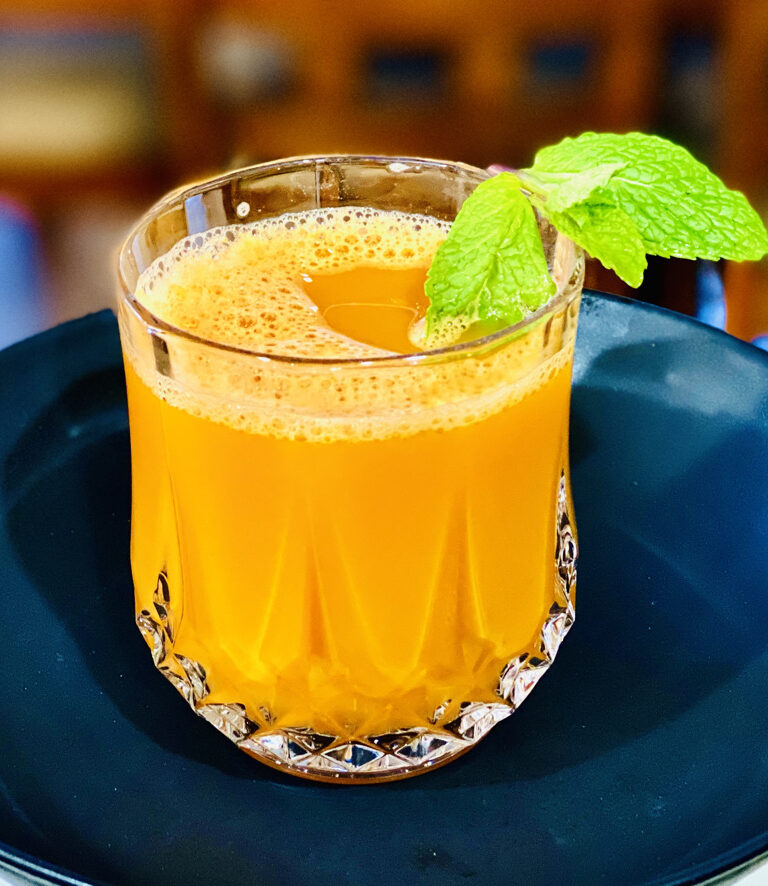 Vegetable and Fruit juice – with Apples, Celery, Carrots & Ginger
Description
A healthy, tasty, and aromatic fruit and vegetable juice that will be liked by kids and adults alike – Ready in 20 minutes.
Instructions
Cut the apple on each side and remove the core with seeds.
Wash the carrots, ginger and turmeric thoroughly using warm water and ensure that no soil is left on them

Add the veggies and apple to the blender along with the fresh fruit juice.
Blend for 1-2 minutes on high speed until all the veggies and apple have become a smooth paste.
Take a clean bowl and keep a Food Grade Nylon Mesh Bag/ Strainer/ Filter in it.
Transfer the juice blend to the strainer bag and squeeze it to extract all the liquid

Transfer the extracted juice into glasses and serve.
Notes
You may also add any citrus fruits, lemons or tomatoes to this juice blend.
Fruits, vegetables, juice, healthy, nutrition,Digestive, morning, antioxidants, anti-inflammatory,