My recipe for "Spicy Couscous Pilaf" is an adaptation from the traditional mid-eastern couscous recipes. I have tried to enhance the taste with some spices and added some nuts and raisins to bring a contrasting texture to the dish. The rich color, aroma, and savory taste come from the different vegetables and spices used in my recipe.
Couscous is a processed grain product made from durum wheat or semolina flour. Couscous is a traditional staple food in Morocco, Israeli, and Lebanon although it has now become very popular across Europe, Africa, and America. Couscous is a much healthier alternative to white rice as it contains fewer carbs and calories while providing high fiber content. Couscous has a bland taste and hence we need to complement it with some herbs or spices to enhance the taste.
I have eaten couscous in many Mediterranean restaurants where it is often served along with Chickpea curry. Couscous is also prepared as a dessert in Mideastern countries where it is mixed with milk, honey, saffron, rose water, and some nuts and raisins.
My recipe for "Spicy Couscous Pilaf with Chickpea and Vegetables" includes an array of vegetables and spices topped with roasted nuts and raisins. The couscous is usually steamed until it is fluffy. A secret to the beautiful flowery texture of couscous lies in the ratio of water used to couscous and the length of time used for steaming. A wrong proportion can result in a mushy or soggy paste that is not appealing to eat.
The key steps involved in my recipes are as below :
Boil the vegetables and add couscous to the boiling water. The water should be absorbed completely.
Fry Garlic and vegetables, then add spices followed by chickpeas
Add couscous to this mixture
Garnish with fresh cilantro, roasted nuts, and raisins
Optionally, You can also use a few drops of hot and sweet / Sriracha / any hot sauce while serving
I hope you will find this recipe helpful and tasty. Please rate this recipe. If you have liked it, please share it with your friends. For more updates on new recipes, please subscribe.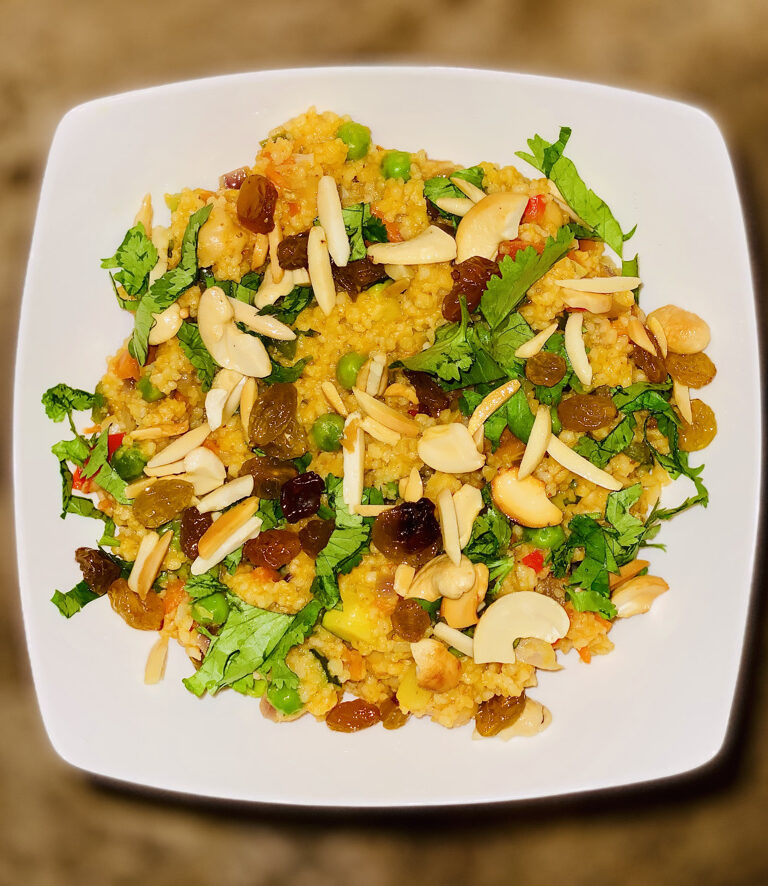 Spicy Couscous Pilaf / Pulao with Chickpea and Vegetables
Description
Spicy Couscous Pilaf with Chickpea and vegetable recipe combines the traditional couscous with an array of spices, vegetables, nuts and raisins making it a complete meal. 
Section – 1:  Boiling the Couscous

It is very important to use the right proportion of water and dry couscous to get the right texture and softness of couscous grains.

Bring water to boil in a pan. Add the diced carrots and cabbage.
Let the veggies boil for a couple of minutes. Then add fresh green peas.
After another couple of minutes, add two teaspoons of cooking oil and 1 tsp salt into the boiling water. Stir well.
Add the couscous. Stir continuously for a minute.
Lower the heat and let the couscous simmer for another couple of minutes.
Check if all the water has evaporated and the couscous grains look puffed and separated.
Give the couscous a final stir and remove from heat. Close the lid.
Section – 2 :  Preparing the Pilaf

Heat the cooking oil in a sauté pan on medium heat for couple of minutes.
When the oil is hot, reduce heat to lowest level.
Add the minced garlic and stir well until the raw smell of garlic disappears.
Add Onions and stir continuously until the onions turn semi-transparent.
Increase heat to medium level.
Add bell peppers and keep stirring for another minute.
Add zucchini and keep stirring for another minute
Now lower the heat and add all spice powders – coriander, cumin and red chili powders.
Mix well. Add salt
Add chickpeas and tomatoes.
Mix well. Taste and adjust the spice and salt levels.
Add boiled Couscous and veggies mixture.
Mix well.
Before removing from heat, add hot sauce and give a final stir.
Remove from heat and keep the lid closed.
Section – 3 :  Preparing the garnishing

In a small frying pan, heat 2-3 teaspoons of oil for 1 minute on medium heat
Add chopped almonds and cashews. Stir until they start to turn light brown in color. Lower the heat.
Add raisins and continue stirring. Turn off the heat as soon as raisins start to swell and turn crispy.

Serve the couscous with a garnish of chopped cilantro, nuts and raisins.

 
Notes
You can add any other types of veggies or also reduce the number of veggies as indicated in the recipe.
You can refrigerate the couscous pilaf and reheat before eating.
Spicy, Couscous, vegetables, Pilaf, healthy, mediterranean,