Burger is one of the most popular foods across the USA and it is also gaining popularity across the world as comfort food. Traditionally Burgers are made with meat or chicken patties but my recipe for "Sweet Potato Veggie Burger – with beans, spinach and wild rice" uses all vegetarian ingredients with sweet potato as the STAR ingredient.
Sweet potato Burgers offer a complete meal and a balanced mix of carbs, proteins, and fiber. I have adapted some standard veggie burger recipes with my own ingredients and spices that will make the patty more tasteful, protein, and nutrition-rich.
I have used different veggies in my burger patty. A combination of sweet potato, pinto beans, onion, spinach, jalapeños, and wild rice gives a perfect balance of texture, spiciness, and taste. My recipe also includes garlic, ginger, red chili (Cayenne), garam masala, black pepper, coriander powder, onion and garlic powders, and cumin powder.
The sweet potato, beans, and wild rice have a bland taste, hence we need to spice up the mixture to bring a nice savory taste to our patty. I used breadcrumbs as a binding agent and also to get a crispy coating while frying. When the patty is fried to the right level of crispiness, add a Cheese slice while the patty is still on the pan.
To make the burgers, I have used hamburger buns. We need to start by toasting the buns. I then coated the insides of the bun with a mixture of mayo, hot sauce, and tomato ketchup. I have then layered the cheese coated patty on a bed of leaf lettuce, onions, and juicy tomatoes. You can choose to add some mustard sauce on the patty and pickles on the side.
Being a vegetarian, I am always in search of vegetarian alternatives to popular meat dishes. This recipe for "Sweet Potato Veggie Burger – with beans, spinach and wild rice" is liked by my friends and family.
I hope you will find this recipe helpful and tasty. Please rate this recipe. If you have liked it, please share it with your friends. For more updates on new recipes, please subscribe with your email ID.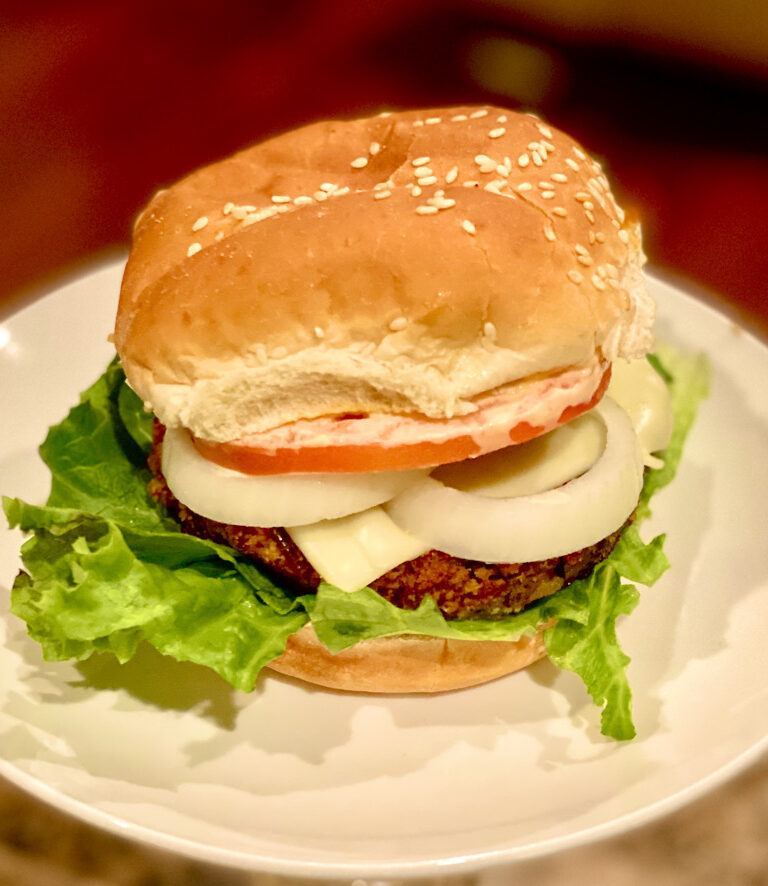 Sweet Potato Veggie Burger – with beans, spinach and wild rice
Description
Veggie burger with the goodness and texture of sweet potato, beans, spinach, wild rice, and multiple spices.
For the sweet potato veggie patty
For the burger
Section – 1 : Sweet potato Burger Patty (This section describes the steps to prepare the burger patty)
Cooking the Sweet potato

Pierce the sweet potato with a fork all over the surface, this allows steam to escape.
If cooking in an oven (or OTG), wrap the sweet potato in an aluminum foil (Foil holds in moisture and steams the potatoes, resulting in a "boiled" taste and texture) and place on a lined baking sheet in a preheated oven to 400 F. Bake for 45-60 minutes or until flesh is tender. Turn the potatoes over halfway through the baking time to ensure even baking on all sides. Allow potatoes to cool a few minutes before slicing.
If microwaving, place on a microwave-safe dish and heat on high 8-10 minutes. Turn potatoes bottom side up halfway through cooking to ensure even heating. Allow potatoes to cool a few minutes before slicing.
You may also use a pressure cooker to boil the sweet potatoes.
Once the sweet potato is ready, dice it using a knife and then mash it. Also, we can use a grater with large holes to grate the sweet potato.

Preparing the ingredients

Cut the onions, spinach, and jalapenos as suggested in the ingredients section
Grind the prepared wild rice coarsely in a food processer ( we want to see the broken grains but not a paste – roughly the size of groats)
Microwave the pinto beans for 2 minutes and mash them into a rough purée using a masher.

Preparing the Vegetables- spice mixture

Heat cooking oil in a skillet on medium heat for a couple of minutes
Add ginger-garlic paste and stir until the raw smell of the paste disappears
Now add the onions and stir for 2-3 minutes until the onions start to turn light brown.
Turn the heat to low. Add all the spice powders (Onion powder, Garlic powder, Cayenne pepper / red chili powder, Garam masala, Coriander powder, Cumin powder), Black pepper powder, and salt.
Stir until the spices mix well with the onions.
Now add spinach and jalapenos. Stir for 1-2 minutes and remove from heat.

Preparing the Patty mixture

Take a large mixing bowl and add the following :

Grated sweet potato
Breadcrumbs
Pinto beans
Onion-spinach-spice mixture

Using your hands, mix all these into a uniform paste. Taste the mixture and adjust salt and spice levels. Now our patty mix is ready.
Divide the patty mix into 4 or 5 equal parts. Take one part in the palm and roll it into a ball and then flatten it to form a patty shape.
Coat each patty on both sides with breadcrumbs.
Keep all the patties ready for frying.

Frying the Patties

Heat two teaspoons of oil in a skillet. When the oil is hot, slowly place one patty.
Increase the heat to medium level and let the patty fry for 3-4 minutes. When you start to see browning on the sides, flip the patty.
Do not turn the patty frequently. Let the patty fry on the other side also for about 3-4 minutes.
Use a flat spatula for flipping and be careful so as not to break the patty. Unlike meat patties, this patty has very little stickiness and hence can break easily.
When the patty is fried, we should see golden brown color on both sides.
Place a cheese slice on the top of the patty and let it melt.
Remove the patty from heat.
Section – 2 : Making the sweet potato burger
Hot and sweet Mayo sauce: Mix the mayo, hot sauce and ketchup in a bowl
Separate the halves of the hamburger buns and toast them on each side. Lay the halves on a plate with the inside facing up.
Spread a thin layer of hot and sweet Mayo sauce on both halves.
Stack the bottom part of the bun in the following order from bottom to top: Lettuce, Patty with cheese, spread a thin layer of mustard sauce, sliced onions, sliced tomatoes, and finally the top part of the bun.

Enjoy the sweet potato burger with a side of potato chips or French fries and pickles.

 
Burger, Patty, Vegetarian, Spicy,