Masala Paneer flatbread pizza is a fusion recipe that combines Indian and Mediterranean cuisines. The recipe is a favorite in our family as it brings together different textures, tastes, and flavors : The crispy base of pita flatbread, the smooth and creamy taste of hummus, the caramelized flavor of grilled veggies, spice and milky flavors from masala paneer with the added combination of sweet and sour tastes from the chutneys added on top.
This dish is ideal for lunch or dinner.  The recipe involves the following  steps:
Prepare the masala paneer : This is a key step in the recipe which can determine the taste of the dish. Crumbled paneer is blended with an array of Indian spices in a frying pan.

Grill the vegetables : Veggie like Onions, Jalapenos and bell peppers are roasted at high temperatures to get a caramelization 

Prepare spicy hummus paste : Combine the store-bought hummus with Sriracha or any other type of red chili sauce and sour cream / thick curd

Toasting the pita flatbread in a convection oven or on stovetop

Prepare the greens – Mix arugula or mixed greens with olive oil, salt, pepper 

Assemble the Masala Paneer flatbread pizza in the following order : 

Keep the pita flatbread on a flat surface

Coat the Pita flatbread with a thin layer of spicy hummus paste, 

Top it with a layer of greens, 

Spread a layer of masala paneer, 

Add the grilled veggies

Spread the chutneys on top ( Tamarind-date chutney and Mint-coriander chutney)

Keep the assembled Masala Paneer flatbread pizza back in the convection oven for 3-4 minutes before serving
This dish is best enjoyed when freshly prepared. The greens are optional and you may skip them if you desire. The chutneys are available in any Indian grocery store or on amazon.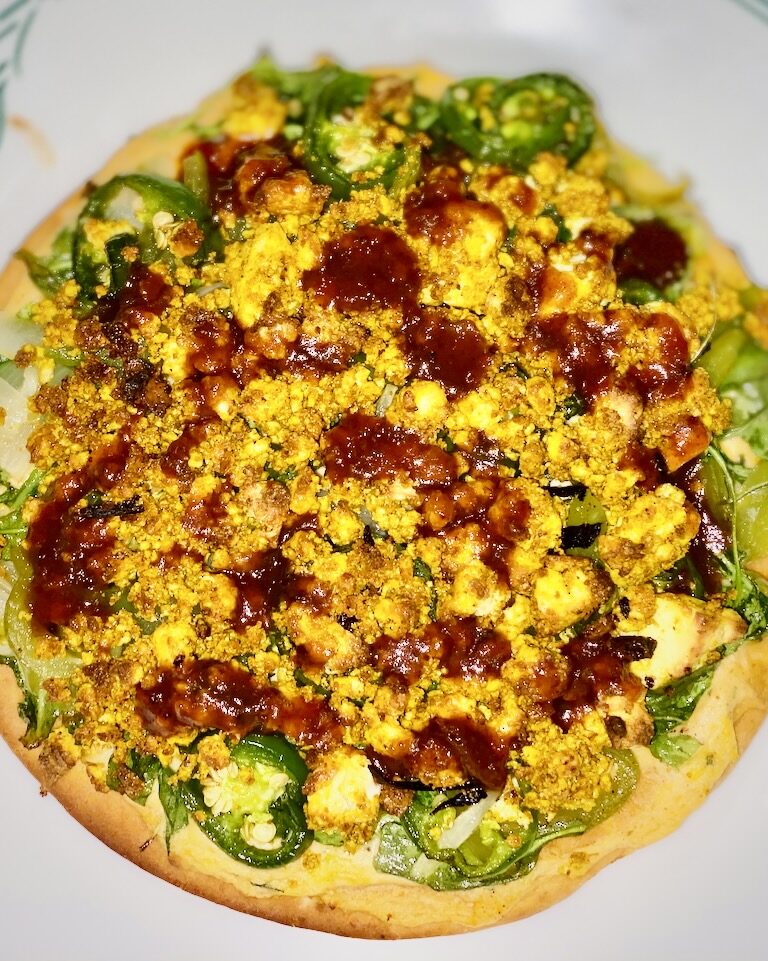 Masala paneer flatbread pizza
Description
A fusion recipe that combines Indian and Mediterranean cuisines - Toasted Pita flatbread coated with spicy hummus dip and layered on top with masala paneer, chutneys, grilled veggies and greens
Main Ingredients
Masala Paneer
Grilled vegetables
Spicy Hummus paste
Greens (Optional)
Chutneys
Instructions
Prepare the Masala Paneer

Crumble the cottage cheese into coarse pieces

Heat a frying pan. Add the cooking oil

When the oil is slightly hot, add the ginger garlic paste and keep stirring for about 30 seconds

When the raw smell of ginger and garlic is gone, lower the heat

Now add all spices and mix well

Add the curd and salt and stir in to mix the spices in the curd

Add the crumbled Paneer and mix well. Check the taste for spice and salt levels.

Mix in the chopped cilantro

 

 

Frying the vegetables

Cut all veggies into thin slices 

Keep a frying pan on high heat. The high heat is necessary to develop a caramelization on the veggies

When the pan is hot, add sliced onions and 1/3rd the oil.

Stir every 30 seconds until the onions are slightly caramelized 

Remove the onions to a plate

Similarly, fry the bell pepper and jalapenos separately

Prepare spicy hummus paste

Combine the store-bought hummus with Sriracha or any other type of red chili sauce and sour cream / thick curd

Prepare the greens

Mix arugula or mixed greens with olive oil, salt, pepper 

Serving

The recipe is for a serving size of 5. Hence divide all the ingredients into 5 portions before you start to assemble the Masala paneer flatbread pizza.

 

Toast the pita flatbread in a convection oven or on stove top until the flatbread base is lightly crispy

Assemble the Masala Paneer flatbread pizza in the following order : 

Keep the pita flatbread on a flat surface

Coat the Pita flatbread with a thin layer of spicy hummus paste, 

Top it with a layer of greens, 

Spread a layer of masala paneer, 

Add the grilled veggies

Spread the chutneys on top ( Tamarind-date chutney and Mint-coriander chutney)

Keep the assembled Masala Paneer flatbread pizza back in the convection oven for 3-4 minutes before serving
pita, naan, Flatbread, paneer, masala, fusion, cottage cheese,